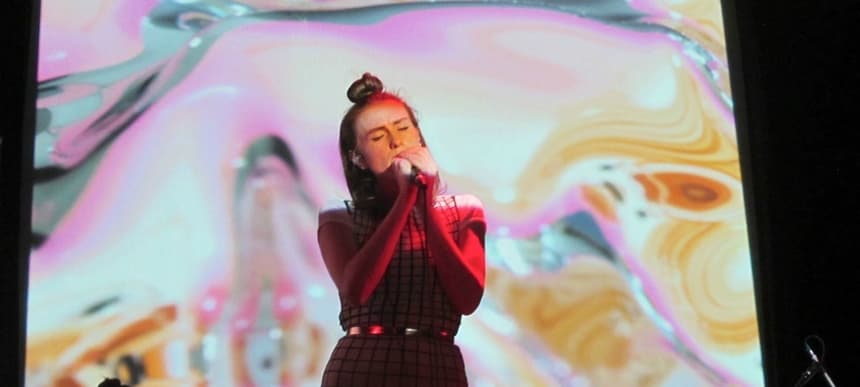 17.10.2013, Words by Aimee Cliff
Glasser, Kelela and Empress Of at Music Hall of Williamsburg (15/10/13)
Well over 1,000 artists descended on New York City for this year's CMJ, but none are more exciting than the two women who joined forces at Brooklyn's Music Hall of Williamsburg on Tueday night. Los Angeles-based R&B(ish) singer Kelela Mizanekristos and recent NYC transplant Cameron "Glasser" Mesirow are responsible for two of the best albums of the year, and so the anticipation inside the club was palpable. Even Dev Hynes and Autre Ne Veut were in the house. I got there just in time to catch BK's very own Empress Of. Lorely Rodriguez is a sprightly, engaging performer, and her trio's rhythmically off-kilter, synth-heavy arraignments formed a fitting backdrop for her soaring vocals. Though her set was short, it served as a solid appetiser for the bewitching main events.
Just after 11PM and with the crowd well-primed, Kelela sauntered onto the stage. Her recent mixtape, 'CUT 4 ME', is a dizzying amalgamation of progressive R&B, futuristic production, and visceral pop hooks. Flanked by only a DJ, it took the DC native a couple of songs to get comfortable and for the crowd to get going. It didn't quite pop until she unleashed her sumptuous third song: the herky jerky, sexual A-bomb Send Me Out. From there, the walls really came down, and she had the crowd under her spell. At first glance, she comes off incredibly cool and laid-back, but she passionately poured her heart and mellifluous voice into every track — determined to exorcise any Tuesday night lethargy from the crowd. The unapologetically aggressive break-up jam, Enemy, was a stand-out, as was triumphant closer, Bank Head. Her too-short, 35-minute set seemed over in an instant, but it certainly left no doubt what a talent she is and what a huge future she has.
With the venue's 550-person capacity just about all filled up, the stage was set for Glasser to play her first New York show in over a year, and she did not disappoint. Clad in an elegant knee-length dress and stilettos, Mesirow strode on stage and wasted no time ploughing into the undulating opening track from the stunning 'Interiors'. Shape is indicative of her music's fascinating contradictions; her voice is simultaneously gentle and powerful, the arrangement is accessible yet challenging, and the emotion is both direct and open to interpretation. On stage, Mesirow has the air of a seasoned performer. Stalking the stage confidently, she allowed herself to get lost in the core of her music without ever breaking her connection with the audience.
The setlist drew heavily from 'Interiors', and the album's finest moments translated seamlessly to the live setting. The deep bass and rolling hi-hats of uptempo cuts like the aforementioned opener, Design, and Forge hit hard and got the floor moving, thanks in part to the arsenal of percussion handled masterfully by lone live musician Shayna Dunkelman. Mesirow's dynamic, evocative vocals shone in reflective moments like New Year and her spellbinding rendition of one of my favorite tracks of 2013, Dissect. Of the many arrows in her quiver, it's the sheer power and versatility of her voice that is most disarming on stage, seamlessly transitioning from alluring coo to feral yelp in a single song. She signed off with the swirling, expansive Divide, and with little more than a wave and a word, she disappeared offstage to a captivated, howling crowd. Hopefully, we won't have to wait another year for her to come back again.