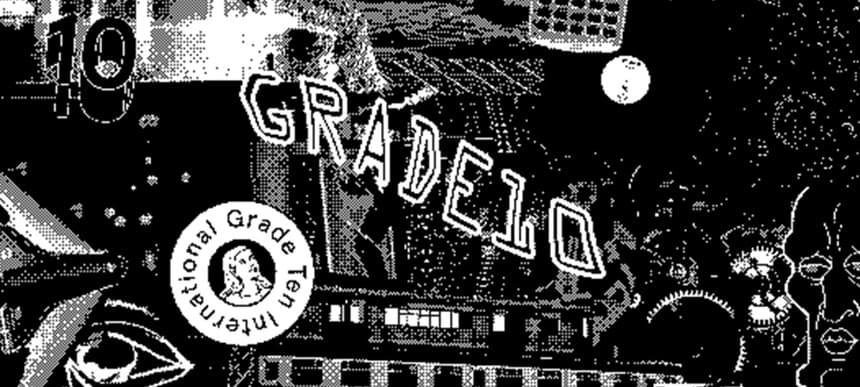 24.09.2015, Words by Natalie /
Grade 10: "There are no rules with this project."
Prayer, Unslaved, Forever, Classic Coke, LooseWomen, 8Ball and Kollaps are a group of producers mainly from Leicester. Together they form breakout collective and label, Grade 10 – a dedicated, tightly-knit mix of personalities that share a common goal. By their own admission, there are no strict processes to their own individual work and neither is there much science to their release schedule – as Classic Coke puts it, it's down to "whatever feels right".
Their inaugural release saw Kollaps, a collaborative project between Prayer and another unnamed Grade 10 member, take charge of a shadowy, near-dystopian two-track 12" back in May, which was quickly followed up by the bright, sun-kissed charms of LooseWomen's debut EP a couple of months later. On the surface, the two records couldn't have been more different. But perhaps that's exactly the point.
Alongside their record arm, Grade 10 have also hosted a show on crucial London station Radar Radio for the last six months, making the round-trip from Leicester for a two hour slot each and every month. Call it dedicated but upon meeting them together for the first time at Radar back in August, they seemed totally at ease with their surroundings.
I'd had a long day at work the night we met, so as a group we decided to take a short walk to the nearest off license to buy some beer before the show kicked off and I got talking to Forever, the one familiar face in the group who I knew through some remix work he'd done for my own record label, Coyote Records. Better known as Joe Cooper, Forever – like the rest of the producers in Grade 10 – is immensely talented, although his quiet, thoughtful demeanour is what strikes me most. As we wandered back towards the Radar studio, the others then started to introduce themselves one by one, asking trivial questions and generally trying to make me feel welcome.
As we turned right at the top off the stairs and into the studio, we peered in to see Brackles and Shandy playing a Garage set b2b with MC Kie, but rather than stick around, we headed straight for the sofas. It might sound a bit cliche, but Grade 10 operated like a family – little needed to be said as we sat, but the respect and admiration they had for one another was obvious. Also part of the picture was Greg, the visual artist responsible for the artwork that binds the final product together so impressively. Although not a producer, his role is not underestimated by the others and as we continued to chat as a group, it become more apparent that his art – always created against a black background with an emphasis on contorted shapes and figures – had become an important part of what the group aimed to achieve.
Before long, it was time to make our way to the studio for their show to start and despite things becoming a little hazy as the Red Stripe started to take it's toll, the music flowed pretty organically. One thing that impressed me about their setup, as evidenced by the first two Grade 10 records, was how different each individual producer set about their business. LooseWomen powered through jungle and footwork, Kollaps through his own vivid, enchanting soundscapes, Forever touched on grime, before Classic Coke took things back into the realms of juke and footwork. Although not conventionally interchangeable, as a group their self-assurance and general nonchalance – and I mean that in the best possible way – seemed to ensure the sets worked together and without compromise.
As Classic Coke started to pack up his gear, I had a final chat with Prayer about what was up next for the label – as it turns out, a four-track EP from Prayer himself, entitled 'Beneath' – and we discussed the general pros and cons of running a label in 2015. My time with the crew had certainly been a night well spent, although getting to know them all – and earning their complete trust – might take a few more meetings.
As I left with a copy of LooseWomen's EP in hand, I realised the one problem about trying to document three hours with a collective the size of Grade 10 was that I'd already forgotten their names – and a million questions – so I fired some across in the weeks following to get the inside track on what really makes them tick.
Why Grade 10? Is there any symbolism to the name?
LooseWomen: "It's just something that has always been with us, it's an old reference and it looks nice too."
How did you decide on the visual aesthetic?
Greg: "It comes from our own ideas. Everyone in the group is an artist and we collectively decide on visual elements based on the music and our own preferences."
Prayer: "I think we all like art to contain some sort of obscurity and be symbolic in some way. It leaves room for the viewers' imagination."
Unslaved: "And there is this weird thread that seems to tie it all together."
LooseWomen: "The visuals just come from the continual stream of ideas that we have. We are always making images whether we have something to apply them to or not, like with the LooseWomen artwork. We had been making lots of those lady images and that's the one we chose to use. Even if we hadn't had put the record out the images would have been there, the artwork is a by product of our artistic output."
How do you consolidate all your individual preferences into a sound / collective that works together?
LooseWomen: "We don't consolidate it, there's no process. It just so happens that because we spend a lot of time together we are collectively influenced by a lot of things and experiences. That comes out in the music."
Prayer: "Our music operates within the same sound pallette because of our time together, but we never try and write in the same way. It just sounds the way it does because of preferences we share in common that are intuitive."
Forever: "It works because of the freedom everybody has inside the group to express themselves. We have a pretty high work rate so most ideas get put into action."
How do you decide on which records to put out?
Classic Coke: "Whoever wants to put something out at the time. And whatever feels right."
Is working outside the Grade 10 camp a possibility, or is the aim to be entirely self-sufficient?
Greg: "Yes, anything is possible. The design side of Grade 10 has been working on big projects outside of our music and art. Forever worked with Coyote Records on a remix, as did Kollaps with Warp Records."
Forever: "It's totally self sufficient at the moment but we have no problem with side projects."
Unslaved: "There are no rules with this project."
Talk to me a bit about Leicester – how has it influenced the music you all make?
Classic Coke: "Not all of us come from Leicester, or live there, but Leicester is a nice, creative little city. The population is very diverse and we are exposed to a lot of different cultures. Coming from a place like that teaches you not to be narrow minded and that is one of the reasons we all bring diverse types of music and creative outputs to the table."
LooseWomen: "Leicester's good, it is a fully integrated city in the middle of England. We are lucky that rent is cheap and the city has a long history of music and arts that we can draw up on – it's just that nobody has heard of it really. I think we're lucky that we grew up with Leicester and the Midlands in general as a back drop through the 90s and the 00's, it's kind of the unsung hero of music. Lots of influential nights came from the Midlands, places like Coventry had Amnesia House and there was Shelly's in Stoke and Renaissance in Mansfield. Nottingham has always had loads going on. In Leicester, we had records labels like Formation that put out massive hardcore and jungle tunes for years too, so all of these influences are just around in the air. We had a few venues in town to see bands, so it's been good to us. Plus we're in the middle, so we can fly up to Manchester and down to London easily, giving us the best of the North and the South."
What would you say has been key to launching yourself as a reputable collective?
Greg: "Hard work, long days and being happy in what you're doing. Reputable isn't something you can call yourself and we don't really know if we are. We just release music and hope people like it. It's important not to worry about becoming reputable."
How important has the Radar Radio show been?
Forever: "Massively, it's given us a platform that feels like home. We love going down to Radar once a month and it's been good to watch it progress so rapidly."
LooseWomen: "We feel very fortunate to be given the opportunities they have given us. We're big fans of the other shows and listen in all the time."
…and finally, how do you decide who drives down to Radar Radio every month? Is it like a lottery?!
Loosewomen: "That's easy, Dan drives."
Grade 10 member Prayer's EP 'Beneath' is out November 2nd (pre-order). Prayer also plays Clock Strikes 13 on October 17th for Smalltown Supersound at Bloc alongside Rocketnumbernine (live) Biosphere (live) Bjorn Torske, Daniel Wang.