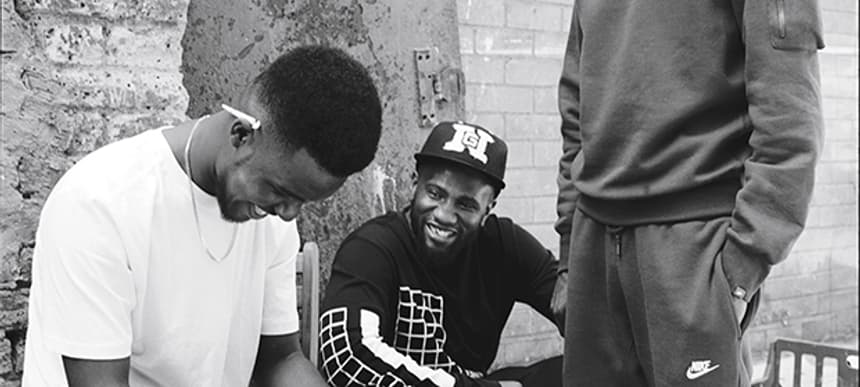 30.11.2016, Words by dummymag
Hattie Collins: "Hopefully the book represents the energy of the grime scene."
Growing up as a young writer and grime fan outside of during the mid-'00s, I always viewed Hattie Collins, Chantelle Fiddy and Prancehall's careers with some sort of mutual appreciation, and as a woman, I guess seeing girls doing what I dreamt of doing was like some sort of super-fuel. I remember a time when blogs were cool, and I was always locked to Hattie's. In the decade (and some) that has passed, Hattie has glided smoothly from signing on the dole to editing grime-bible RWD and freelancing at The Guardian, Man About Town, and The Sunday Times before becoming the features director at i-D and consulting on an array of branded projects, including fanzines for Boiler Room's world-music spanning collaborations with Ballantine's.
With the past two years seeing grime back in the music headlines, Hattie has witnessed a resurgence in projects focused on the genre, as well as a renewed interest from brands to pour cash flow into the sound. Aware of the movement's rich history and involvement she's had in nurturing it over the past 13 years, Hattie teamed up with self-proclaimed "shameless flirt" and photographer Olivia Rose to document some of the scene's key players and the creativity they have sprung. With Olivia's skills working on fast-paced shoots with a long list of household name rappers, the pair nailed a concept in late 2015, and lo and behold, less than 12 months later, their genre chronicling book This Is Grime was on the shelves.
Touching down in the northern buzz of Leeds at the end of October, Hattie and Olivia hosted the 'An Eye On Grime' event as part of Red Bull Music Academy's UK tour, which consisted of a photo show to promote the book. The result was an all-encompassing view of grime and its key players, featuring photographs from both the first and second wave of grime including Simon Wheatley, Tim & Barry, Ewen Spencer, Vicky Grout and Olivia Rose herself. Taking place deep in a set of the Emmerdale Studio Experience, there was a pristinely recreated teenage bedroom, zapping out Crazy Titch and Dizzee's Conflict battle alongside a private view of the works, before author Hattie Collins took to the stage for a up-close-and-personal chat with South London rapper, Giggs, who later performed at an intimate club across town.
Intrigued on how it felt for Hattie to raise the ranks on her music writing journey and complete a full-length, published book – we sat down for a chat the following morning in Leeds, and as all good interviews go, it didn't actually feel like one. Writer to writer, we covered varying ground, including Hattie's progression from rap columnist to grime specialist, the tenacity of pirate radio in its heyday, shooting photos of 140 MCs in 130 days, and how cities like Birmingham and Manchester are putting their own stamp on a London-centric genre.
Read the interview below, and get This Is Grime at the top of your Christmas list pronto.
When did you first start out in music writing? Were you into zine culture?
Hattie: "I wasn't, because I was from Birmingham and then lived in Liverpool, and from what I remember zine culture wasn't really a thing there. I think in Birmingham there was a big punk scene. Maybe it was present in Liverpool, but it just sort of passed me by. I moved to London and literally did not know what to do with my life. At the time, I was helping my mate to run a theatre company for kids, so we would teach them drama in a sort of youth club setting. I guess it wasn't really what I wanted to be doing. I loved hip hop, writing, and New York – so I considered moving there. Obviously, you need a green card, so I applied for an MA in hip hop at NYU, but they directed me to an MA in journalism that had elements of hip hop. They advised if I wanted a scholarship I should try and get some writing published, so I wrote to the NME and The Guardian but got knocked back. I kept going and wrote to a now defunct magazine called Hip Hop Connection, who said they would publish my review of the b-boy championships for a fee of £25. This was around 2002 and I was signing on at the time, so it was amazing news. From Hip Hop Connection I got an ad hoc role at Touch, which paid around £30 per week. Then Blues & Soul brought me in and I interviewed Missy Elliott in Puerto Rico for them, which absolutely blew me away.
From there, I got on board with all of the people who had initially turned me away, like The Guardian and NME. I wrote constantly and got better from practice so I could get published in all of those places. I then took over RWD in around 2005-06, which was a really pivotal publication in the grime scene. It was through Chantelle Fiddy that I first got into grime and she introduced me to musicians like Wiley and Terror Danjah. Then it was through RWD that I established my relationship with the scene. Then at some point, I left there to start at i-D.
"It was through Chantelle Fiddy that I first got into grime and she introduced me to musicians like Wiley and Terror Danjah. Then it was through RWD that I established my relationship with the scene." – Hattie Collins
Over the years I have written constantly, as well as working on various branded projects. G Shock once asked if I could gift watches to grime MCs and make a short film about it. I didn't know how to, but I gave it a go – hitting up Tiny and Tinch to take part. That's when I realised I could work on projects outside of writing and actually make a living, as brands have got funding. I was able to develop as a writer over the years, which enabled me to sign off and stop working in pubs, eventually becoming a full-time and independent writer. It was a long time in the making."
So Chantelle Fiddy was like your gateway to grime?
Hattie: "Definitely, we worked together, both doing our first jobs at Touch. She once played me a white label of Dizzee Rascal's I Luv U and I thought it was shit, as I was listening to 50 Cent, Ja Rule and Cam'ron at the time. Anyway, I asked her to play it again a few days later and realised, "Oh my gosh, this is a British kid rapping in a London accent, like London Posse and Roots Manuva." I understood these artists and I liked them, but it their music didn't have the same impact on me as American hip hop. That second listen of Dizzee however, was like the same feeling I got to American rap. I don't know what it was…maybe his language, the grittiness. It was just real and I think that was the difference between what the output of British rappers before him."
If you listen to something like Money Mad by London Posse, it's a bit, dub.
Hattie: "They had a lot of reggae influences, and the music is good. Roots Manuva is wicked. There was some great UK hip hop that is looked down on a little, almost as if it's a bit naff, but I think they were just very focused on wordplay and how things sounded, over the context of what they were saying. However with grime you had these really "real" experiences related through slang, clothes, or attitudes – and it was only in later years that though meeting people like Chantelle, Wiley, and Terror Danjah that I realised I was witnessing a scene, in the same way that people living in the Bronx saw hip hop come together. You don't realise at the time, but since doing the book a lot of people have told me they had no idea of what we were doing, but now there's books like This Is Grime and films being made. At that time it was just a bunch of kids making tunes, passing the time, going through pirate radio. It's like Giggs said in the lecture, it wasn't about making money. The money you could make off music then was so little, compared to working a job or whichever ways they got cash because kids from estates weren't usually given these opportunities. It's not easy for a kid of these backgrounds to go and get a job in places that pay decent money."
Above: Hattie Collins with Giggs at the 'An Eye On Grime' event in Leeds
I guess these people were all looking up to American rappers and that sort of lifestyle – or maybe not?
Hattie: "I remember Danny Weed always used to wear Akademiks back in the day, and they just loved Dipset. Dizzee was a big 3 6 Mafia fan, so there was definitely some American hip hop influence, although I think grime was very separate to American rap. These guys were all brought up on music from Biggie, Jay-Z and 2Pac, before moving onto Cam'ron and Dipset in the later years, so there was that influence, but it was almost the clothes, the tracksuits, the Ecko stuff was of importance. Then, in time, grime developed its own style."
I think it depends on the age as well because you've got the MCs like D Double who are really into jungle music.
Hattie: "Trim, Titch, Riko, God's Gift, Wiley – they're all from that jungle era, and they came up seeing all the Moschino and Versace that everyone wore in the garage days. They have come through so many different iterations of music now – hip hop, dancehall, sound clash culture and then their own British identities via garage, jungle, and later grime. Those early pioneers have soaked up so much inspiration from so many different places, and I suppose it's due to these crazy influences that grime, and especially the earliest grime, sounded so strange."
Sino grime is really weird and unique. I read somewhere about Dizzee looking up at Canary Wharf being overwhelmed.
Hattie: "Maybe that's why grime could have only come from Bow, because of the proximity to Canary Wharf. It's so cold and industrial because these guys are looking over at Canary Wharf and its pillars of financial prosperity from a council estate. That's what Target used to see every day, and they wondered how to get there. Not that they wanted to work in Canary Wharf, but they wanted that money and lifestyle."
Above: some of Olivia Rose's portraits from This Is Grime
I guess it's like New York, looking at the bright lights of the city from afar.
Hattie: "Yeah and the isolation that must bring. It's just like the kids in the Bronx looking over and see the Empire State Building: they were there and the city was an integral part of their life, but they probably never ventured into that area. I remember Nas saying that where he's from in Queensbridge, there were people that had never left – not even the area, but the block! You've got everything on the estate, so there's no need to leave. So maybe that's imitated in the sino sound and the isolation present in early grime, via that idea of being from London and seeing wealth way over from the estate, so just wanting to escape. It was such an interesting period and I wish we realised at the time, because of I would have documented it a more extensively."
But you must have spoken to almost everyone in the scene, though?
Hattie: "I think so. There were a few people we tried to track down for the book but we missed out on them, like the DJ from Nasty Crew, Mak10, who is really integral to grime and is still active. There were loads of artists we missed out on because there's only so much time and space. When the book gets a reissue in April we want to try and get a few other people in there. We tried to make sure anybody we missed got represented in the book somehow, whether via a mention, photograph, or interview. Trying to shoot and interview the entire scene was a tricky task that we set ourselves. Liv shot photos of some crazy numbers, like 140 people in 130 days."
"Trying to shoot and interview the entire scene was a tricky task that we set ourselves. Liv shot photos of some crazy numbers, like 140 people in 130 days." – Hattie Collins
You've probably been collecting the stuff for ages, but how long did you give yourselves to do the entire book?
Hattie: "We sort of started in like November or December 2015, just the two of us. We got the proposal together to see if anybody would help us. We then got a publisher and they told us to get started in January. So from then until June, we had to shoot and write it all, but obviously, I was juggling my job at i-D and Liv was working a picture editor – so it was just weekends and nights, or any spare time we could get. I would have liked to have spent at least double the amount of time on it, but on the other hand, everything has come together to drop at the exact right time. Timing wise was brilliant, it would just have been nice to have those extra few months but hopefully, the book represents the energy and the pace of how it was put together, which reflects the ethos of the grime scene too."
Just roll with it…
Hattie: "Yeah, just roll with it. It doesn't always have to be perfect. It's not supposed to be a beautiful coffee table book that nobody touches and reads. We want people to rip pages out and stick them on their walls, or keep it and preserve it. We want people to actually get into it, so hopefully that's what is happening."
"Hopefully, the book represents the energy and the pace of how it was put together, which reflects the ethos of the grime scene too." – Hattie Collins
I was more around in grime the first time around, I'm still invested in it, but I was way younger then and it was more like relevant to me. I'm still trying to figure this one out myself but do you think there's a big difference in the scene now? Are some of these new up and comers more 'road rap' orientated?
Hattie: "The lines are blurring a little bit. I was going to get into that with Giggs at the lecture as I know he has opinions on it, but we didn't have time. Obviously, there's Section Boyz and 67 who are rap, but Giggs is a bit stepped back from it and thinks it's all just music. I think it's important that there are distinctions within the genre. I don't think artists should be boxed in, though. Just because a producer has made grime for five years doesn't mean they can't go and make techno, but in grime itself, there should be some degree of categorization or just things we can pin around grime, like it being around 140bpm. The key difference between now and then is the audience, along with social media. Chantelle said something to me recently which I hadn't thought about, and totally agree with. Back when MCs used to go on pirate radio, it was quite dangerous. You'd have to get from your area to a different one, in places like Stratford and Bethnal Green, and it was quite rough. People almost risked their lives in those days, to an extent. As we've seen in the DVDs, things did pop off here and there. It was a very energetic and diffusive time, there was a lot happening. Now you can just put your material on SoundCloud and be in grime.
Above: collage of Olivia Rose's photographs for This Is Grime
There was a hierarchy too, which I suppose is good and bad, but you couldn't just walk up to Rinse or Deja and get on air. Tinchy said he had to start on whatever-it-was-FM for however long and when they finally got to the big stations, it had a certain wow-factor. When Kano first got on Deja, Mak10 played Boys Love Girls, and the reactions on the phones meant he got onto Last Man Standing. You had to work for it a little bit more. There are so many different radio stations now, and SoundCloud or Twitter, and you don't necessarily need that verification from somebody, but I think back in the day the seal of approval from the DJs like Slimzee, Geeneus, or Mak10 was verification from the whole scene. I think with AJ Tracey and other contemporaries, the energy is there but it is a different time in the sense of foreboding and doing something for the love, even when there's no money to be made. They could have got hurt at this rave or radio station, but they had to go to express themselves. Whereas now it's just like: let's go spit some bars!'"
I do love the current landscape but can't help feeling I was more refreshed by it back in the day.
Hattie: "I think they need to move it on or go back to the original sound and ethos. Hip hop has become so diverse – with sub-genres like crunk and West Coast – and I think that's what grime needs to do now. I still don't think anybody has come close to bettering 'Boy In Da Corner' or Wiley's first album 'Treddin' On Ice'. Sonically those albums are still so mental, and sound like they could have been made today."
It's still shocking when somebody says how old 'Boy In Da Corner' is.
Hattie: "It sounds insane, it still sounds weird. I don't think anybody has come up with a body of work that tops that. 'Made In The Manor' was amazing and 'Konnichiwa' is great but they're not as poignant to me. I think the new generation need to find their own take on grime. I think it'll be Novelist or Stormzy who will come up with a concept album."
"I don't think anybody has come up with a body of work that tops 'Boy In Da Corner'." – Hattie Collins
Novelist still feels a bit old school to me?
Hattie: "He definitely is. In conversations I've had with Crazy Titch, he's said Stomzy could have been on Deja. I think what you have with Nov and Stormzy is two very defined characters and personalities, like back in the day, when there were so many characters in grime. You knew if you were listening to Dizzee. You knew if you were listening to Titch or Riko. Now it's like, who is spitting? It's not as personality-driven, because back then you had to fight so hard to get on the mic. Everyone was in a crew, so you might be in a hot crew but, are you the hot guy in the crew? There was a need to push yourself an individual with the group, as well as getting a name for yourself as a unit."
Above: hanging out in your nan's living room watching grime clashes
And I think the video stuff has changed, if I think about SBTV's output and it's cool they're getting out there to represent emerging MCs and freestyle culture, but there was so much personality in Tim & Barry's videos.
Hattie: "Do you remember the Tim Westwood and Tempz video for Next Hype? Or Tempz in Scotland. He wore a kilt. Narstie is a bit like that too – he's got that essence about him and can take the piss, or be stupid and have fun. They're grime, but like you say, have a more experimental way of looking at videos and being creative. JME has always worked like that."
JME and Tempz having a snowball fight. There's nobody doing it, we need Tim & Barry back on that horse.
Hattie: "Artists might think, "I do Not For The Radio, l do GRM Daily, I do SBTV, Noisey and The Fader." These are all the things they tick off and then they make a video with the publication or make one themselves. They put it on Soundcloud and so on. Then they tweet it and get everyone else to tweet the link. Nobody is carving their own path and thinking outside of the box. I think maybe that's what is missing. Novelist is somebody that will do that. I think he's a very interesting individual and I don't know what he's doing at the moment, but I feel like he's always planning something. He thinks in terms of making the conversation a bit different."
"Novelist thinks in terms of making the conversation a bit different." – Hattie Collins
What are your views on grime outside of London?
Hattie: "I love it. I'm so busy keeping on top of the London scene but then I'll catch wind of Bugzy Malone, Coco, Slick Don, and the Scouse lot. I love the Birmingham accent too as I'm from there so artists like Leshurr and all that lot. It was a bit like Americans not wanting to hear a London accent in rap, and grime didn't want to hear a northern accent but it has evolved. Wiley was working with Wrigz in Manchester in as early as 2009. I would like to see somebody like SafOne have a massive hit and climb the charts."
What you said about these sub-genres, do you think they're kind of doing that, slowly?
Hattie: "There will definitely be somebody in a couple of years who will cross over. Whether it's Manchester, Preston, or wherever. Dunno what Scotland's saying? Who knows. Scottish grime could be a thing. There's even a grime scene in Japan and Korea, as I've actually met a few people out there pushing it. Also, Tre Mission in Canada, who has previously worked with Wiley. So, there is definitely a global scene, and I'm often guilty of getting wrapped up in London.
Above: photo exhibition at Red Bull Music Academy's event 'An Eye On Grime'
I didn't know one single person from the music industry when I was starting out in Birmingham. I know loads of artists, writers and A&Rs from Manchester, Leeds, Sheffield and Birmingham who came to London in the same boat and it's a challenge. The only advantage that Londoners have is maybe getting to live at home with their parents, so they don't have to worry about rent. Other than that, just because you don't know anybody doesn't always mean you can't break into the industry. Sometimes MCs or singers outside of London do feel like they don't get let in or put on at shows, but it's the same when grime came through and the garage lot wouldn't let them in. Like Giggs was saying in the lecture, you have to make noise and get people to come to you. I know about Coco in Sheffield, and he never got in touch with me. I got in touch with him because I heard his music. He got himself out there and he's good, so people are interested.
You've got to look straight ahead and stay on top of things. Chantelle and I would always pass each other work if we couldn't do it or, or I'd offer Chan things that I thought she could do better, which she would reciprocate. I think the community spirit is probably missing. There's very much a "get-money" mentality right now, with everyone doing their own thing."
What are the next steps for the project?
Hattie: "We just want people to know the book is there. We've got some wicked press and surprisingly great feedback. I'm still waiting for people to slew. I thought there would be a lot more of that but there hasn't been any negativity. In the future, I'd like to bring the exhibition to London, then my hometown of Birmingham, and maybe find some local photographers to include. There will be an update of the book in April, and I'd love to get it into schools and do a tour with an MC talking to the kids. Beyond music, I would like to write fiction and make documentaries, do mentoring and encourage people. You forget how important somebody telling you can do something is. Like Giggs was saying, it feels much greater, better and worthwhile if you succeed – whether's as a musician, journalists, A&R, or manager. Not everybody has to be a rapper.
"I'd like to see a film about Wiley…actually, I'd like to write it." – Hattie Collins
I also hope more documentaries on books on grime come out, from people like Tim & Barry and Simon Wheatley. I believe Frisco is working on something at the moment and the BBC. I just hope people do it well and aren't just banging them out. I'd like to see a film about Wiley…actually, I'd like to write it. The word genius gets banded about quite a lot, but there is definitely a touch of genius to that guy."
This Is Grime by Hattie Collins and Olivia Rose is out now. It's a top-shotta Christmas present, tbh (buy).