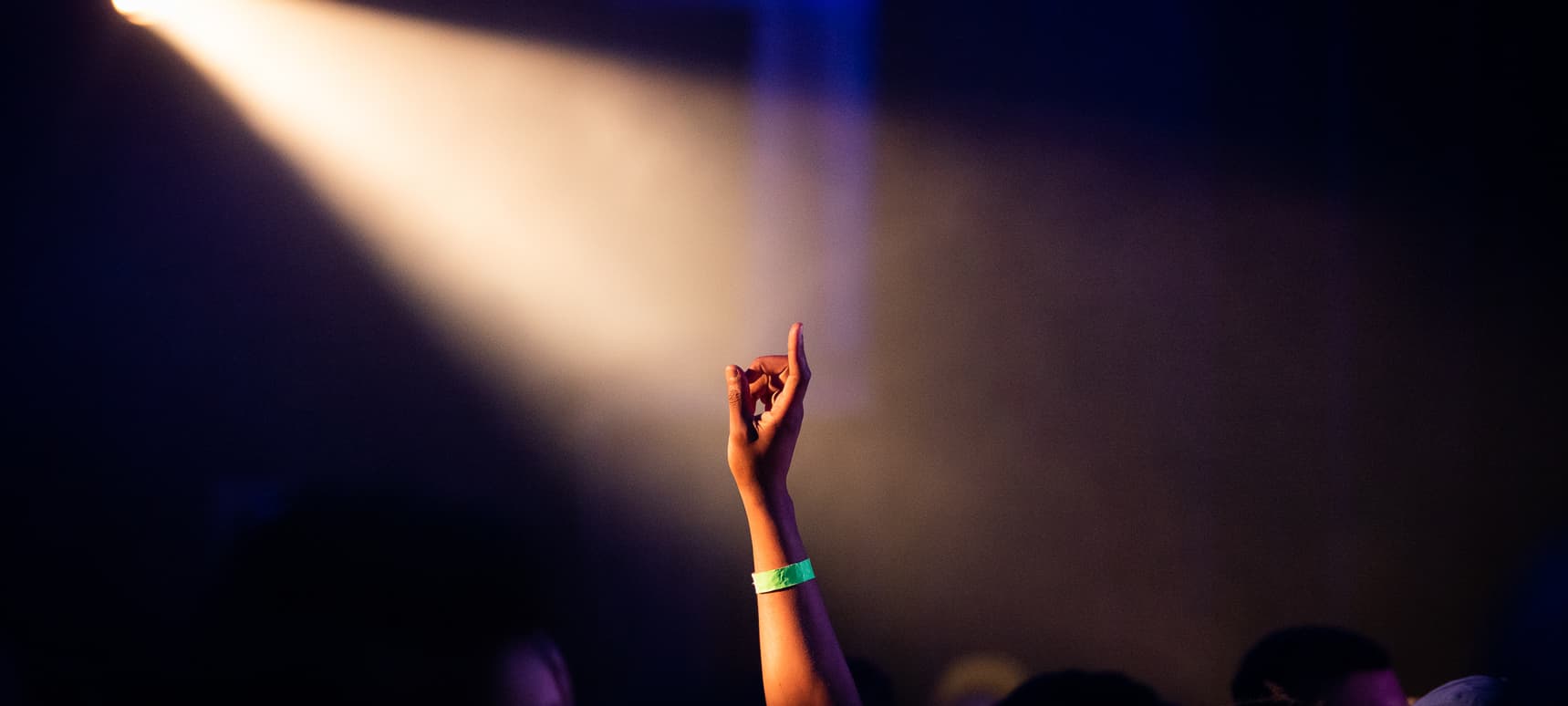 15.04.2019, Words by Kieran Devlin
"House is our pop music": Exploring the hybrid sounds of South Africa's electronic scene
We hit the township of Langa, outside Cape Town, for the Ballantine's True Music showcase...
"House music is unique in that it taps into the young people who are just coming in, and it collides with people who have been fans for 30 years," says Leighton Moody, member of We House Sundays (WHS) crew of DJs and event promoters. "There's a merge on the dancefloor, all these people from all backgrounds, white and black, poor and rich, and all age groups coming together on the dancefloor united by the music. That's what South Africa should be."
We're sat in a dusty sideroom of Guga S'thebe, the art and exhibition centre at home in Cape Town's oldest township, Langa; while Moody underlines that house music's egalitarian prerogative is, idealistically, in alignment with South Africa's ambition of cultural and racial harmony. Throbbing 4×4 beats emanate nearby, stirring the final party of Ballantine's latest True Music event series, which has seen them showcase Spanish artist Felipe Pantone's artwork around the world and promoted in separate parties by a figurehead from the local music scene; from Santiago to Moscow, and culminating here in paradisiacal Cape Town.
Myself, Moody, and the rest of the WHS team who organised today's event, are taking a break from the venue's thrilling onslaught of South African house, which isn't so much the dance music flavour of choice round these parts as the only choice. Every taxi radio, every loosely caught snippet from a passing scooter or balcony, vibrates with the sunniest, or deepest, house music. As Kid Fonque, deep house DJ in South Africa, states plainly: "house is our pop music."
It's crucial however, to not mistake South African house as merely house with tribal influences, or House With More Drums, a stereotype the people I speak to are audibly exasperated with following the international success of SA house legend Black Coffee. Kid Fonque clarifies: "There's a Western view that SA house music isn't electronic at all, that it's just drums, which excludes a lot of what's actually happening in the scene. What the world sees is the type of house music that Black Coffee personified, perceiving that as the be-all and end-all of SA house, but there's so much depth and difference. They do play the very drum, Afro-tech style, but also deeper house, and more euphoric, strings and vocals house."
Moody affirms this sentiment: "There is a perception from overseas that everything in South African house is Afro-influenced, which it isn't. That's come across through Black Coffee, who was a pioneer as a SA artist, and his signature sound is more Afro textures, but the actual movement is eclectic."
His WHS crewmate, Cassim Latief, stresses that they're by no means disavowing their Afro influence, nor Black Coffee's success, only that it is but one ingredient in a substantial musical melting pot. "It's a hybrid sound, influenced by other countries and by Chicago and Detroit, but naturally this has changed as times have changed," he explains. "It's taken on its own unique flavour with Afro feeling, deeper and denser, becoming an amalgamation of music from across the world, and distinctly South African."
The dancefloor of the True Music party is voraciously full of life, and the dense, intoxicating kickdrums are its lifeblood. You ask anyone there why they've come and they eagerly but plainly inform you that they love house music; but house music often and strikingly prefixed with "authentic". Given the WHS website uses "authentic" in their mission statement, I ask them to expand on their meaning.
"It's about the experience we're providing, a lack of pretension, a pure interest only in the music," WHS member Lisa Marshall argues. "We started organically with no resources, we [WHS] were friends who worked in clubs and in events that were just into music. We saw what was lacking, the kind of music we wanted, there was an absence. All the new music was catering for techno and more commercial house." I've never heard a word more dripping with disdain than the way Marshall utters "techno". She continues: "House culture is huge, there's just a disconnect between its popularity and the volume and quality of parties put on. It's strangely underrepresented in nightclubs."
House, specifically South African house, holds profound resonance with its fans, symbolising a country striving to materially realise its "rainbow nation" ambition beyond a cheap tourism line. But for many of its devotees, particularly those in townships, some grander house music events are simply too expensive.
Moody argues that there's a variety of Cape Town parties entertaining the gamut of economic backgrounds: "There are so many markets even within this small city, different events catering for different people. Some expensive, they're more towards the city centre, others more affordable, it's relative. You've got to be in touch with the economics of the people."
"That all comes from the intention of the promoter," Marshall says, expounding Moody's point. "You get promoters who are throwing parties because they want to make a lot of money, and you have promoters who are throwing parties cause they love the music and it's about getting people together. It's dependant on the brand and their objective."
Catalysed by this "relative" pricing out, the townships of Durban in the early 10s created their own style of music, derived from SA house, hip-hop, and kwaito (the dubbier, more offbeat cousin to SA house) called gqom. Its popularity and renown exploded, and, ironically, has arguably attracted more international attention than the SA house it's derived from, with its energetic, repetitive breakbeats evoking footwork and dancehall.
Does the house scene view gqom with animosity? "Some people do see a new genre as a suspicious thing or moving in on your territory," Latief explains. "Like when dubstep and EDM came about, especially here in South Africa, it seemed like house music was disappearing, but it was just EDM had more marketing, that died because it was soulless. We've booked gqom DJs, we're big fans of it, it's underground and radical, but it won't shutter out house music; it was born in the townships man, they complement each other."
He continues: "I see gqom as a black version of techno, it's very stripped down with a driving beat, much faster and more industrial, that feeling comes from the townships, an expression of their conditions and aspirations."
"The way grime came out of the UK, that's the way gqom has come out"
Like grime in the UK? "The way grime came out of the UK, that's the way gqom has come out. Before gqom came in, before deep house came in, kwaito was that, an expression of the townships and communities, it's always existed."
Singer-songwriter Sio, lyricist and vocalist across countless SA house anthems over the past few years on top of her solo work, agrees that SA house and gqom share their giving voice to black South Africans: "It's the rhythm of black communities. House music, black people have always gravitated towards because of their love of that rhythm, and it's the same for gqom. It's always been there, that love for thuds, some very wild, some very high. Drumming, drumming, we love drums."
Though Sio describes herself as a storyteller, and house music vocals are traditionally characterised by sentimental one-liners and aphorisms, she doesn't see a conflict of interest. "House music is dance music, but that doesn't mean it can't be storytelling. Normally the lyrics are basic, cheesy. Initially, when I started writing house songs, my lyrics were quite scarce, because I knew that's what the house music blueprint is. Then as I got asked to be on more and more features, they started asking me to work on the lyrics, so I thought I could do something more. From that, people became interested in the lyrics beyond the vocals."
"The lyrics are as important as the drums," she tells me, knowingly subverting SA house's western stereotype. "The vocals are matched by the beat. The process is beat first, then vocals, but when I do get the product of a beat to work with, I have a philosophy of making sure there's space for the vocals and lyrics to breathe and shine alongside the beat."
Sio sings live during the True Music party, with Kid Fonque DJing. Her voice unfurls across the venue like dry ice, technically immaculate but tremoring with gravitas. Seeing her perform felt like a moment, a humbling honour bearing witness in such an intimate setting, a snapshot into the prologue of – if there's an atom of justice in the world – a stratospheric and glorious career.
Sio has already made a significant imprint on the scene, with Kid Fonque observing she's "managed to bring so much soul and personality to house music, bringing obscure deep house DJs into the charts". But she's obviously had to work hard for it in an industry that hasn't always respected her talent.
"As a female vocalist, it's not easy to do house music," she explains. "The space is catered to the crowd, the male DJ, the male producer, there is no real place for the female vocalist. We get taken for granted. I went to an awards ceremony a few weeks ago where a song I collaborated on was nominated, but my name is not on the credits for the award. How hard is it to say 'the song has in its name "featuring Sio", she should be recognised'; the song wouldn't exist without my input."
As the party reaches its climax following Sio's set I get chatting to some of the dancers. One woman, who tells me she's a grandmother, starts work at 6am the following day, and is local to the township, having saved up for a long time to attend. I'm surprised by this, having initially been cynical that the party would be using the locals' venue while pricing them out of the event. A family of three generations is also here – also local – dismantling my further suspicion that the party would be populated by predominantly media and music industry types, like myself, as these brands of events often are.
Fetishising authenticity is almost as bad as disguising inauthenticity, but the party was overpoweringly, uninhibitedly, fun; in the purest definition of the word. The sweaty manifestation of good vibes only, where an accidental dancefloor collision is greeted by a smile and hug rather than the hyper-masculine posturing of London nightlife. Busy, but not suffocating. Animatedly carefree, but affectless. Genuinely diverse, across all ages and backgrounds. For this rank, foreign layman, it's not far off the rave's platonic ideal.
I ask Sio if the party's seeming inclusivity fairly reflected South African nightlife at large: "It's actually very exclusive in my experience. You go to a house party here or in Jo'burg, and 90% of attendees are very traditional, straight black men, who are like 'this is how it is, this is how it always was, this is how it always will be'. There is such a narrow spread, with a degree of homophobia, transphobia."
"It's slowly changing, with new party brands there are some you don't feel worried about being groped or touched, such as WHS, and are more inclusive of gay people and trans people, and when I see it I'm like 'Yes! More of this!' But at the moment it's still really narrow. Although it's a rainbow nation, and there are parts where we like to think we're open and free and liberal, a lot of it is still closed and traditional."
Latief agrees that it's party-dependent: "It really depends on the brand who's hosting the event, as well as the venue. That's something we strive for as We House Sundays, we want people to have fun and feel safe and included, the basis of our project, because that openness is authentic house."
"We're in a far better place than 30, even 20, years ago, from a time of white male dominance, to becoming a truer reflection of South Africa"
He added: "While there's still a lot of work to be done, I think it's important to say we're in a far better place than 30, even 20, years ago, from a time of white male dominance, to becoming a truer reflection of South Africa."
Latief's comment about "white male dominance" invokes the omnipresent shadow of South Africa's still-racialised wealth disparity, and its "continuingly problematic" [Sio] relationship to cultural institutions such as nightlife. Given house music was effectively invented by the black LGBTQ community in the US, this is a marginalisation not only of some of house's most passionate fans, but the community it was born to serve and offer respite to.
WHS's fourth member Laurence Dix is astutely conscious of this: "The more affordable [a party] is the more inclusive it is, it's simple but true. You want a diverse crowd you make it affordable. For black people, for gay people."
While South Africa's nightlife is still struggling to reconcile systemic inequalities, there's no such equivocations or contradictions around the health of the house music scene creatively. "House music is flourishing," Marshall enthusiastically declares. "Techno is going to go extinct. Trance came in and went, EDM has come in and went, techno will just get boring after a while. House music is one of those things that you'll listen to when you're 100. You love it forever."
"People here don't have an ego, they know who they are, and they approach it with gusto and positivity. You can walk onto that dancefloor confident, liberated," says Tom Elton, Global Head of Music Partnerships at Ballantine's. "Yeah they'll have a drink, but it's not like London where it's only the pissed people dancing, everyone is in there dancing cause they're having a good time, cause they really love what they're doing, it's freeing."
Everyone I speak to avidly predicts a meteoric rise to international fame for local up-and-coming producers like Pierre Johnson and recurring Sio-collaborator Dwson, as well as *fingers crossed* Sio herself. Kid Fonque however highlights a different trend which signals SA house's rise to global, not just national, prominence; the influx of big-name western artists and DJs into South Africa to learn from their thriving scene. He even interviews one such immigrant-producer, London's Charles Webster, before the party kicks off.
"We have international DJs come here quite often," Kid Fonque explains, "and rather than play mainstream house, they play our music, our house, that's pretty special, and I think it's only going to get better. I've been in this scene in this country for twenty years, seeing it white-dominated and male-dominated, and now it's opening up so well, and becoming a true reflection of SA."
This is a pattern Latief is equally keen to flag up: "Years ago we were all playing international guys' music, western house, and now they're all coming here to learn from and play our music. We're a global destination for dance music artists now. They come here feeling overwhelmed by the crowd and the vibe and the authentic love for house music."
As we enter the final hour of brushed kickdrums and ecstatic crowd whoops, and the rays of twilight filter through sheet metal onto the faces of an enchanted house music zealotry, it's not hard to sympathise with that feeling.
Find out more about Ballantine's True Music series here.
Related: Read 'From Cape Town to the world: how Ballantine's shared the true sound of South Africa'