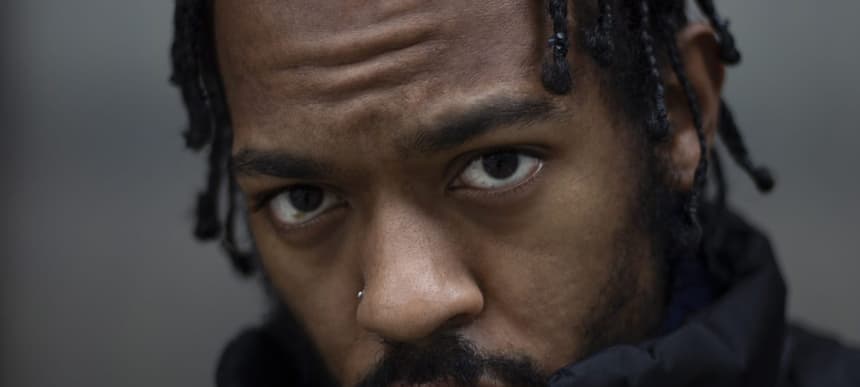 19.04.2021, Words by dummymag
How I Made: Le3 bLACK on his '3 LINK' EP
We find out more about the diverse styles at play on the South East London rapper's EP
In the first of a new feature on Dummy, we're asking artists to drill down into how they make their music. We're looking to hone in on the processes, equipment and location they made their sounds in, and up first is Le3 bLACK, the South London rapper signed to our DMY Artists. His four-tracked '3 LINK' came out last week, a stylistically diverse record that saw him tap into UK drill as well as more experimental electronic sounds. 
Where was '3 LINK' made?
So, the EP was made in its entirety in Pirate Studios London. So, a lot of the recording was at Pirate and it was more of a thing where I wanted to use facilities that complemented the mood at the time when I was making it. I did record maybe one verse at my house at my personal studio where I usually do my projects. But the entirety of the mixing and mastering was done at my personal studio.
Who did you work with on it?
It all came about in quick succession, I knew I wanted to make an EP and the sound of it was what I wanted to execute perfectly, so I came about the process with producer Aerside, he mainly dabbles in the realm of electronic music and with my recent collaborations with Loraine James it made sense to team up with his sounds. Then came producer Goodbyechase who made the drill track on the EP, 'Cold Winter', it was razor sharp and I wanted to try my hand at drill again for the fun of it. After that came producers Kmado and James who are electronically powered into sharp drums and striking pulsating synths and with that came the formation for the EP.
Are there any bits of gear or software you used on the release?
The main software that I use is Logic Pro, I do all my production/mix, mastering on there. Some tracks like 'Status' were produced on Ableton and Aerside was using his plug ins such as soundtoys to give the track more character and depth.
What were some of the musical inspirations on the record?
The main ones were Skepta, Kanye West, James Blake. I would say they are my main inspirations with a lot of my work. But in this particular instance I tried to merge them sounds together to make something cohesive but sonically pleasing. I feel like all the tracks flow well together it shows my diversity in a musical sense.
Listen to the EP below, or stream it via your preferred player here.