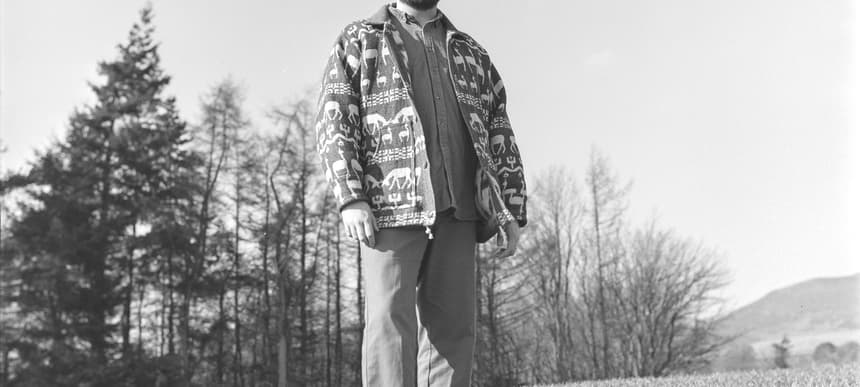 05.05.2022, Words by Billy Ward
How I Made: Swiss Portrait on his 'Safe House' EP
The Scotland-based producer and songwriter chats the collaborators, software and influences that have shaped his new EP
In this feature on Dummy, we're asking artists to drill down into how exactly they make their music. We're looking to hone in on the processes, equipment and locations they made their sounds in, and following Big Zuu, we speak to Swiss Portrait, the Edinburgh-based producer and songwriter making waves with his strictly DIY approach. Highlighting the intimacy of the Scottish multi-instrumentalist's music as well as his versatility carving out a unique brand of dream pop, his latest EP, 'Safe House', starts a bold new chapter. To find out more about how the record was created, we sat down with Swiss Portrait to take a deep dive into his musical influences and production methods.
Where was this record made?
'Safe House' was written in my tiny spare room in rural Midlothian (Scotland). It will actually be the last time I record in this room as I'm going to be moving to Glasgow later this year. So sad times for me, but also exciting to live in a city again, hopefully I don't hate it haha. I started writing the songs in October 2021 and finished I think on January 31st, 2022.
What software or hardware did you use to complete the album?
I recorded everything on Logic Pro for the EP, it was the first time I have actually used it. Not everyone believes me when I tell them, but all my older songs were recorded on Garageband, I kinda take that as a compliment. But to be honest, there isn't that much of a difference. I could just use more interesting plug-ins. I also used some fun analogue things like a cassette recorder for some vocal parts.
Who did you work on it with?
For most of the songs I recorded everything myself, however, on the songs 'Safe House' and 'Play with Fire' I worked with my friends.
On the song 'Play with Fire' I asked my friend Federica, from the band Phantom Handshakes, if she would be interested to record vocals for the song. She said yes and within 3 hours had sent back the vocals so that I could mix them in. After a few different versions we got it to a place that we both liked.
The song 'Safe House' was the first song I have written with my live band. I wrote the song for my previous album 'Familiar Patterns' (a very different version) but I didn't like the drum beat I had made for it. However, when I started playing the song in the practice studio with Brett on guitar, Carron on bass and Andy on drums, they all added in their bits without thinking. It was very organic the way it came about. Something that I might look to do more of in the future.
Could you talk through some of your main musical inspirations?
It's a hard question to answer to be honest, I listen to a lot of music. But the most played people on my Spotify are Turnover, Mom Jeans, Joji and Vansire. I listen to them most days and they are quite different from each other. I think I'm more attracted to how a song makes me feel than anything else. I think that is what inspires me the most. Also, a lot of 80s music hits the spot for me.
Were there any non-musical influences on the record?
I'm a contemporary artist, so I think I approach making music in a different light to maybe some other people. It's more like an experiment to me and when you study art you do learn that you can't really make a mistake. It's all about the process and the things you learn on the way.
Swiss Portrait is performing at The Caves in Edinburgh on Friday May 20. Tickets are available to purchase here.
Listen to the album below, or via your preferred service here.
Read next: How I Made: Gabriel Gifford on his 'Daffodils in Transit' EP