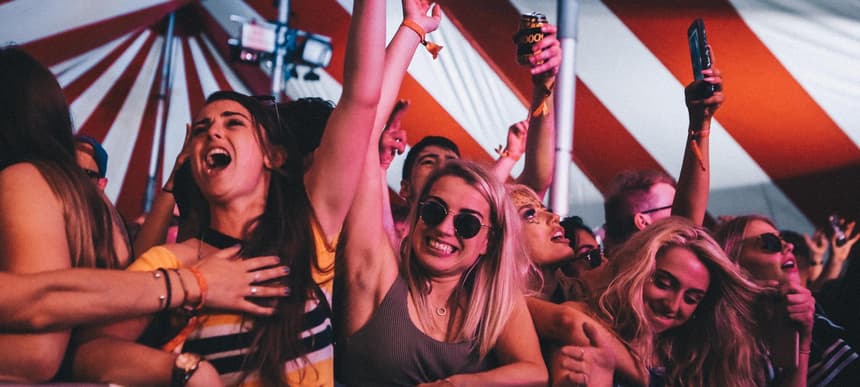 10.06.2019, Words by Felicity Martin
How To Run A Festival, according to Strawberries & Creem
The Cambridge festival's core team share their pearls of wisdom for running a large-scale event...
The unforgettable disaster that was Fyre festival has generated more of a consideration for the logistics of running a festival. Thankfully, there are also highly skilled and thoughtful people organising them as well as Ja Rule and Billy McFarland – Cambridge's Strawberries & Creem being one of these.
An independent, home-grown festival run by a small group of under-25-year-olds, you can sense their passion for music just by perusing the line-up that spans grime, afrobeats, UK rap and more. Since its inaugural year in 2014, the Haggis Farm-located one-dayer has also boasted a nostalgic, throwback element to go alongside its cutting-edge talent, and this year they've booked Heartless Crew and Sean Kingston, as well as 'Turn Me On' hitmaker Kevin Lyttle. Dummy is hosting a stage at Strawberries & Creem's Big Top this year, showcasing Young T & Bugsey, Jimothy, Flava D and many more.
We've asked the core team to share their best pearls of wisdom for anyone considering starting up their own festival or large-scale event, which you can read below.


William Young (Co-Founder and Director)
Know your audience inside out…
…and from this build an identity that resonates with them both talent (artists)-wise and brand-wise. Combine the two and you're flying.
Make sure your location is geographically well-placed
…so that people can get there easily, or find an amazing site that people will strive to get to no matter what.
Ensure you have a strong operational team in place that ensures everything is organised/tracked/paid
You can have the best creatives and most amazing promoters, but if it's a mess behind the scenes you'll end up as Fyre 2.0…
Chris Jammer (Co-Founder and Biz Dev)
Know what your end goal is
It's all well and good focusing on the next hurdle that you have to cross but you need to have an eye on the finish line to make sure that you're always on track to get there.
Love what you do
We live and breathe festivals. My favourite time of year is summer, attending different types of festival and drawing inspiration from these. We know exactly what vibe we want to create because we love being in that environment ourselves, and just try to recreate our vision of the perfect festival.
Trust your team
You need to surround yourself with reliable people that are more than capable of delivering. You get the best results out of people when you believe in them and you're all striving to deliver on your shared vision.
Frazer Robinson (Co-Founder, Head Promoter and Resident DJ)
Understand the music scenes you wish to represent
From grassroots up, the information is there for everybody. Music videos, vinyl records, radio stations, podcasts, even books, can all be included – and will help you understand the culture behind whichever genre you wish to push. A festival is a huge platform for artists to expose themselves to new fans and wow their current fans, so make the most of that platform.
Remain level-headed at all times
Nothing gets solved with flippancy and I can guarantee you'll regret the times you lose your temper or snap. There've been a few over the years, haha…
At the end of the day, a festival is a party for the people
Don't forget that the people are what makes it special. Keep them happy and your party will be a success.
Preye Crooks (Co-Founder and Head of Music)
You're only as good as your team
Surround yourself with ambitious, hard-working, innovative people – as this will provide the foundation for growth.
Really focus on your festival brand – what does your festival represent?
There are a limited number of artists for festivals to pick from, so having a strong and instantly recognisable brand can often separate you from the rest of the crowd.
Study your craft!
Although it might look like we are just throwing an 'event', we spend hours, weeks and months listening to music, attending other festivals, analysing our consumers and studying the market. We plan this meticulously for ten months of the year to make sure we can get it right on the day. It's hard work!
Sam Mellor (Head of Marketing)
Stay true to your roots but be willing to compromise
When I first started running events, I was so keen to push just the music I wanted to hear that I was guilty of not listening to my audience. We don't want to be a niche festival hellbent on pushing one or two genres, we represent a wide spectrum of music and youth culture. By the same token, we're not massively mainstream either, and strive to champion up-and-coming talent from the scenes we follow. But it's always a compromise, if you want to create that amazing, welcoming festival atmosphere we all know and love – there has to be an element of 'something for everyone'. So listen to your audience carefully, and ensure you keep it varied.
Keep your brand's content fresh and exciting
This is another area where variety is the spice of life, especially in this age of saturated social media feeds. You've got to stand out and be heard above the noise, so you can never have enough creativity in your content and marketing – no idea is too wacky! We've done all sorts to keep our audience engaged, from your bread-and-butter photo and video-led campaigns to marketing stunts to some outrageous competitions. Everything has to be consistent with your brand of course, but people get bored easily – entertain them!
Become a data scientist in your marketing
I was always an Arts student, but I've had to relearn my maths and become a scientist these last few years – data is just so important when marketing events. You need to have your ear constantly to the ground, analysing your audience's reaction to everything you push out across your channels. We can't afford to run failed expensive campaigns, we simply don't have the time or budget to spare – so you need to be flexible and ready to mix things up if it's not working. Data is the force that drives this, it's behind every decision we make – and the tools you have at your disposal these days give you insane visibility.
Louise Young (Head of Operations)
Trust your instincts
You know your idea and brand better than anyone else, so don't let anything (or anyone) change or interfere with that vision. At the same time though, remain receptive to taking advice and adapt when needed. You need to be open to learning so much, while staying true to that initial vision.
Be prepared to change your suppliers and contractors
…until you have a team of loyal (and affordable) workers that will be able to grow with you, and that you trust to get the job done. Keep twisting until you can stick with that reliable crew.
Put yourself in the customer's shoes
Visualise their journey at the festival and the impression they receive of your brand – and optimise your site based on this.
Strawberries & Creem's final tickets are selling fast – get yours here.