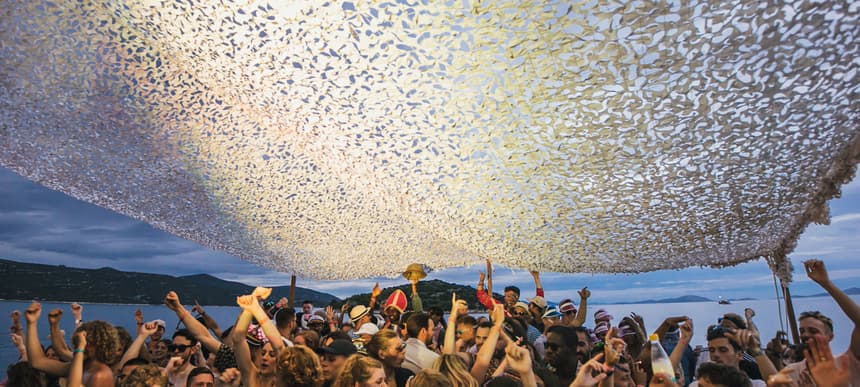 03.07.2019, Words by Katie Thomas
How to spend your week at Love International 2019
Make the most of the Croatian festival courtesy of our handpicked highlights...
Love International returns to Tisno, Croatia, this week for the fourth edition since the beloved Garden Festival made the transition into its kind of different but also quite similar bigger sibling. As we prepare for a blissful week on the Adriatic coast that combines sun, sea, sand and a lot of dancing soundtracked by some of dance music's most vibrant selectors, here's the Dummy Guide to Love International 2019.
Day 2 // Call Super, Shanti Celeste b2b Saoirse, Bruce
Barbarella's, an open-air venue that encapsulates the spirit of Balearic clubbing, opens at midnight on each day of the festival, where you can dance under the iconic disco ball through until 6am. There's a host of great parties every year, but the crème de la crème for 2019 has to be the Thursday night presented by Crack; Call Super is joined by Hessle Audio's Bruce, and Shanti Celeste and Saoirse who will play back-to-back.
Day 3 // Josey Rebelle
After serving up one of the best sets of the week at Kala, Josey Rebelle is right up there in our top picks for Love International's day-to-night programming this year. Josey will play 9pm to 11pm on Friday night for the festival's biggest dance floor – the Garden Stage. One of the most respected DJs in the game, the Rinse FM resident's sets span house, techno, breakbeat, jungle, and everything in between, always heralding the London sonic and pushing the tougher, punchier sides of club music.
Day 4 // Restore
A week-long festival is no mean feat, so you'll (I'll) be forgiven if you want to escape for a day, momentarily retiring your feet from the dance floor. A half-hour drive from Tisno, and one of Croatia's most famous sites, Krka National Park's undisputed highlight is the network of seven eye-wateringly beautiful waterfalls. Entrance is 200 Kunas and includes a boat ride through the park, and there are spots along the way where you can swim away all the sins from the night before.
Day 5 // Beautiful Swimmers
Second up in The Sound of Love International release series, Beautiful Swimmers encapsulate so much of what is special about the Croatian festival. This year Ari Goldman and Andrew Field-Pickering AKA Beautiful Swimmers will close out the Sunrise Session proceedings at the Olive Grove, playing from 6am to 10am on Monday morning. On the Sunrise Sessions programme, Piers and Paul of Test Pressing say: "Love International isn't the kind of festival to tell you when to enjoy your music. If you want to get up fresh and early and get stuck into a music breakfast buffet well, you can. Similarly, if you're one of the post-Barbarella's, no sleep till lunchtime rogues, we have you covered."
Day 6 // HMS Respectable
Love International will be a week of excellent music, no doubt. Some of it will be bright and breezy, some of it will be moody, and some of it might be the best side of silly. And nowhere will the silliness shine brighter or bolshier than on the mighty HMS RESPECTABLE – aboard The Argonaughty ship from 7pm on Tuesday evening. Is there a better way to experience the melting Croatian sunset than while Deep Sea Cruising to strictly '90s and '00s guilty pleasures? Maybe, but probably not…
Love International runs from Wednesday 3rd to Wednesday 10th July 2019 at The Garden, Tisno, Croatia. For more information and to buy tickets, head here.