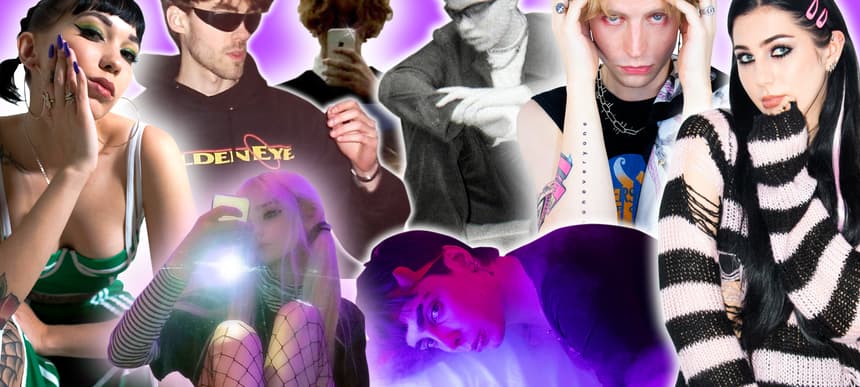 01.02.2021, Words by Ben Jolley, Photos by Roma Radz
"It's the future of music": hyperpop is taking root in the UK
An online community of British artists is putting the UK on the hyperpop map
From a quick glance at Spotify's tastemaking 'hyperpop' playlist, you'd be forgiven for thinking that the futuristic, glitchy sounds that bridge the gap between pop, rap, nightcore, trance, emo, metal and rave are almost exclusively being made by US-born-or-based artists. While the likes of PC Music, SOPHIE and Charli XCX were undoubtedly architects of the hard-to-define micro-genre, a close contingent of acts including umru, glaive, ericdoa, d0llywood1, SEBii, Petal Supply, osquinn, midwxst, blackwinterwells, RYL0, aldn, That Kid, Glitch Gum and CMTEN have been running things in North America, landing major label deals, media attention and SoundCloud documentaries in the process. But that's only half the picture. There's a lesser-known yet equally-exciting scene spread across the UK underground, with aspiring producers, singers and rappers in their late-teens and early 20s becoming friends and making music together online.
Whether it's Worldwide Princess' pitch-shifted starry-eyed experimentalism, phonewifey's uncategorisable barrages, the PC Music-influenced worlds of popstar-in-waiting Roma Radz and nu-metal rave girl AVA AKIRA (you won't be able to get 'Incomplete' out of your head), the Bladee-inspired glitchy emo-rap of Glasgow's pposture and FALINEE, Wales' kurtains, Manchester's Sleepa, Sickface and ezekiel, Kent's Voidie or Kid Trash, this unofficial collective represents a new generation of bedroom artist.
Other notable names with discographies worth digging into are Paco Cuf, Cloud125, Gross Boy and Arthur Prada. They're each taking hyperpop in wildly exciting – yet often contrasting – directions. But many of them feel as though the UK scene is being unfairly overlooked; it's a fair analysis considering that fewer than 10 out of 160 tracks on the coveted Spotify playlist are currently by, or feature, a UK artist.
"It's a growing scene in the UK and I believe a lot of editors shy away from it," says 19-year-old Voidie, whose Facebook-born collaboration with Sleepa, 'Impressed', is sitting at 65,000 streams thanks to placement on the sought-after playlist. Having been bedroom producing various genres of music for eight years, Sleepa feels that hyperpop "allows for endless creative freedom and expression; it's the future of music and I think it's about to blow up in the UK". Looking at his streaming stats, he says "when I'm on my computer making this music which reaches people all over the world, I sometimes forget how under-appreciated it is in my own city".
Voidie argues that it might be because "it's a new sound that people have got to adjust their ears to". He's confident, however, that it's "going to be huge soon; it's definitely on its way up." But why does he think artists from the UK scene aren't getting as much notoriety as their US counterparts? "Honestly, I don't know. It's taking a moment for people to get used to it because, before 2020, glitchcore/hyperpop didn't really exist – apart from a few pioneers."
Eighteen-year-old Glasgow-born pposture, who only started producing in late 2018 and began doing vocals in summer 2019, agrees. "Personally, especially while starting out, I felt like there was very limited UK representation within the hyperpop subgenre, as it was dominated by US artists and the UK artists who had already built themselves a following didn't really show that they were from the UK. I think this has become less of a problem as the genre has grown with the likes of rosesleeves, Wido and ezekiel collaborating with American artists via the internet." What's great about the catch-all phrase 'hyperpop', he says, is that "it's such a big umbrella term that it's likely to continue to get bigger because there is so much variety within the scene. It's not just got one distinct sound – it's constantly evolving".
"Russia and other parts of Europe like Poland and Germany are really on the ball with niche music already" – AVA AKIRA
For London-based AVA AKIRA, who started uploading tracks to SoundCloud in 2018 "with no real genre in mind," veering towards hyperpop has allowed her to create without any restrictions or barriers. Having had her flute-dream hit 'Locket' added to the coveted playlist ("seeing my track in there blew my mind!"), she suggests that "it seems anything goes as long as it's experimental, melodic, and catchy. Although it is such a loosely used term, it does leave you wondering when will a line be drawn? Or maybe not and it can become a huge movement rather than just a genre and create a whole new wave of experimental artists?" With more people being online and on TikTok because of never-ending lockdowns, she hopes the UK will "catch up with hyperpop soon; Russia and other parts of Europe like Poland and Germany are really on the ball with niche music already!"
phonewifey, who recently dropped their mind-boggling 'HARD YEAR' EP via Dummy's DMY Artists, never really understood exactly what hyperpop was or is. "It's a lot of intensely creative people who are all eager to work together and have a lot of shared references and ideas," they say. "In that respect, it's a really thriving and creative scene," they continue, saying that while alt-rap autotune-heavy 808-music was at the heart of their early sound, club culture and rave music has become more of a central influence. "But I'm not clear with whom hyperpop really begins and ends. I have no idea if I really fit the label (and it's not really for me to say either, I suppose!)" If it is a scene, though, they feel that hyperpop's home is on the internet. "Yes, I work a lot with people close by in London (and when we can put on live shows again that will be even more important in creating strong local scenes), but a big part of this whole thing seems to be the ability to connect with people around the world online and organise collabs, feats and online shows together."
With artists in the UK scene increasingly joining forces (there are plans for a cypher track to rival umru's mega 'movinglikeazombie' remix, which featured nine US fan favourites), they could be on the cusp of global cult fame. Voidie is right to be confident about its future, then. "The goal is to make the scene as big as it is in the US – because why not? It should be. I think it will be difficult, but 100 per cent possible – we've just got to get the right attention. It's coming but it's all about when; it's the future of music and to be there at the beginning is really quite something."
Listen to our 'UK hyperpop' playlist:
Artwork: Roma Radz