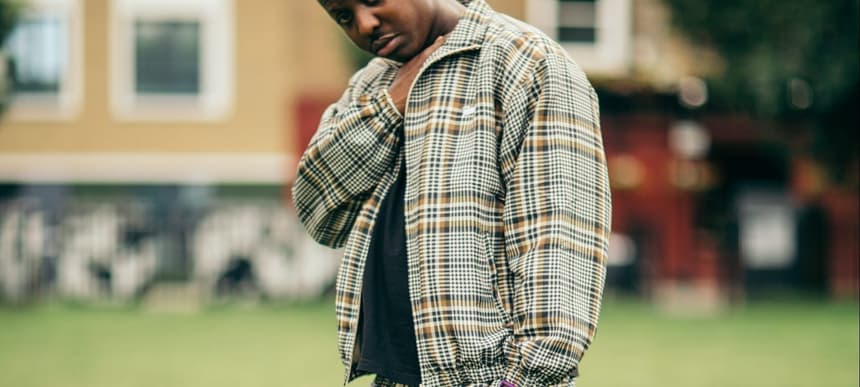 01.12.2021, Words by Billy Ward
"I just feel like I have to give back": Jamal Edwards is being the change he wants to see in his community
Famed for his contribution to grime culture, the SBTV founder is now breaking down barriers for young people with his Delve charity and his role as part of the Ballantine's True Music Collective
If you know a thing or two about UK grime music, you probably know who Jamal Edwards MBE is. Founding the iconic online music platform SBTV when he was just 18 years old, the West Londoner has exercised huge influence over the underground music scene, helping to bring the likes of Stormzy, Skepta – and Ed Sheeran – to the forefront of culture while being one of the first to embrace the internet and Youtube as a way of promoting artists. Nowadays, Edwards is focused on giving back to the community which birthed him, getting involved in charity work and local initiatives to give the younger generation the best chance at following in his footsteps.
In 2019, the grassroots youth project Jamal Edwards Delve (JED) was founded, providing young people with opportunities and social spaces, while adding value to their communities and supporting the development of positive identities: "JE Delve is a youth charity which provides young people in Ealing opportunities to learn, work and connect. We've set up four new youth centres as the council had closed everything like that around there," says Jamal. "We teach young people about staying safe online, about bullying and just help them navigate the world, which is super important. I went to youth centres when I was growing up and it's something I really want kids to have access to too. A social, safe space of their own where they can develop skills, explore who they are and a focus on nurturing a positive identity.
"One of the big things for me was being told no and being told that you can't do things. Telling my teachers I wanted to be an entrepreneur or cameramen and they're like 'what?' just looking at me dumbfounded. I think that had a big effect on me and I now want to arm young people with all the tools and possible opportunities to get the furthest they can in life. I went through that 'oh, you can't do that and you can't do this' push back and I don't want that for them. It wasn't always like that but growing up and getting a little older I just feel like I have to give back."
Jamal's work within his local community has not gone unnoticed. Last month, he was immortalised by Acton Unframed, a grass roots art project on a mission to inspire commercial and social change in the area by bringing the world's best street artists to the west London town. Jamal was selected as one of five large scale murals to be erected in the area, with artist Matt Small inviting local creative talent to collaborate on the metal mosaic piece: "It's mad bro. The whole thing has been two years in the making and was made by the young people at Bollo Brook Youth Centre with artist Matt Small. I went past it the other day and it blows my mind, I get people messaging me, parents talking to me, telling their kids about it and I'm so grateful to have been chosen for it – but yeah it is nuts," Jamal comments.
For someone who has been immersed in the world of music and art since his early years, the Acton local recognises the power of creativity when it comes to spreading important messages or rallying behind a particular cause. The proliferation of SBTV brought with it an increased demand for deep, heart-felt freestyles depicting the artists' often gritty life problems and connecting with the audience on a more human level. Even now, Jamal's Delve charity provides facilities so that young people can explore different creative avenues and possible career paths: "I think the arts are imperative to making change, they can be so powerful. I remember when Cadet came through and did a freestyle and I asked him to talk about what was happening in his life and social issues and the impact it had on the audience was unreal. Putting it in that format, made it connect in such a way that just talking wouldn't have done. For some people it's talking, but for others it might be music, poetry, film or art – all are valid.
"'Be the change you want to see in the world' is one of my favourite quotes and something I'm trying to live by. If we can look at music and culture in the same way, people won't be told 'no you can't do that', they'll chase bigger dreams and be free to express themselves how they want. The arts can be the most powerful vehicle for change and should be respected as such. "
On top of the work he is carrying out at Delve, Jamal recently joined forces with the likes of Honey Dijon and other creative trailblazers to address discrimination in the music industry. Teaming up with industry figures via the Ballantine's True Music platform, Edwards was allocated one of ten £10,000 grants being distributed to grassroots organisations actively working towards diversity and inclusivity in music, made possible by the Ballantine's True Music fund: "I have chosen No Signal Radio, it's a proper grass-roots organisation making change and treading their own path. They kept me and so many people entertained over lockdown and really built themselves over that period. They're a good bunch of young black creatives, it's authentic, I respect what they're doing to give back. I'm happy to be able to pay it forward and I'm looking forward to seeing what they can do with and take their business to the next stage. It's wholesome, it warms my heart seeing people do well."
Considering all the charity and community work Jamal is carrying out currently, you'd be forgiven for thinking that his own creative output may have taken a back seat – but this isn't the case. His journey into the world of television has just received another boost, while all of his other extra time is now being dedicated to directing music videos for some of the UK's biggest stars: "I'm working on an app that's going to be the new way of discovering talent, I see it as the next generation of SBTV and I'm really proud to say Channel 4 has re-commissioned our TV show 'Unapologetic' – which is a mad example of a YouTube business kicking down the door. Being accepted by national broadcasters and making prime time TV shows for them is amazing and the topics we're talking about are ones I never thought I'd hear on TV," he says.
"I've also got loads of DJ gigs coming up and I'm directing videos for the likes of Ed Sheeran and Tion Wayne – something I'm really enjoying. I always wanted to direct, but was too busy when I was running SBTV so now I'm taking the reins."
Find out more about the Ballantine's True Music fund here and read our interview with Honey Dijon about the initiative.
Read next: "There is beauty in understanding our power": Lex Amor on the human condition and finding her purpose