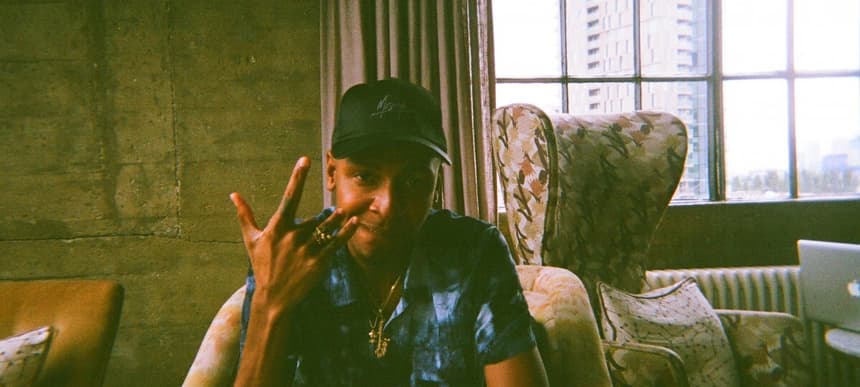 17.09.2018, Words by Nicola Davies
"I just get very nerdy": Masego talks trap house jazz and female influence
"If you really spend time with me, I just get very nerdy about keyboard types and sounds. I just love music." At a time where musicianship can be dismissed in favour of streaming numbers and social media following, Masego is the real deal. Standing at a cool 6' 6", the 25-year-old multi-instrumentalist is as charming as he is tall. Hailing from Virginia, by way of Kingston, Jamaica, he details where it all started, speaking like a true jazz musician: "Dating back to high school, I used to watch Ryan Leslie videos. Making things from scratch, that was cool to me. I think even the jam session and the process of making music was more fun than actually completing it." He clearly hasn't changed drastically since his school days.
Growing up in Virginia where neo-soul was big, Masego didn't initially take to the sound. So, aged fifteen, he and his friends came up with something of their own – 'Trap House Jazz'. "It's more like a mindset and a movement than just trap, house and jazz," he explains. "It was some real slapping beats with some very pretty chords." Masego still approaches his music this way, aided by a natural affinity for playing instruments. Saxophone is his strongest outlet, but he also counts the piano, cello, drums, trumpet, harmonica, marimba and harp as part of his range, channelling it into a sound that speaks a "universal language".
​Having previously released a couple of EPs, his debut album 'Lady Lady' dropped earlier this month: "It took the plane ride here for me to realise it was out." He hasn't even had time to call his mum: "We've exchanged some text convos. She's definitely very proud of me, but she's like [putting on a high-pitched voice] 'I saw the booty in the 'Lady Lady' video, I don't like it!'"
Conceived as an ode to women, or a meditation on strong women, the album guides the listener through a spectrum of experiences, from one-night stands to deeper connections: "'Lavish Lullaby' comes pretty early, and so does 'I Had A Vision', because these are the two sides of the album. 'Lavish Lullaby' is if I were to fully dive into that lifestyle, and it kind of volleys between those two. 'Just A Little' is on the fence, 'Prone' is more towards 'Lavish Lullaby'. Just over my last three years, I've gone through all those emotions. But they're not floating in my head all at once."
When it comes to the influence of women in his life, Masego is an open book – beginning with his mother, and from there teachers, crushes and artists, noting how notions of gender impact on music-making. "I really feel like the way a woman approaches songwriting, she's not afraid to say how she feels. A guy will probably dance around metaphors just because it's more of a macho thing, which I get – I do it as well." He even mentions wiping away "little thug tears" when listening to women like Mahalia and Emilie Nicolas.
That's not to say men haven't also played a role in his musical trajectory: "A man would influence me more from a cadence perspective… Ace Hood of all people, I take a lot from him. I've already said André 3000 a million times. I like Ty Dolla $ign a lot, and Jeremih – they're hook kings. Nowadays Smino does a great job with that too."
But you can't talk about male influence without mentioning GoldLink. "He was the first person from the DMV [D.C., Maryland and Virginia area] I saw blowing up in a different lane. He was rapping over SoundCloud beats and his cadence was crazy. I was reaching out to all of his team members like, 'Yo, who's this dude?' Then Henny his manager was like, 'He's having a show in DC.' I feel like being at that show opened it up to where I am now." The duo's 'Late Night' track was originally Masego's, but when GoldLink heard it, he wanted in: "I was not trying to let him have one. This is special to me. But he just cut a demo to it and it was very cool." Three years on, it has almost 27 million plays on Spotify.
Who is a 'Lady Lady', then? "Someone who is classy and reckless… A girl that has a dress on, but then she has this random sleeve tattoo. Those unknowns are cool to me, because we're all multi-dimensional. That's what a thriving relationship is to me, discovering a person for many years." This might be Masego's romantic vision for the future, but right now he isn't getting into any "situationships", especially while he's on a three-month tour. "I get sent wild things… I think it's healthier to not be on my phone for as much as possible. But at night time I'm just like, 'Ah let me just check these.' I might add something to the quote book, I might tweet about it, but it's online. To make a real, actual connection, it should be in real life."
Constantly on the road, Masego keeps a book of words and phrases he picks up around the world. He enthuses about the English capital that we're in, ahead of his show at the O2 Shepherd's Bush Empire. "That's not just because I'm in front of you, but the crowd and the energy is a different level of appreciation. When they do call and responses it's on ten." Less commonly for an American artist, Masego has knowledge of British music beyond the usual suspects, listening to the likes of Miraa May, Tiana Major9 and Amber Olivier, amongst others.
As predicted, his London show was special. Backed by a full band and wearing a silk shirt, Masego had the audience on side from the first note of 'Tadow'. Moving swiftly into 'Lady Lady' before covering OutKast's 'Prototype', he slid into 'Queen Tings' before an older cut, 'Sego Hotline'. He continued to run through most of the album, stopping mid-way to create a live beat, his signature set piece. For an hour and a half, Masego was the only thing that mattered. No phone-checking, no talking – just dancing and singing; everything a live performance should be.
What makes Masego so compelling is the immense well of talent and inspiration he is drawing from. Tomorrow he might learn an instrument, collaborate with a new artist, or meet a 'Lady Lady' that brings out something special. He's young enough to be humble, but wise enough to have something to say, and that's a combination worth listening to.
Stream 'Lady Lady' below.
–
Masego tours the US for the rest of 2018. For the list of dates, head here.