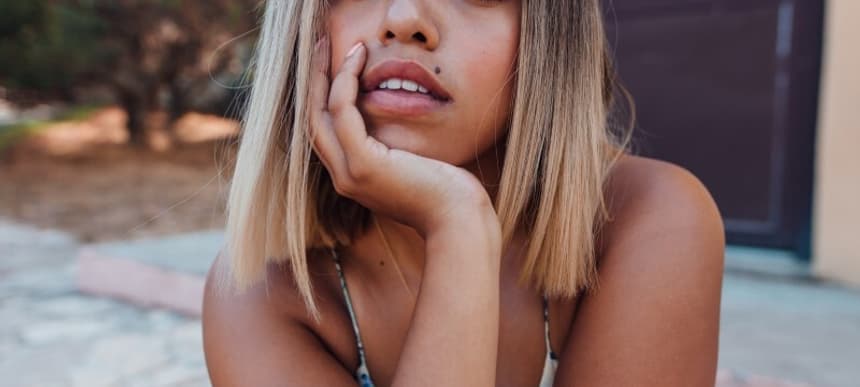 01.10.2018, Words by Rahel Aklilu
"I want to write about real emotions": Dummy meets Mahalia
As we enter into Autumn's cosy embrace, the end of a season brings with it reflection, deliberation, and anticipation for the phase to come. The change in seasons is directly caused by our planet's changing position in regards to the Sun, and for 20-year-old singer-songwriter Mahalia, the Earth is very much spinning right now.
Having inked a major record label deal at the tender age of thirteen, Leicester-born singer Mahalia Burkmar is no stranger to the music industry. She dropped her debut 'Head Space' EP in 2012, followed by her 'Diary of Me' album in 2016. Though it wasn't until the age of 18, as her peers left her home city for university, that she decided to pursue music seriously – thrust into the limelight after her COLORS performance of 'Sober' that now stands at a cool 17 million plays. Ever since then, Mahalia's recognisable husky tones have been a firm staple in the UK music circuit.
Speaking to Dummy over a bright orange smoothie, Mahalia has just returned from a long trip to LA which left her feeling "new and free". Her latest offering, five-track EP 'Seasons', chronicles the progressive and eventually regressive stages of a relationship and with it, the expectations and growing understanding of one another. "I see collections of moments in my life as seasons, when I was, for example, aged between fourteen and sixteen – it was the season of stupid mistakes and growing pains. Now I'm the season of love," she says. Drawing a parallel between herself and her pet kitten, Mahalia explains that at this stage in her life she is in "in heat", with her music expressing her experiences, which at this point, mainly concern love.
The EP kicks off with Kojey Radical collaboration 'One Night Only', where the initial, boundary-setting moments of a relationship are laid out by a resolute Mahalia who reminds her partner he is "lucky to be with somebody like me / Baby I'm a Queen." The track sees the emergence of a self-assured woman, regaining her power in the tumultuous cycle of love, and with it, life. "You start a relationship in a place of power, and then you start to lose a little power because of how strong your emotions and expectations are. Then before you know it, you're powerless because you're crippled by your emotions, and then slowly, you start to regain it". The record's closer, 'That's OK', finds that defiant recoup of power, of a woman who is quite simply done, asking a former lover: "Why you tryna f*** my life up?"
In the last year Mahalia's work rate has been relentless, with a flurry of singles including another relatable anthem, 'I Wish I Missed my Ex' as well as the Little Simz-featuring 'Proud of Me'. An exceptionally tough breakup (and a few drunk dials) inspired 'Sober', and is yet another example of Mahalia drawing from real life experience in order for the listener to really connect with her music.
Where other artists might be reluctant to reconcile their lyrics with personal anecdotes, Mahalia unashamedly expresses the dysfunction and regret of relationships past in her lyrics, as well as schoolgirl bullying. "I want to write about real emotions, and even when writing for somebody else, I have to relate it to myself in some form," she explains. For her, all her music, and perhaps most of all her latest EP, is for healing as well as for hearing. She sees it as much as a form of therapy for herself as providing a relatable release for listeners.
Sonically, Mahalai's self-description of "psycho-acoustic soul" comes from an inherent refusal to conform or be pigeonholed into one specific genre. "I feel like it's limiting because people will have expectations for the type of music I'm 'supposed' to make," she says. Mahalia draws from her various influences growing up to define her sound, such as India Arie's 2002 debut album 'Acoustic Soul'. And for the psycho? A nod to the lyrics that often contain a sprinkle of something personal, such as local slang from Mahalia's hometown of Leicester, or a nod to a favourite reality TV guilty pleasure – The Only Way Is Essex.
Surviving, and thriving, in an industry that ties success to public image as much as raw talent hasn't been easy for the artist just out of her teens. She talks candidly about the struggles of social media in what has been dubbed 'cancel culture', where a lifetime's work can be erased by a misunderstood tweet or a defiant Instagram caption. Growing up as a young woman in the height of social media's influence has sharpened the double-edged sword of being a consumer who sees the unrealistic expectations of body image surrounding women, as well as being a singer with thousands of followers that include young, impressionable girls.
To counteract this, Mahalia makes sure to emphasise the importance of inner beauty and self-confidence to her followers – but applies this lesson just as much to herself: "I would be a hypocrite to tell others to simply love themselves and practice body positivity if I didn't do that myself," she says, emphasising the importance of inner beauty in an industry that can, at times, come across as superficial. Echoing the sentiment in 'Proud of Me', where she sings: "I wanna keep bits of me / To myself / I don't need your publicity," Mahalia reveals she's intentionally held back parts of herself and her personal life from the realm of social media.
'Seasons', Mahalia tells us, is the warm-up to an upcoming album, where we can expect a similar "psycho-acoustic soul" vibe, with a fully independent ethos that doesn't count a single artist feature. Mahalia season is only just beginning, and we can't wait to see what it brings.
–
Listen to 'Seasons':