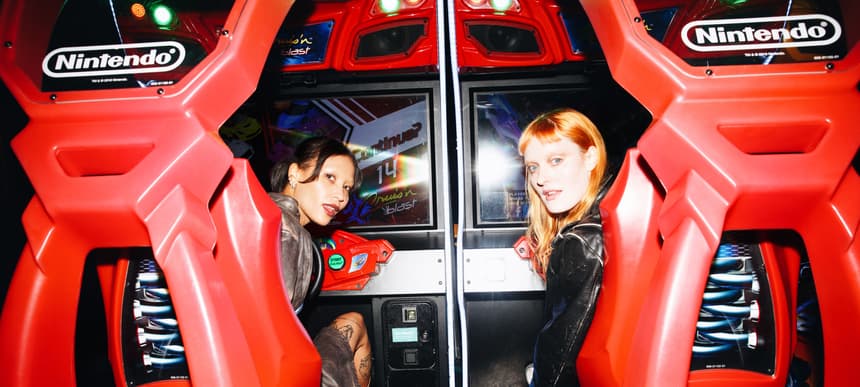 31.03.2023, Words by Payton Dunn, Photos by Lamia Karic
Icona Pop enter their club era on 'Faster'
"There [were] no rules, and I think that also opened up a whole new world for us to write music and not to do a verse, pre-verse, pre-chorus thing, but actually just to do what we felt like doing."
Icona Pop are officially back with a brand new single off of their forthcoming record, which will be the dance-pop duo's first album in a decade.
That break from long-form music meant that they would have to reintroduce themselves. They were dead set on doing that right here in London, with singer Aino Jawo telling DMY, "I just want to show everybody! It feels a little bit surreal because it was ten years ago that we did it the last time. This time, we're doing it in a way that we want to do it. We're building our new live set. Everything goes hand-in-hand in this world that we've created, and that feels really good."
Ultra Records threw together an album preview party and sent out invites to people working in the UK music industry. I was fortunate enough to have it hit my inbox.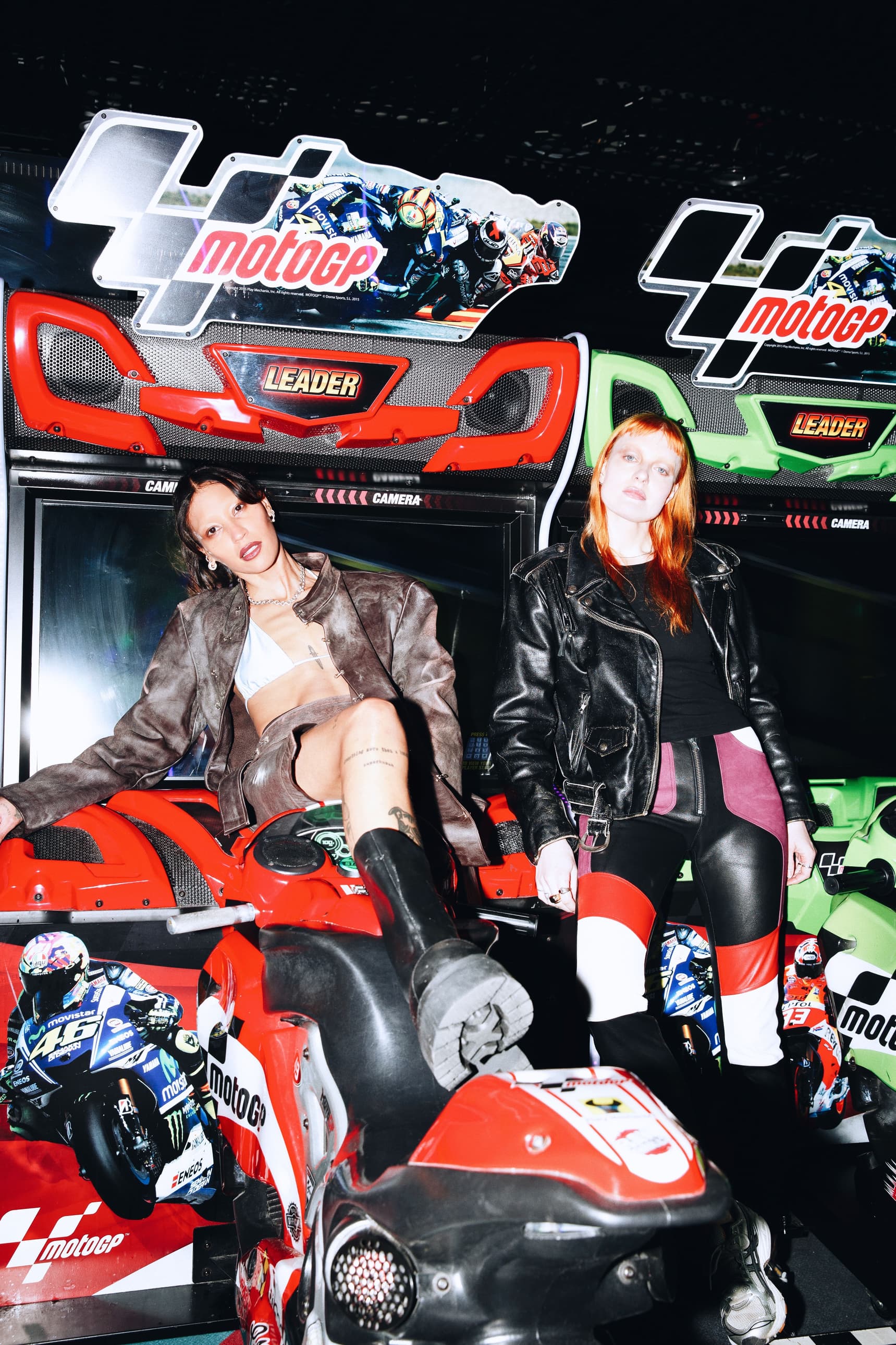 I followed the address on the bottom of the flyer all the way down to the Ned, a grandiose hotel located in the heart of Central London. As I swung open the front doors, my ears were greeted with what seemed like the antithesis of Icona Pop. It was neither dance nor pop. There was a jazz band playing up on the stage in the center of the elegant lobby. The crowd of suits and ties in the audience all revolved around it like planets in the solar system.
Surely, something must've been wrong. I headed on down to the basement, and as I descended down the stairs, a massive bank vault creeped out of the corner of my eyes. A club bouncer sat just outside of it with the printed-out guest list in hand. I'd finally made it to the right spot.
Soon enough, Caroline Hjelt and Aino Jawo swooped onto the stage to play the preview of their album interspersed with cuts from the brand new DJ set that they'd formulated. Just four hours earlier, I'd been riding the elevator up the headquarters of Sony Music UK to meet up with them to talk about their new song 'Faster', which sees them dawning on a glitchy sound that emphasises the dance end of their dance-pop equation.
They'd started on the song two years earlier with the rough vocal take that made it all the way to the final version. When they went back in to try and give it another go, they were never able to get it quite as good, with Hjelt explaining, "It had a certain energy. We tried to re-record it, but [it sounded] too clean. There was something dirty about the first one that we wanted to keep."
The song went all the way against the traditional pop structure that they'd embraced throughout their career. That structure had taken them to massive heights ten years earlier with the release of their full-length debut 'THIS IS… ICONA POP', which featured hits like 'All Night' and their Charli XCX collaboration 'I Love It'.

'Faster', on the other hand, was closer to the type of hypnotic track that you'd hear in the club than in pop music festivals around the globe, with Jawo saying, "There [were] no rules, and I think that also opened up a whole new world for us to write music and not to do a verse, pre-verse, pre-chorus thing, but actually just to do what we felt like doing."
They had no idea what to do with at first. They considered throwing it in one of their DJ sets and calling it a day, but as their forthcoming album started coming together, they realised that the club direction wasn't just anomaly for them. It was quickly becoming the next stage of their career.

Their forthcoming record wasn't their first go at making a follow-up to 'THIS IS… ICONA POP'. They were all set to release an album back in 2020, but once COVID hit the world and lockdown came into full force, their plans were completely shattered. They were forced to move from Los Angeles all the way back to their home country of Sweden.
Before lockdown, they'd been too busy with touring to sit down and consistently release music, but now all the live gigs were gone. They decided to take full advantage of it and headed into the studio, with Jawo explaining, "That was the same studio where we started everything. [It was] where we wrote one of our first songs. For us, it was this silent moment — the first silent moment in a long time."
Hjelt jumped in, saying, "The quietness made us dream of what we wanted to do. It's very weird that we wrote the most [dance-oriented] album ever during the most quiet time we've experienced in over 10 years."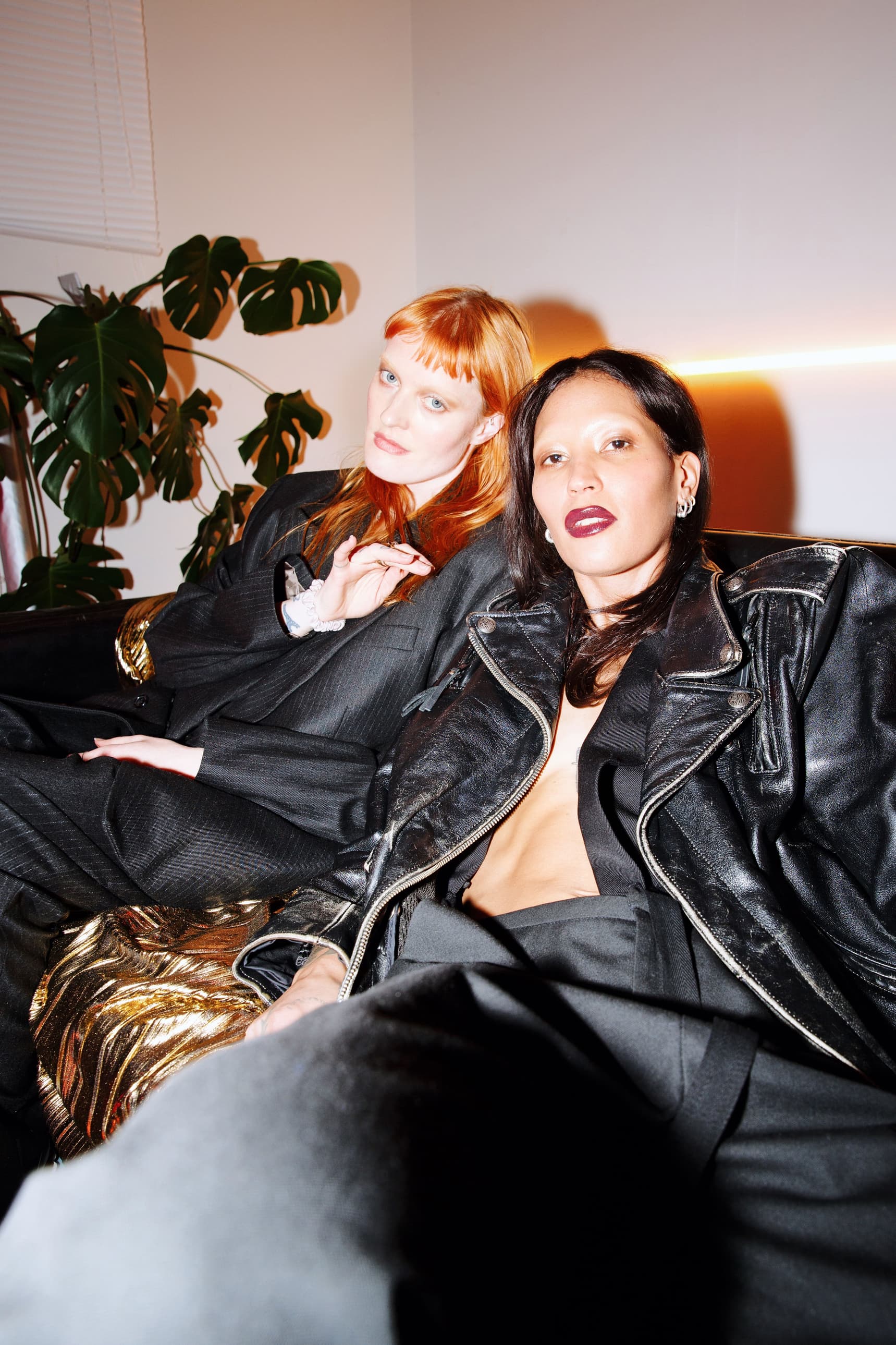 In between sessions in the studio, they'd take to Instagram Live to perform live DJ sets to the rest of their quarantined fanbase. They were instant hits. Fans told them how relieving it was. It gave them respite from the constant cycle of negativity playing out in front of them on the news. That's when Jawo realised what was coming with the dance music revival before it would explode back out into the mainstream in 2022, saying, "We realised how important dance music is. It was like people could disappear into the dance tracks, but we definitely felt like there hadn't been that much room for dance music as well. It's weird how that can change in a second."
It all harkened back to their early years, with Hjelt explaining, "We're club kids from the beginning! When [we] were heartbroken, [we] went out with all [our] friends and were crying on the dance floor but also laughing. All the emotions were allowed! We wanted to create that space. It felt like that's what we were doing in the studio even though we were not at a club now."
That new dance direction opened the door for a whole new world of collaborations, and on their recent single 'I Want You', they decided to work with Galantis. The two Swedish acts had bumped into each other all around the world while they were both touring, but they never actually ran into each other in their home country. It would take them both going back to Sweden for them to make that happen.
During lockdown, the timing seemed perfect. They sent files back and forth, and Icona Pop's shouted vocal delivery started sliding perfectly into Galantis's electronic production. Once the world opened up, they were finally able to play it live, with Jawo recalling, "We just went to Mexico and performed that song together with Galantis. That was just such an amazing feeling — to just sing the song and to see how people reacted and sang along! It's very cool how the internet can do wonders."
Soon enough, fans will be able to sing along to the whole album. Icona Pop's forthcoming album is slated for release later this year, and it can't come soon enough.
Read next: Riovaz paved the future of rave culture on his RIORAVE tour