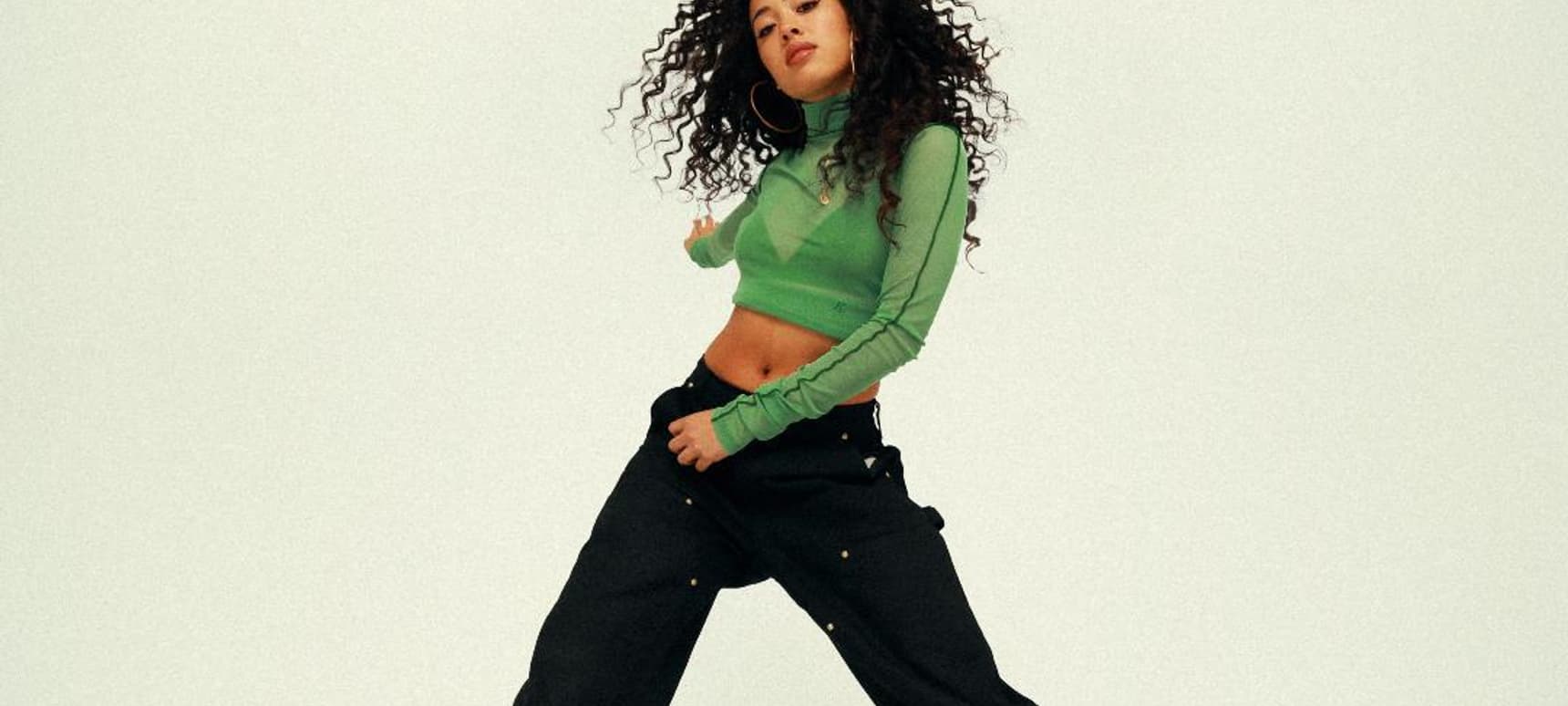 14.12.2021, Words by Billy Ward
"I'm just chilling in all my truth": Joyce Wrice gives the low-down on her masterpiece
On 'Overgrown', the R&B singer gets to the roots of her beliefs, womanhood and navigating hardships
Prior to the release of 'Overgrown', Joyce Wrice might have been a name you were familiar with but had yet to commit to memory. Over the past few years, Joyce has been best known for decorating the hooks and crevices of tracks by The Free Nationals, Buddy, Jay Prince and Rejjie Snow among others.
These collaborations would go a long way in raising her profile, and for many served as an introduction to her magnetic voice. Those in the know however, were aware that Joyce had been releasing music of premium quality since 2015. Albeit intermittently.
The velvety grooves of 'Ain't No Need' and 'Do You Love Me', co-written by TDE's SiR from her first EP 'Stay Around' were instrumental in drumming up Joyce's initial base of dedicated listeners. A turning point in Joyce's promising career would be wrought with the space-age odyssey of 'Rocket Science' produced by Stones Throw alumni MNDSGN, alongside the jazz affectations of 'Good Morning'. Taking Joyce from the niche enclaves of R&B's SoundCloud community to the frontline of a new class of rapidly emerging chanteuses.
Yet for 5 years, bar a few stand-alone singles, Joyce's presence in the world of music was largely predicated on her run of features. That was until March of this year when her long-awaited debut album 'Overgrown' was finally released.
Executively produced by GRAMMY Award and Academy Award-winning songwriter/producer D'Mile, the album is a sublime and charming ode to 90s and 2000s R&B. Nestled across the project's 14 songs are stylistic references to pillars and beacons of that fabled era like Mariah Carey, Amerie, JoJo, Faith Evans, SWV and Monica.
That isn't to reduce the material to a collection of dated songs inadequately attempting recapture the spirit of the past. Joyce alongside her illustrious crew of collaborators including Freddie Gibbs, Masego, Lucky Daye and KAYTRANADA have been able to carefully construct a project that wears its influences on its sleeve, while harnessing an array of futuristic sounds that allow the album to comfortably dwell in the present day. Standing tall as one of 2021's premier releases.
In the days leading up to her recent headline show at London's OMERA in October, Dummy caught up with Joyce to discuss her organic path to prominence, navigating nostalgia with thoughtfulness and the continuous hardships that come with adulthood.
How would you describe and chart your artistic progression from 'Stay Around' to 'Rocket Science' to 'Overgrown'? Where are the similarities and points of difference that indicate how your approach to creating music has evolved?
When I first started making music during the 'Stay Around' and 'Rocket Science' eras, I was only just starting to understand my voice. Thinking about what I wanted to say, how I wanted to say it and what sound I really wanted for myself. Listening to the lyrics of my older material, I do now feel they were a bit basic and could have had more substance. But of course, that comes with experience and time. It's a part of the journey. With 'Overgrown', I just feel surer of myself and more aware of what I'm doing. I'm more open to trying new things and getting out of my comfort zone. Lyrically, vocally, and even melodically – pretty much in all aspects.
There's been conversation online for a few years now that contemporary artists are being too influenced by sounds/imagery of the past and constantly trying to evoke nostalgia. Of course, your album is highly influenced by music from the 90s and early 2000s – how did you set out to make sure that 'Overgrown' was a homage to the past but still rooted in the present day and original in its own right?
I feel like there are a lot of artists who are inspired by the 90s and 2000s. Some people tend to sample it very heavily and I do think artists could be more reasonable with it. For example, I love producers like The Alchemist, Knxwledge, MNDSGN and Madlib but they utilise heavy sampling in a cool and refreshing way.
For me personally, I just want to make the people who have inspired me proud. Continue their legacies by putting my own twist on it and just maintaining the quality they provided.
Aesthetically the album artwork recalls Mariah Carey's Butterfly, Toni Braxton's The Heat and Aaliyah's self-titled album. What was the creative direction and vision when conceptualising the album packaging and artwork?
Mariah Carey's 'Butterfly' was definitely on the mood board. I wanted something sensual and grown, but still tasteful and classy. I wanted it to look classic and timeless. My manager and I were also doing research into the connotations behind certain colours. Blue is said to represent tranquillity and calmness. That resonated with me because I do feel I am becoming more relaxed. I'm not anxious or self-conscious anymore, I'm just chilling in all my truth.
The album was executively produced by D'Mile who has become an instrumental figure in modern R&B by way of his work with H.E.R., Lucky Daye, Victoria Monet and Silk Sonic. Why did you choose him to be the anchor of the album?
I really want to be the best artist I can be in this lifetime. And if you want to be one of the greats, you have to work with the greats. Not only is D'Mile an amazing producer, but he's also an incredible musician, arranger, and vocal producer. His ear is insane. He's worked with huge people like Mary J. Blige, Janet Jackson, and Bruno Mars, so I had to have him steer the ship because I only want to get better. When we had our first session together, he was just so patient and willing to guide me. Even though it took a few sessions to find our rhythm, once we made 'On One', it set the tone for what the entire album came to be. We instantly knew what to do and where to go.
James Poyser, known for his work with Erykah Badu, Common, Anthony Hamilton and Eric Benet co-produced 'Addicted'. Tell me what it was like working in the studio with such a production giant like him?
Unfortunately, I didn't work with James Poyser in the studio when recording 'Addicted'. The story with that song is Jonah Christian who recently produced 'Wild Side' by Normani' played the beat for me and told me he worked on it with James Poyser. When I found that out, I knew I had to murder that song vocally. So, I haven't worked with him yet but I would absolutely love to because that's the man behind Erykah's 'Green Eyes'.
'Must Be Nice' is probably my favourite song on the album. What was the inspiration behind the track? And musically, what vibe were you going for? It reminds me of Amel Larrieux and Sade.
Working on the album was like therapy for me because I was really going through it. At the point of me recording that song, I was in a much better place mentally. I wasn't so hung up and heartbroken about this person I had been seeing. The reality of it was I needed space and distance from that person. I'm not sad about it anymore but I still wanted the relationship to be healthy. So, Shawn Butler and I wrote the song about that experience.
I will say, at the beginning 'Must Be Nice' wasn't one of my favourites on the album to be honest. What I loved was the vocal. I was really trying to get my Brandy on vocally and tone wise, but I think it was just a little different for me. Over time, I've grown to really love that record and its definitely one of my favourite songs to perform.
The album features a few interludes. What were some of your favourite interludes from albums you grew up listening to?
The Busta Rhymes interludes on Missy Elliott's 'Supa Dupa Fly' album. She produced them of course but it just features Busta talking his shit. I wanted that energy on my album and that's what inspired 'Westside Gunn's Interlude'. Janet Jackson is another one, she had skits on all her albums, but my favourites were on 'Damita Jo' and 'The Velvet Rope'.
Also, sometimes as artists we're just in the moment and have these random bursts of creativity. It doesn't always need to be a full song. With 'KAYTRA's Interlude', I had met KAYTRANADA towards the end of completing my album. Meaning it was tough to arrange time to work on a full song. So, he just sent over a beat he'd produced, and I sprinkled some of my vocals on there.
I want to explore the "tending to your garden" metaphor that you've used to explain the title of the album. As a 29-year-old, it would be redundant to say this is a coming-of-age album. However, is it fair to say that it encapsulates the often-belittled crises and growing pains that people in their mid-to-late 20s go through as they really start diving into adulthood and in your case womanhood?
That's 100% how I feel. I'm still coming into my womanhood, but I feel the most confident I've ever been. I'm really learning to be comfortable in the uncomfortable and in the unknown. This album encapsulates all of that. It took a few years to finish because I was getting in my own way. I was overthinking and just unsure about things. But with the power of prayer and the support of my team, I knew it was time to let all that go and take action. I had to keep reaching towards the goal which was to tell my story and give people something of great quality.
Lyrically, the album primarily focuses on love, sex, relationships, and heartbreak. I want to know what were some of the other flowers in your mind that were overrun by weeds? What else was happening in your life that needed to be tended to?
I would say just certain insecurities and bad habits that I needed to get to the root of. As humans, if we don't do that and continue to just put a band-aid on things, it's still going to be there. Then you'll just remain in a constant mode of frustration. It was the way I would communicate with myself or how I allowed people to treat me. I had to learn about having the confidence and the courage to set boundaries and stand by them. Not worrying about how other people would take it. Most importantly, just being okay with things not working out.
You've been very vocal about your Buddhist beliefs and values. The music industry can be a tricky space to navigate, especially as a black woman and independent artist. What core Buddhist values have aided in ensuring you don't lose yourself?
Buddhism has taught me not to get bitter and jaded. Especially because this industry can get very ugly, messy, and discouraging. Perhaps the biggest thing I've learnt is to not be swayed by my environment. Also, to know that I am capable of literally anything. I have the ability to create something tangible from any situation.
The project was released via your own label imprint and distributed by The Orchard which is an arm of Sony Music. Why did you decide to evade the major label route and forge your career as an independent artist?
Well, initially, I wanted to go the major label route. I took some meetings and from my side, they went really well but then I never heard back about moving forward. Luckily, The Orchard was open to taking that leap of faith with me. It worked in my favour as I get to own my masters and have more control. It was a blessing in disguise. I'm happy to stay independent, but I'm also open to a major deal if the terms are right.
You've cut your teeth in the studio with some of California's best talent including SiR, Devin Morrison, Jay Prince, Buddy, SiR, The Free Nationals, Dom Kennedy and others. How did those experiences shape your transition from mere singer doing covers on YouTube to a full-fledged recording artist?
I feel so fortunate to have been in LA and met the right people at the right time. For these people to be patient and open to letting me into their world and helping me find my own voice. They just really helped me figure out pretty much everything. What is a melody? What makes a good song? How do you do adlibs? Making sure you stack your vocals. Learning about harmonies, backgrounds and phrasing. I'll also add, it was very nerve wracking too because being in the studio is such a vulnerable thing. Trying things out which may not work but you're doing it in front of everyone. You're finding your way in front of everybody.
How did you connect and make initial contact with the aforementioned?
I honestly met everyone organically. Nothing was forced. I wasn't being a weirdo and stalking people or anything like that. With MNDSGN, I had a photoshoot and the photographer I was shooting with just happened to be his girlfriend and she introduced us.
With SiR, I met him through this producer called DK The Punisher. I fell in love with 'All That Matters' by Justin Bieber. I looked up the song on Wikipedia and saw DK The Punisher produced it. I found him on Twitter and DM'd him saying I would love to work with you. He invited me to the studio, and he had a writer there who happened to be SiR who was going by Darryl Farris at the time.
With Buddy, I met him while I was working at this Japanese restaurant in Culver City. I remember one day after work, I was walking to my car, and I heard this music coming from a bar. I went in by myself in my uniform, and I was just enjoying myself. Buddy then came in and we started dancing. I didn't even know who he was at the time. We later became friends, and I met his producer, Roofeeo. Eventually, I just started meeting more people in the music scene through him because he's very connected.
I was super intrigued to hear you mention multiple times that Tamia has been a massive influence on you. She's grossly underrated and someone who is rarely if ever discussed by younger artists. What is it about Tamia that has impacted you so much?
My dad owned Tamia's debut album, and he would play it all the time. I can't remember what song it was, it would've been 'You Put A Move On My Heart' or her rendition of 'Careless Whisper' but when he would play it in the car, it did something to me. Instantly, I knew I wanted to do what she was doing. I wanted to sound like that and I wanted my voice to have emotion like hers.
She inspired me and made me want to sing. I would just listen to that album repeatedly. I would literally copy everything she was doing and try to sound as good as her. That first album is one of my favourites. It has no skips. Songs like 'Rain On Me', 'Imagination', 'Gotta Move On' and 'Falling For You' are still the shit but also 'Poetry' from her 'More' album is so good. My vocal coach and I both agree that Tamia does not get the recognition that she deserves at all.
There has been ample discussion about "the state of R&B" and whether it's dead or not. What is your opinion on the current landscape of R&B music both as an art form but also where it sits in terms of industry support?
R&B is doing really well right now, in my opinion. I feel like it's getting the respect that it deserves. It's been a long time since it's been acknowledged and supported in the way it is today. There's so many amazing artists right now. Some don't like to be called R&B artists for whatever reason but I'm just happy to be a part of this new wave.
I don't know where this "R&B Is Dead" statement came from. But I guess the industry at one time perhaps wasn't in the mood to push those artists. Shelving their music and telling them it wasn't their time yet because hip-hop, EDM and pop artists were dominating the charts.
Things are slowly changing though. Jazmine Sullivan just came and ripped us apart. We got Lucky Daye, H.E.R., SiR, Giveon and we also have more pop and hip-hop artists incorporating R&B influences into their music. It never went away in my eyes, but it is starting to have a big comeback culturally.
You initially planned a career as a teacher who specialises in working with special-needs children if music didn't work out. You also taught English to Japanese students. Is that something you'd still like to pursue in future?
Yes, most definitely. I want to continue making music and growing into a bomb-ass performer, but I also really want to give back to the youth. Sharing what I've learned with others. I would love to contribute to a school that priorities the needs of special needs children in the capacity of teaching English, music theory or even voice classes. I would love to get into all of that in the long run.
What can your fans look forward to in the coming months from Joyce Wrice?
I'll be supporting Lucky Daye on his stateside 'Candy Trip' tour next year. Other than that, they can certainly expect new music and more visuals. You might see me on a project with a well-known producer/artist who I can't reveal yet. I have also been working on a collaborative project with MNDSGN and Devin Morrison. We have a good number of songs that we need to share with the world. I'm hoping to put that out when the time is right.
Stream 'Overgrown' below:
Words by: Sope Soetan