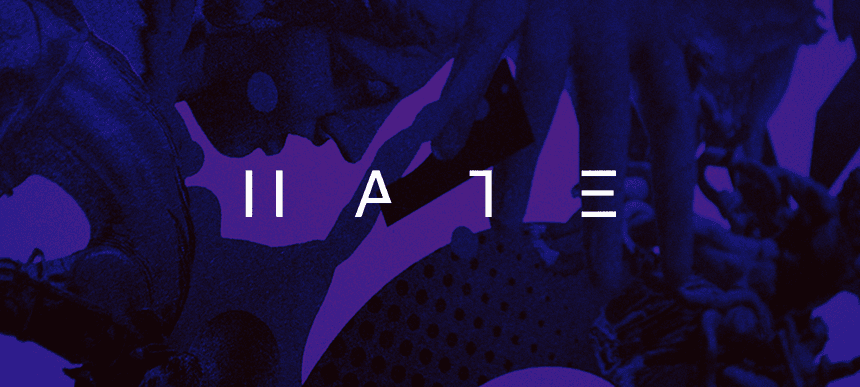 18.04.2018, Words by dummymag
Inside HATE, every techno fan's favourite YouTube channel
Where does any techno-obsessed music fan go to find new music? Not to any online magazine, label website, radio station or Facebook page, but to HATE, YouTube's biggest techno channel. With an ever-growing tally currently at 147,000 subscribers, the platform's influence on contemporary electronic music — in bringing the freshest techno, electro, ambient and experimental artists to fans' ears — cannot be underestimated.
In partnership with imprints like Semantica, Planet Rhythm, Hypnus and Non Series, HATE has premiered some of the biggest club tracks of recent years — 747's 'Aurora Centralis', nthng's 'It Never Ends' and Artefakt's 'Curvature Of Mind' were all broken on the channel. Part of the reason so many labels are willing to collaborate is HATE's attitude towards promotion; each track is uploaded in low quality to discourage ripping and accompanied by several links to sites where fans can buy the full release.
The channel was started in April 2015 by Mike and Szymon, two friends from Poland. Three years later, they describe themselves as "the main reference on YouTube for techno," and who would argue with them? "We're music listeners and techno lovers," they tell me over email. "We just wanted to share the tracks and releases we like with other people."
Although they maintain a professional attitude to operating the channel, HATE has always been run in Mike and Szymon's spare time, for free. "During the early years, I knew many artists and labels through Facebook or email," says Szymon. The channel has received a handful of donations from especially appreciative fans, but their success is born out of a love for their music, "the result of hard daily work of digging, talking with labels and artists."
I ask Szymon about the progression of techno music over the past 20 years: "what is really changed now is the accessibility," he says. It's this accessibility that has allowed the channel to flourish, with fans able to hear the latest Oscar Mulero track the moment it's released. Not only that, but the track will be uploaded along with the rest of the LP and as part of a playlist, either 'NEW AMBIENT/EXPERIMENTAL TRACKS', which is currently 866 tracks strong, or 'NEW TECHNO TRACKS', which comprises close to 5,000.
And yet, might there be a downside to the accessibility of music offered by the internet age? One of the first things Szymon stresses to me is: "we are not interested in mainstream techno." That term sits a little uneasily — isn't all techno not underground by nature? "Mainstream techno sounds all the same because there is a lack of ideas," Szymon continues. "Most of the tracks are made with basic elements from the same loops taken from sample packs and all arranged in the same way with same elements."
Although Szymon doesn't single out particular labels or artists, his description brings something to mind. Logging onto Facebook, one of the first videos I see on my timeline — captioned as a 'melodic Gem' — depicts a floor of hands-in-the-air ravers complete with glowing wristbands and a track I can almost hear even before I've hit the unmute button. Of course, I'm in the Identification of Music Facebook group, a page where music fans post snippets of songs they've heard in the hope that someone can tell them what it is.
The group has come in for criticism from some DJs, among them Jackmaster, who complained on Facebook last year about "lazy" spinners playing tracks they had heard him playing in the Identification of Music group, rather than digging for records themselves. The group is now approaching 100,000 members, meaning any DJ dropping a "gem" by Adam Beyer or Patrick Topping could be viral within an hour.
The perpetual surge in the group's popularity epitomizes the "mainstream techno" that HATE seems to be a reaction against. "This way of producing can be dangerous for the new generation," Szymon says, "giving space to producers with no skills and no original ideas."
So, what makes a release worthy of HATE's blessing? "We love to take risks," Szymon continues. "Sharing something that's not easy to listen to or not so popular." It's hard to pick out a typical HATE video as their archive is diverse, but their fondness for challenging sounds is captured particularly well by, the likes of 999999999's X0001000X EP. The release's four stubbornly titled tracks of acidic catnip have amassed a large number of hits, but little is known about the artist, other than that they're a "techno duo from outer space" (or Italy, according to Resident Advisor).
In bringing this otherwise unknown music to their subscribers, Mike and Szymon have become gatekeepers of contemporary electronic music. Yet as their popularity grows — they now have a podcast series with more than 70 mixes — they seem intent on keeping things low-key. "We've received and we still receive many requests from big names," says Szymon. "But we don't see it as business. For us it's not about being popular and increasing our followers or subscribers."
HATE's attitude signals a new era for electronic music. Thanks to social media, more people are hearing techno than ever before. With that in mind, it's no surprise that some artists are making techno that's designed to be easy on the ears. But like for anyone else with a techno obsession, that stuff is of no interest to Mike and Szymon. For them, techno should be "music with values, not always an easy listen, but truly underground."
Follow Dummy's curated playlists on Spotify.