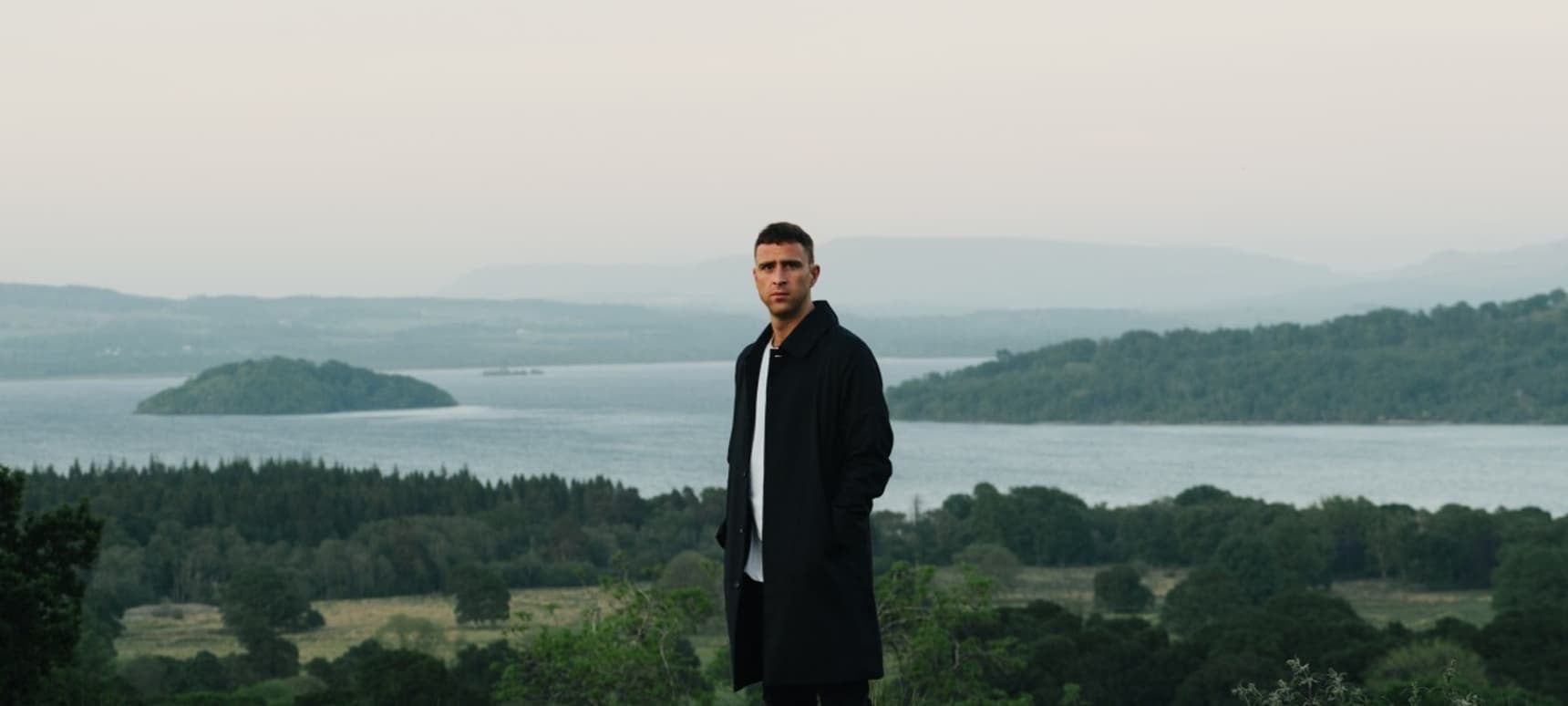 08.07.2016, Words by dummymag
Jackmaster: "I slept for 24 hours once. I woke up halfway through and had a cheeseburger."
Usually saying that so-and-so needs no introduction is just an easy way out for a writer who can't be bothered putting one down on the page, but in Jackmaster's case it's the truth.
To be blunt, if you're a dance music fan and you've not heard of Jackmaster we're going to have to assume that you've spent the last decade living in a time capsule buried deep on Mars. In fact, we reckon that even from inside there you'd still hear him laughing.
The Glasgow stalwart's known for his immaculate selections, technical proficiency as a DJ, and an ability to headline pretty much every festival going while running a record label and still having more fun than pretty much anyone on earth. Whether you like him or not, it's impossible to doubt that Jack Revill is the full package. He's been touring the world pretty much solidly since leaving his full time job at Rubadub around six years ago, and there's not been a weekend go by that hasn't seen him play at least one relentless, hands-in-the-air set.
Jackmaster's a DJ who sticks to DJing and that's one of the reasons why !K7 asked him to head up the latest instalment of their DJ Kicks series. Dropping in stores today, it's a testament to his breadth of knowledge and stunning taste. Never one for doing things by the book, Jack kicks things off on a chilled footing with some new age ambience from Lndcroy before ramping things up into sweaty territory with another Denis Sulta screamer, before going fully fucking taps aff with belters from Robert Hood, Mr G, and Mike Dunn.
I wanted to turn this into some gleaming and wistful long form feature, but the chat was too good to cut up and disperse across a page, so find below Jackmaster uninterrupted – waxing lyrical about a range of topics from the now defunct Dress 2 Sweat label, people thinking he's a dubstep DJ, bad tattoos at Seth Troxler's birthday party, and last but not least, his DJ Kicks mix.
Jackmaster on the year so far…
Jackmaster: "This year has been amazing, it seems like for the last five years each one has gotten a little more, as I say – turbo."
Jackmaster on his DJ Kicks mix…
Jackmaster: "Over the last couple of years, different middle men have vaguely discussed the possibility of me doing a DJ Kicks mix, but my profile probably wasn't as high as it is now. They were always into the idea, but we never quite got it together. Now, Will Saul from Aus Music does A&R for them and he suggested I take part. I was on Holy Ship in Miami and got a call. It was about £3 per minute to receive it, but my manager Ed said it was worth it.
Basically, somebody had dropped out of DJ Kicks, and !K7 asked whether I could turn around a mix within a month. Usually I would take at least a month to do a mix, and that's when I've got time. I usually do a Mastermix in December when I'm in New York seeing my sister. I've got decks in front of me and I can just work on it all day. It was a real tall order but if I got through then it would come out in the summer. I'm an impatient guy, so I just said yes, but they had no Internet on the boat and there was no studio room for me to practice, so off memory I sent a bunch of tracks over that I thought I would want to licence. On my return, I pulled some completely different ones out, and in the end there were four or five different version of the mix. The first version I did was about two hours long, which you can't fit on a CD obviously. The deadline was super tight for me, but I managed to get it done.
I can't make an album, I don't put out tunes, and the only reputable DJ mix series right now are DJ Kicks and Fabric. I approached it quite nervously as I know there's a lot of stigma about who I am as a DJ, with what I play and what I'm into, so I was kind of at loss. In the end, I just decided to select all the tunes that I like from the past and present, and make it honest. It turned out to be almost all Glasgow, Detroit and Chicago, with a wee bit of German stuff."
Jackmaster on his DJ Kicks tracklist…
Jackmaster: "It was kinda of a homage to those cities I mentioned – Detroit, Chicago, and that little bit of UK stuff. Some of my favourite producers at the moment like Dennis Sulta from Glasgow, Fango, and Mr. G, who sent me that track upfront. Then there's new Numbers signings, like Lory D and Alcatraz Harry."
Jackmaster on misconceptions…
Jackmaster: "Some people think I'm a dubstep DJ and others think I'm a party DJ, but I'm just kind of everything. I don't try to be a crowd pleaser. I play what I like and I know how to read a crowd – it's not difficult. I just checked the DJ Kicks announcement on Resident Advisor, and somebody wrote: "Does every commercial DJ put in a Mr. G track to make themselves underground?" Mr. G is probably the most well known artist on this playlist apart from Villalobos and Robert Hood. The comment got voted down so much that it's now hidden.
"I grew up working in Rubadub, which is arguably one of the best house and techno record shops in the world. I've worked for pretty much every important Detroit label and artist you can name. All of the people who slag me off on Resident Advisor – I've probably held half of their record collection in my own hands." – Jackmaster
I'm trying to set the record straight though, and extinguish any wrong opinions or preconceptions about me. People don't know I came from a house and techno background. I grew up working in Rubadub, which is arguably one of the best house and techno record shops in the world. I've worked for pretty much every important Detroit label and artist you can name. All of the people who slag me off on Resident Advisor – I've probably held half of their record collection in my own hands."
Jackmaster on Glasgow as an influence…
Jackmaster: "I still live there. I live in Ibiza in the summer. It's trying to pull me in. I'm always a strong supporter of Glasgow and I always try and push it but it really comes down to Rubadub and Club 69, which was their club in Paisley. I wouldn't miss a Saturday night there. I wouldn't even want to go to the toilet because I was so scared of missing a beat. Those places were so crucial. They turned me from listening to Defected and trance into a Model 500 Juan Atkins enthusiast overnight. You can't quantify how much of an influence that club was, and still is, on me."
Jackmaster on music discovery…
Jackmaster: "In the past, you had to be somebody's protege. Or, if I wanted to learn about Underground Resistance, I would take the full section upstairs at Rubadub and listen to every record. Whereas now, kids just go into Discogs. I tend to seek out information about artists less than I used to because of that. It was nice when you had to make up your story about things and you had to wander a little bit, but now everything is just there. I actually wonder if there's really even an underground anymore. You can't call yourself underground and have a Twitter account, can you?"
Jackmaster on Dress 2 Sweat…
Jackmaster: "Do you know what, I almost called a new project Dress 2 Sweat but I thought it would give the wrong idea to people that remembered it. I was working in Rubadub, and when you're working with a distribution company, the natural progression is to start your own label. I was obsessed with Diplo and Hollertronix at that time. There was a real community around the Hollerboard. Rustie was making good wee bits of ghetto stuff around seven or eight years ago and I thought, "we can do this."
I stopped the Dress 2 Sweat label with the Night Slugs release, and put a retrospective mix out alongside it. No-one ever comments on it, but I hoped it'd be a big deal. Those were good times, as everything was much simpler. It was more for fun, with less of the bullshit surrounding music. Saying the wrong thing on Twitter can end your career these days. Social media wasn't as big back then, the main focus was message boards."
Jackmaster on sleeping…
Jackmaster: "I slept for 24 hours at Sonar once. I woke up halfway through and had a cheeseburger. I had to wake myself up because I hadn't eaten for so long. See everyone has got this opinion of me! I like partying right. There's people at home that are so much worse then me, but I just don't lie about it. I go and party with random people after clubs and they all put it on Twitter. That's why I've been typecast as this guy, but what you don't know is I sleep before every gig. If I've got four or five hours before a gig, I will sleep that whole time. You can't get me out of my bed. Ask my manager, the amount I sleep is becoming a bit of a problem. Any spare time – I just walk up to my bed, phone on silent, pass out."
" I slept for 24 hours at Sonar once. I woke up halfway through and had a cheeseburger." – Jackmaster
Jackmaster on b2b DJ sets…
Jackmaster: "I prefer going back to back than DJing on my own, as it's so much better for many different reasons. That Armand van Helden Boiler Room was so fucking good. I always like playing with Joy. The first time we played together there was just something. Oneman – we don't even have to look at each other – it's just like telepathy. When we were doing Can You Dance, we developed a sign language, because he was so far away. We didn't have to say anything, we just gave each other this look.
Armand van Helden was the most fun b2b ever. We were backstage at Boiler Room beforehand and he came in the room. I don't know if anybody else saw it, but he had a glow around him. People say celebrities have an aura…well he had one to me. Heidi asked whether I was going to speak to him but no way. It's like going up to the hottest girl in the club and your mates like: "Go, she's looking over." No chance. Eventually I went over and and we spoke. He's one of the nicest guys in the industry."
"I wouldn't miss a Saturday night [at Club 69]. I wouldn't even want to go to the toilet because I was so scared of missing a beat." – Jackmaster
Jackmaster on going back in time, to the best club in the world…
Jackmaster: "I would go back to Paradise Garage with Larry Levan, and if that was shut I'd go see Ron Hardy at The Music Box. I'd be that pure annoying wee guy asking for selfies on an analogue camera. Larry Levan would be my main choice, probably because as well as disco he would go into R&B and boogie, whereas Ron Hardy was a bit tougher. Let's just go back in time and get Ron Hardy's maw and Larry Levan's da to shag. They'll have a kid and I'll teach him or her to DJ, and then the history books would be re-written.
That's the best answer I've ever given to any question."
Jackmaster on Ibiza….
Jackmaster: "DC10 is the only place I go, ever. Ibiza is like a pure dutty word, but there's something for everyone. San Antonio is just funny because that's where all the neds are. We call it the jungle. There's pure people fighting and there's two Scottish pubs on the strip across from each other. Somebody told me they've seen pints flying from one end to the other when the football is on.
Seth Troxler has big birthday parties in Ibiza that are always strange…his 29th and his 30th especially. He spends a lot of money and has weird, mad shit like tattoo artists in. They're free and in any style you want, but you can only have his 'fuck it' slogan done. At his 29th, I was in the queue to get one but they shut it down as I got to be next up. I wasn't going to get 'fuck it' though, I was going to ask for a hash leaf with 'Ibiza 2015' under it, or a unicorn or something. Bad tattoos are the best. Bad tattoos over anything else. I should just get the answers to all these questions tattooed on me shouldn't I?"
Jackmaster's addition to the DJ Kicks series was released July 8th, 2016 (buy). Jackmaster plays BuggedOut! in Dreamland on September 24th (tickets).