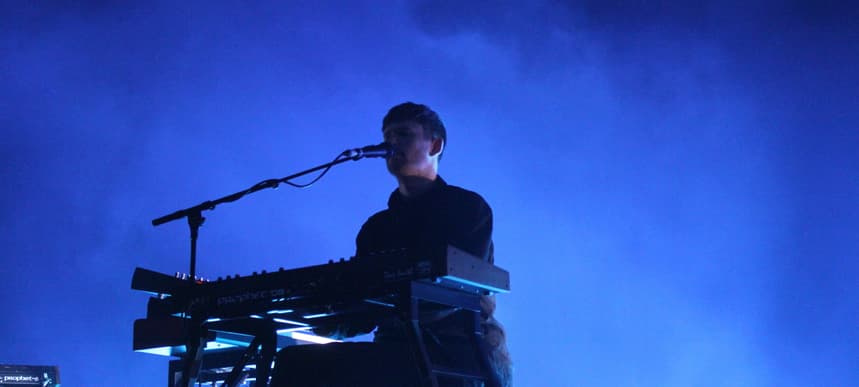 24.04.2019, Words by Ben Jolley, Photos by Karan Teli
James Blake's Eventim Apollo show was a return to form - and his hometown
The now-LA-based megastar returned to his home soil for a special show...
There's a moment in the middle of James Blake's headline show at the Eventim Apollo – his first in London since 2016 – when he asks the crowd how they're feeling. "Okay? I'm feeling okay too," he replies reassuringly, unashamedly sharing with thousands of adoring fans in front of him that he's in a good place mentally.
It's this sense of contentment that stands out in Blake's performance as, more so than during previous performances, he seems happy to stand centre stage and let the spotlight reveal him. Performing a 17-song set that consists of the majority of his fourth album with only a simplistic red curtain for a backdrop, all eyes are on Blake as he showcases his faultless falsetto.
Bringing tracks from 'Assume Form' to life with more urgency and intensity than on record, three of the album's most emotive and soul bearing songs, 'Are You In Love', 'Barefoot In The Park' and 'I'll Come Too', carry a cinematic energy thanks to burnt orange strobes which light up the stage.
There's something religious and almost spiritual in the way that Blake stands under a white spotlight, singing about how he has finally found peace on album highlight 'Can't Believe The Way We Flow'.
The crowd – heavily made up of loved-up couples in their mid-twenties – sway together and lose themselves in the romantic lyrics of Blake's most recent songwriting. Then there are the groups of friends who have followed him since his post-dubstep beginnings almost a decade ago, nodding their heads and reaching for their phones as he performs a spellbinding rendition of his breakthrough hit 'Limit To Your Love'.
Contrastingly, there are moments where he transforms the room, if only momentarily, into a club; especially during the percussion-infused techno of 'Voyeur'. With alien-green flashing strobes to accompany its rave-y synths, for a moment it feels as if we could be at Printworks.
Afterwards he teasingly asks "what about now?" with a knowing wink before introducing the two band members who have been with him since they became friends in secondary school. But it's 'Retrograde' that achieves the biggest reaction: after a lot of hushing – and a "go on James!" coupled with a wolf whistle from one rowdy audience member – Blake hums the opening chords, which gradually build and build, resulting in deafening screams and cheers.
From the noise emanating from the seated balcony and the thousands who are stood downstairs in the sloping performance theatre, it feels as if Blake is an actual pop star – albeit, an incredibly humble one.
"I just want to say that…" – the room goes silent – "…I'm so flattered to come back here and have this kind of reception," he says politely.
He might have moved to Los Angeles and racked up credits with some of the biggest names in music – Kanye West, Kendrick Lamar and Beyoncé included – but Blake hasn't changed really: he's still as modest as ever, looking embarrassed by the unending applause.
Closing his main set with a tear-jerking cover of Joni Mitchell's 'A Case Of You', his voice shines as one of the best in music; it's a vocal that makes the audience feel every word that he's singing. A spellbinding return to the live stage, James Blake's talent as a musician continues to shine – and, this time, he seemed happy to occupy the spotlight.
Related: Read our James Blake interview: "I wanted to make songs that could pierce as much as my favourite songs do."