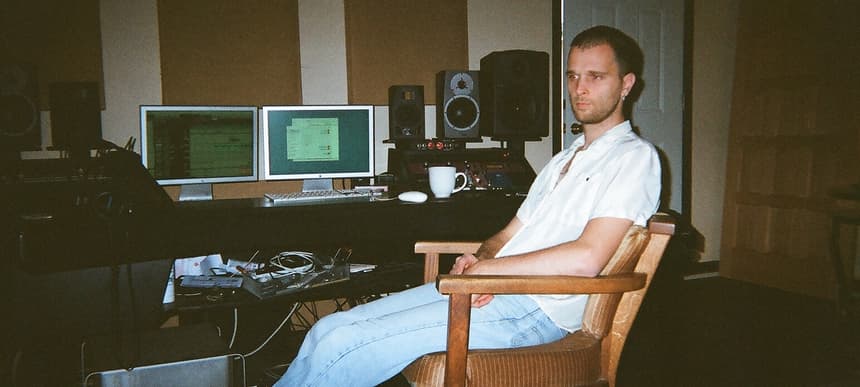 19.06.2018, Words by Nicola Davies
JMSN is balancing independence with freedom
In a time where genre fluidity is accepted, capitalised consonants is the name style du jour, and soprano male voices are revered, JMSN has been ticking all three boxes for years. Not that he is a conscious box ticker, he's actually far from it. Having first come across his music in 2015, I've always wondered at his lyrical, musical and production abilities, culminating in an often melancholic but beautiful sound. Meeting a few weeks ago at his instrument-laden studio in a peaceful North Hollywood neighbourhood, it's clear that he just wants to create music, and everything else is a means to doing so.
JMSN manages to stay ahead of the curve without intending to, mainly because he's not concerned with how the curve looks. Having released his first album as JMSN (another musical chapter preceded) in 2012, Priscilla, his style may have evolved but there is a thread running through every record. When asked whether he feels like his sound and aesthetic have been ahead of the times, he responds with humility: "A lot of people told me that. I don't focus on the old stuff, you know? I'm not trying to do what everyone is doing. I'm trying to do something that will probably become what everyone else is doing later. Some of my favourite artists were doing that, they were cutting edge." As someone who is inspired by the likes of Coldplay, Amy Winehouse, Brand New and Sigur Ros, JMSN is nonplussed about people's opinion of his style, or about entering the mainstream: "The pop culture is so behind. They find the stuff that's cutting edge and then they bastardise it to a point where it's like…Jesus, you know?" We segue into trap culture, and how he isn't keen on the current landscape: "I'm just wondering how long this trap thing's going to last because it's getting so crazy. Those people who are the originators should be doing it because that's their thing."
Listening back to JMSN's previous albums, you can hear elements of R&B, jazz, soul, hip-hop and rock, which showcases an exploration of styles that has become more common for emerging artists. However, it's fair to say that JMSN was doing it before many of them, even if he plays it down: "People are a product of their influences. We regurgitate all that we hear and take in and see. So nothing's because of me. There are times where you can feel like I did that first, but you don't own any ideas. It's sent to you and you're a messenger. I only hear about that kind of stuff because my mom calls me and is like, "These people stole your idea for your video." I'm like, "oh my God. Who cares?""
For someone with such consistency, especially in today's climate of disposable music, JMSN has consciously avoided genre pigeonholing: "I made it a point to do that. People from the genre they want to pigeonhole me in want to collaborate and stuff. There's all kinds of opportunities where in the short term, it could be cool, but in the long term I'm going to be pigeonholed into that world." Showing the self-discipline and long-term view that it takes to be successful, JMSN continues, "I've turned down a lot of stuff because it was just too much. In the beginning when I was doing Kaytranada and Ta-ku and Sango tracks, it was cutting edge and amazing, and I was a fan of it. And then it was like 10,000 other artists came out trying to do the same exact thing."
The one occasion he did a friend a favour by working with an artist in a genre he wasn't keen on, JMSN got burnt: "I had made it a point to not work with any trap rappers, with any R&B auto tune guys, and all that stuff. I sent him this song that I did on his beat, and a month later he said, "We're going to put it out. I'm going to send you the final version." He had changed the whole beat to trap shit and then put an auto tune R&B guy on the second verse. Then he put it out and didn't even ask or anything. I was so fucking pissed."
But there are plenty of features that have been a success. He has worked with artists like J. Cole, Curren$y, Sango and Kendrick Lamar, although he only has one track of his own with a named artist, Boldy James. When featured names are increasingly becoming click bait, and social media followings are used as a measure of fame, this choice bucks the trend. When asked why, JMSN has a mostly practical response: "The main reason is when you're putting stuff out independently and there's another artist featured on it, it's hard to put it out, especially if they're signed artists. You're never putting that out, unless you're somebody like Chance the Rapper. I had a joint album with Ab-Soul that we were supposed to do."
However, JMSN isn't puritanical about this approach: "There are songs where I wanted to get somebody on. Like So Badly, I was trying to get either Snoop Dogg or André 3000 to do a spoken intro. I got close to getting in contact with Snoop Dogg but that's about all that happened. I just wanted them to be Diddy on it, it wouldn't even have to say "featuring", because I feel like that'd be corny."
But perhaps this no-feature 'policy' is a symptom of his self-confessed "loner" status. JMSN runs his own label, White Room Records, where he writes, produces, and mixes all of his own music. This is impressive, but it's also hard work. Although these technical skills lend themselves to independence and sustainability, JMSN places the emphasis elsewhere: "It's overwhelming. It doesn't get solitary, no. I'm a loner. That's the kind of person I am. I like the freedom of being alone, but it's stressful and overwhelming for sure." On the other hand, he doesn't seem to have much of a choice; "I would [like it done another way] I just don't trust anybody else to do it the way I like it. I'm sure eventually I will. I'm almost getting to a point where I want to send out mixes, but it's still a lot of money. I'll cross that bridge when it comes, but right now I've just got to bite the bullet and do it."
Although JMSN's process is more involved than he would like, the creative freedom he receives in exchange makes up for it. "There's a small battle, like when you've finally figured out the snare, and you're listening to the beat and you're like, "yes, this is fucking amazing". The rest is just trying to get there. Creating is the fun part, just creating." He also engineered another outlet to work with others when recording the album Live North Hollywood in 2016: "Nobody's around when I'm playing the guitar, or strings and stuff. It's just nice to have it all going on in the same room and show that. They turn into different songs when we play them live. We're planning on doing one for some songs off this album and then I can't wait to do another one."
But what does being independent mean to JMSN? He launched his career with major label signings (Atlantic and Universal Motown) before starting White Room Records in 2012. To some artists, this is the dream; creating music with no interference, and keeping ownership of everything. JMSN has a slightly less rose-tinted view: "My take is that there are people who want to do it independently, but that's because it's the only way they can do it right now. I want to do it independently until I can get to a point where I have a group of people working. You're trying to get to a point where you have more than just you doing it. You don't really want to be independent." JMSN draws a distinction from 'not signed to a major label' versus 'working alone'; independence can mean either of those things, but it takes on a new meaning when you're an established artist and need a team to support your musical success. "It's a different thing when you want to keep going independent and there's offers on the table of help. Some people don't care to give up artistic control or integrity in order to have the help, and there's nothing wrong with that. But independent is such a generic word, it has become a trend. I never liked to promote that I'm independent. I'm just making music, and I'm doing it. That's all that matters. Independently, or with help, as long as I can do it and my integrity is intact."
He has so much freedom in fact, that he even created a new artist called Pearl. He released tracks he didn't need as JMSN but were too good to bury: "It got to a point where I'm like, I'm not going to use this as JMSN song, but I've got so many artist friends, so why don't I just put singers on it and put it out anyway, just under a different name?" So he did.
Having honed his process over the years, JMSN now focuses more narrowly on his album vision: "It used to be make a bunch of shit, and then pick out the best stuff. It's like work smart, not hard, you know? You're not really thinking about genre, you're just thinking, "What am I feeling? What do I like? Where do I want to go?" Once you've got a direction, then you start stepping that way." With his new single Talk Is Cheap, and an album due later this year, we'll be able to hear how this strategy has paid off. But if So Badly and Talk Is Cheap are anything to go by, we're in for an album of synthy vocals and romantic overtones. Not entirely a departure from previous work, but certainly moving into a dreamier sound with a skew towards instrumentals.
There aren't many artists like JMSN. Ones with enough foresight not to take every opportunity that comes around, not to fall into the commercial trap for the sake of following the culture, and to sustain their career beyond a few albums. With ease and without hesitation, JMSN articulated what success means to him: "Just to sustain, being able to make music. That's it. Success is growth. You just keep growing, keep getting better. Sustain and be consistent." He might not want to be fully independent of support, but that's the way JMSN is keeping his musical independence, and his musical integrity, and it's working so far.
JMSN's new single is out now. Check it out below.