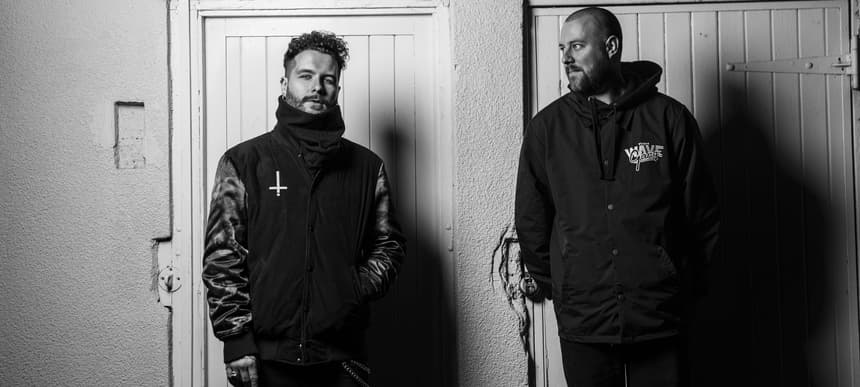 27.02.2020, Words by Felicity Martin
Orchestral outros and Polymoogs: how Kahn & Neek made '(Having A Sick Time) In The Mansions of Bliss'
Two of the driving forces behind the UK's weighty grime-meets-dubstep sound, Kahn and Neek have earned a reputation as two of the toughest producers and selectors in this corner of the globe. Emerging out of Bristol with 2012 debut 'Percy / Fierce', they've gone on to show versatility through their 11-strong Young Echo collective as well as a kind of signature sound not only in their own productions but through their Bandulu label, which has kept releasing gold standard sounds that never stray far from authentic soundsystem culture.
Last we heard from the pair was on a handful of remixes like the heavily-spun 'Topper Top', but they have just reunited on new material for the first time since 2016. Out tomorrow on fellow Bristolian Boofy's inimitable Sector 7 Sounds imprint, four-tracked EP 'Having A Sick Time (In The Mansions of Bliss)', quite simply, bangs. Packed full of the duo's characteristic dark stylings, meditative echoes and teeth-gritting melodies, it's Kahn & Neek through and through. In anticipation of the release, we asked the pair to guide us through each track, and you can listen to each chest-rattling cut below.
'(Having A Sick Time) In the Mansions of Bliss'
"This track started as a sketch to accompany a vocal we'd been sent which, after a few differing iterations, grew into its own full length instrumental in its own right. We got the bass pattern down first and built the rest of the track around that. We liked that it was kind of a throw back to the sound we were working on in the early days of Bandulu Records. It's the first time we've used cut up vocal samples for ages too!"
'Random Lab'
"This this was one of a number of beats we made quite a while back during a period of experimentation. We always liked it but never knew quite what to do with it as it wasn't really a 'club tune' necessarily, so we were glad that it fit with this EP rather than let it drift into the void of unreleased music…"
'Shimmer'
"This tune first appeared in our Essential Mix on Radio 1 back in 2017 and nearly became another lost dub. It's definitely one of the more melodic tunes we've written and a personal favourite of ours from that period. Plus we managed to get the Polymoog in there on the outro (hold tight Gary Numan!)"
'Venus'
"This is kind of a sister track to 'Shimmer' as we wrote both of these in the old Young Echo studio in pretty quick succession. It was interesting to us to try using a grime rhythmic pattern but to step away from the traditional sound palette. Unfortunately we blew all of Sector 7's savings on a 100 piece orchestra to record the last 30 seconds of the track but we felt it was worth it."
Kahn & Neek's '(Having A Sick Time) In The Mansions of Bliss' is out on 28th February 2020 via Sector 7 Sounds – pre-order it here.
Read next: The 10 Best Remixes of 140BPM Tracks, according to Sicaria Sound