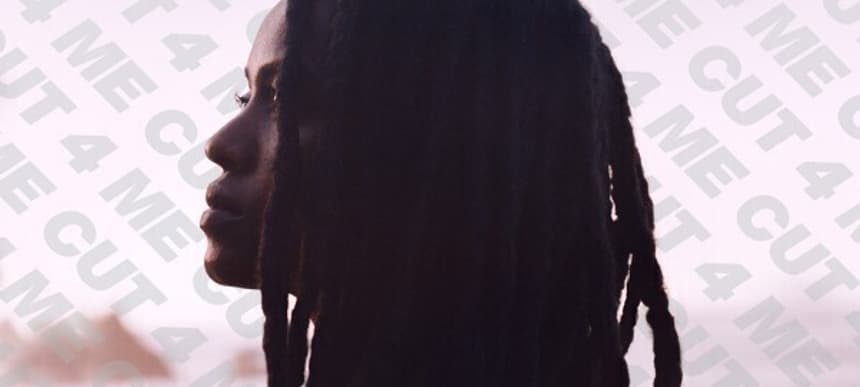 02.10.2013, Words by dummymag
Album of the Week: Kelela - 'CUT 4 ME'
US singer Kelela's 'CUT 4 ME' may turn out to be one of the year's most gloriously realised experiments. Clearly its most significant contribution is to lay out the red carpet for a talent with thrilling potential: Kelela's voice is one that channels the diva spirit of classic era Mariah and Janet, but with a crispness that's very much her own – and likely informed by her jazz roots after swapping East coast for West a few years back. But undersell the role 'CUT 4 ME' plays in the Transatlantic ties between sister labels Fade to Mind and Night Slugs – who offer up a host of respective big names on production duty – and you'll pass up on the next stage of an ongoing theoretical exchange between Kingdom's and Bok Bok's respective clans.
During Bok Bok's RBMA lecture in New York this year he boiled down much of what's at the heart of Night Slugs' move into peddling darker and harsher textural moulds. Speaking on wanting to bring back a time where clubs were truly being "challenged" by productions, he said he wanted to "mak[e] people dance with their bodies to things that their brains aren't up to speed with yet". Much of this was clearly brought in by the tectonic twists of Jam City's 'Classical Curves' – in turn influencing the creation of the Club Constructions series, and playing its part in L-Vis 1990's supremely bloody-minded Ballad 4D. Fade to Mind have meddled in comparable dark arts, too. NA (Daniel Pineda of Nguzunguzu) recently shared the miasmic, minimal march of the 'Xtreme Tremble' EP, with Flute Gasp twisting trap kit contortions in a way you wish Zomby had spent more time doing on 'With Love'.
Obviously, a collection of Bring Out The Katz or Ballad 4D-style productions for Kelela could have been a train wreck. But it's the way in which the traces of this collective brutalism linger like splinters, cutting through the debut's honeyed soul, that's revelatory. Such a schism is apparent from the appropriate duality present in opener Guns & Synths – its corrosive snares and pile driver bass neutralised as Kelela's falsetto swoops in to tame the beast. While the Night Slugs/Fade To Mind alliance is well established – Bok Bok's RBMA chat had the words "dialogue" and "community" often cropping up – the give and take is brought to the fore here in fresh and thorough light. The aforementioned Guns & Synths, originally put out by LA's Napolian with Tariq & Garfield a few years back, benefits immensely from Bok Bok's London input.
Scouring through producer credits, the back-and-forth is at its most striking with Kingdom's sinogrime gleams for the mixtape's mid-point title track. Its sound is heaving with digitised syncopations, most tellingly with sporadic blurts from what sounds like a plush car alarm that couldn't sound more 'Classical Curves', bringing to mind the marble shine of that overturned motorbike which adorned that album's phenomenal artwork. Kingdom's vision is reciprocated immediately after by Jam City's input on Keep It Cool – a song that sends up the smoke signals for the mixtape's reflective second half – and built on comparable machinic, East Asia-via-Bow production. This obviously is far from the first instance of these exchanges of sonic ideas, but it's a testament to what Fade to Mind/Night Slugs have been sowing that the production on 'CUT 4 ME' is so continuously cohesive and yet conversational.
Much has been said of that overkill of R&B vocals being utilised by electronic producers from 2010 and onwards. It's easy to slot that backstory alongside this mixtape – but it's clear that if 'CUT 4 ME' had been too closely informed by the success/excess of these remixes and re-edits things could have turned out very differently. If there hadn't been genuine chemistry between Kelela and the music that backs her, the results could have lacked a human touch, as well as being problematic due to her presence behind a host of almost entirely male producers. 'CUT 4 ME' couldn't be further from this: these songs venture inside the adventurous, sci-fi production with poise and precision, at times riding a combative wave (Enemy), and elsewhere making use of sparser moments for transcendent pop pearls (Bank Head). One of the most poignant moments of this coming together occurs on final track Cherry Coffee, with Kelela calling out to Fade to Mind by dropping the label name in her lyrics. It's a reminder of the complexity in the name – one that Kingdom has said references life's moments of primal, base experience – and a late highlight of the whole piece.
We live in a time that can be increasingly viewed as having reached a moment of post-futurism, one so hemmed in by a technology-craving capitalist now-ness that dreaming up near-future fairytales can only really be sensibly be greeted by cynical snarls. It's something that creeps up hauntingly on Something Else, with Kelela's spiralling line "I already know I've seen the future and it's over". Compare the visuals of an R&B smash from 1995 with one from 2013; while the use of a space-age aesthetic links them, there's something depressingly lethargic and old hat in this year's vision. Sure, recent releases this year have played on R&B's (often retro-)futuristic hang-ups, but if the hyper-sexualised machismo of The Weeknd's 'Kiss Land' – one that only becomes more inexorable the longer it unfolds – is some kind of foretelling of times ahead, then we really are doomed.
No surprises, really, that it's taken a formidable underground collective like Night Slugs and Fade to Mind to introduce a talent like Kelela, whose debut release genuinely delivers tingles of being privy to a prophetic pop future beamed back at you. Crucially, the past mingles in important ways, too – Kelela has spoken about how she learnt her art through imitation of '90s heroes, and there's plenty of that being collaged here – but looking ahead, particularly to Kelela's continued collaboration with Bok Bok, the implications are good. While a triumph in its own right, 'CUT 4 ME' feels like a springboard for greater riches yet to come.
9/10
Fade To Mind released 'CUT 4 ME' on the 1st October 2013. Download it here.