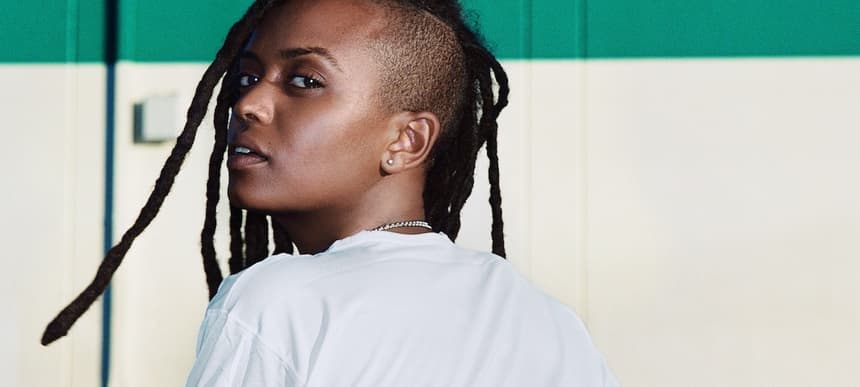 01.10.2013, Words by Aimee Cliff
Kelela interview: "It's both familiar and twisted."
"We're in the hottest moment of LA summer, like end of August to mid-September, and my apartment doesn't have AC," Kelela apologises as she pulls her French doors shut, blocking out the bustle of a hot, bright LA day. Connecting with her over Skype, my chill east London evening is being lit up by the invasion of the sirens and voices of the sidewalk outside her windows. It's a quiet evening for me, but for Kelela Mizanekristos, the most in-demand singer of the moment, quiet is scarcely an option – for her it's the bleary morning after a Teengirl Fantasy gig, hot on the heels of weeks of important appointments and right before the release of her debut mixtape on Fade to Mind.
Last week, she says, was the craziest week she's ever had in terms of meetings – the mixtape, 'Cut 4 Me', is about to drop (at the time of writing, it's just been released) but already she's thinking ahead to her long-term game plan. "My strategy basically involves working on an album before signing with any label. Basically finishing an album and then presenting it to the people who have, you know, made enquiries."
Kelela is a super rare phenomenon. Here, speaking to me in a laid-back, thoughtful lilt about her "game plan", is an artist who's sitting on numerous enquiries and opportunities and lighting up social networks with barely a public solo track to her name. At the time of our conversation, all you can officially find to listen to online from Kelela are her star-making features on Teengirl Fantasy's EFX and Kingdom's pop song of the year, Bank Head, plus an amazing live recording of her singing over a Bok Bok set in Peckham; with a little digging you can also dredge up a few radio rips, but Fade to Mind are still holding her solo material close to their collective chest.
"I've been dreaming about this for a long time…I have just thought about it too much not to try – at least try some alternative strategies. I have to at least fail at those before I go with convention." – Kelela
In part, this is down to the singer's vigourous perfectionism and insistence on being in total control – right after we get off this call, in fact, she's going to a meeting to finalise the 'Cut 4 Me' cover. "I've sort of been dreaming about this for a long time," she says. "If I were in it to just take a conventional route and strategy, then I probably would have just done it a long time ago." Training in classical violin until twelfth grade, singing in jazz bars in her teens and ad-libbing over deep house in the Eighteenth Street Lounge club during her time at college in Washington DC, it's been a long time waiting in the wings for Kelela. "I feel like it had to be done in a really particular way. I have just thought about it too much not to try – at least try some alternative strategies. I have to at least fail at those before I go with convention."
This refusal of convention is where Fade to Mind step in. 'Cut 4 Me' is the first vocal release from the experimental label who act as Stateside sister to Night Slugs, and whether it's despite that fact or because of it, their production work (and when I say they, I mean Kingdom, Nguzunguzu, NA, Napolian and Tariq & Garfield as well as Night Sluggers Bok Bok, Girl Unit, Jam City and Morri$) contributes to what is a phenomenally strong-minded debut. The fact that it's a debut – in a sense – for everyone concerned is what makes this a perfect match ("We've both learnt so much," Kelela says), fizzing with innovation and brand new ideas, and what not only justifies Kelela's decision to not pursue musical success via the conventional route in favour of waiting for something special, but frankly makes it the best move she could possibly have made.
The turning point came when she was studying International Studies and Sociology at the School of International Service at the American University in DC. "I was failing at school, I was doing really horrible," Kelela says matter-of-factly. "It got to a point – my parents were like 'Okay, what the fuck?', basically. And then I was like, 'I need to not do this. I think I'm really distracted. I think I'm subconsciously really overwhelmed with the fact that I haven't pursued music.'" It was at that crossroads when Kelela left college – with a semester left to go to graduate – in pursuit of a musical career built on her own terms; in Autumn 2010 she moved to LA with no plans, wound up making the connection with Fade to Mind via a mutual friend, and the rest is history.
'Cut 4 Me' exists unapologetically on its own terms, sitting on a knife-edge between the experimental dance underground and radio-ripe R&B melodies, and making you deliciously uncomfortable with its use of familiar sounds squeezed into unfamiliar shapes. Riding tough metallic production with a deft and flexible voice, on record Kelela simmers with a restrained energy that refuses to ever quite give you what you want. That energy is what drew her to Fade to Mind; "there's a lot of space, empty space," she says, leaving long poetic gaps between her words, when I ask if she can verbalise what it is that she loves about the collective's production. "It's just the element of withholding. There's so much vocal stuff that I did and then took out…I listened to so many different mixes, and I'm more attracted to the one that withholds, or makes you want to hear it again."
"I recorded [Do It Again] with my best friend in the room – I sang through the first verse and I was like 'what does it sound like?', and she was like, 'it's too pretty'…So I tried it again, more distressed." – Kelela
That's not a factor purely of the production; withholding is the keynote of the entirety of the mixtape, informing the strokes of Kelela's voice as well as the structure of her songs. She talks passionately about not following the rules of pop form, saying that even in EFX you can hear that "it's following some rules of pop form, so you're not completely lost, but it's not enough to be like 'I know what's happening next'." She relishes the thought of her listener being a little lost, of an absence that leaves them craving. "At times I've asked 'Can we just do another verse? Let's just give it to them!' And the producer is like, 'No, let's not, because you'll want to hear it again.' So on Cherry Coffee, the bridge is in between the two verses, so it's like verse, chorus, bridge, verse, chorus. I'm just really into that. It still sort of feels like home, [but] it re-situates what's home."
There's a confrontational energy and a powerful confidence that define the star presence of this mixtape; the opener, Guns & Synths, is an appropriately named, unapologetically metallic and strange track produced by Bok Bok, Napolian and Tariq & Garfield, blindsiding the listener with its brazen new sound rather than easing them in. "[Guns & Synths] is a good example of like, nice and not nice, you know?" Kelela agrees with what feels like a little bit of sadistic joy. "It's subverted. It's both familiar and twisted." She enjoys presenting these challenging juxtapositions to her listeners; take Do It Again, a track where her vocals are so integral to the production and vice versa that it's difficult to imagine them separated, and yet the essence of each sound is so profoundly different – her layered vocals feeling like a Destiny's Child-esque call-and-response scrambled through a processor and coated in menace. "It's funny because I recorded that song with my best friend/manager Danielle in the room – I sang through the first verse and I was like 'what does it sound like?', and she was like [Kelela sucks in air through her teeth] 'it's too pretty'…So I tried it again, more distressed." 'Pretty' isn't what Kelela's music does, and that's what makes it so enigmatic; it recalls the virtuoso pop voices of Beyoncé and Mariah, but drains them of the over-wrought stylings and the polish, maintaining instead a hard edge of nonchalant cool, even bitterness.
The supreme confidence of the character heard on her mixtape is something new for Kelela; something that's just clicked into place as these tracks came together, and as it became apparent how breathtakingly new they sound. "This is like, me breaking out of myself, getting used to being uncomfortable. It was not comfortable to be confrontational or, I guess, honest – there's a level of honesty that I didn't really embody before, but now I feel like what I'm thinking is usually what I'm saying and what I'm doing is matching the output of what I'm thinking. There were times when that wasn't the case," she says. "But yeah, I'm confident now. I believe in the thing itself, I believe in the music. I feel like I've expressed what I wanted to express. I got it out."
Fade to Mind released 'Cut 4 Me' on the 1st October 2013 – sign up to download it here or buy it on iTunes. Kelela will play at XOYO's Deviation alongside Bok Bok on Friday 4th October – more information on that here.