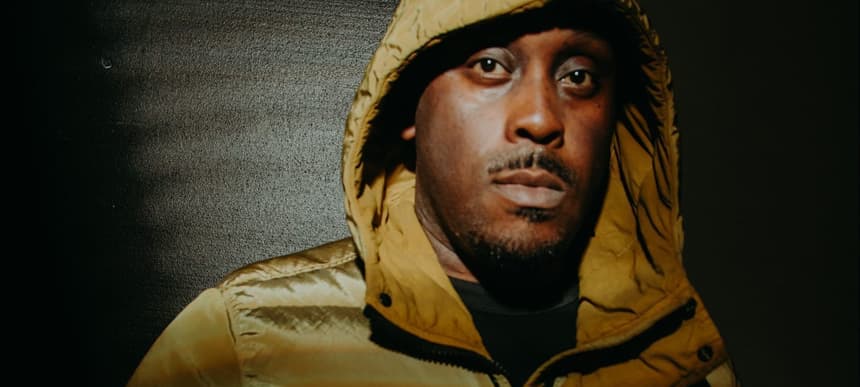 11.05.2022, Words by Billy Ward, Photos by Zek Snaps
Kenny Allstar is building a legacy beyond rap
"A legend to me is someone that didn't just pave the way in the scene but paved the way for a whole community..."
Nicknamed "the voice of the streets" – a title Kenny Allstar picked up travelling across South East London to shoot music videos of emerging MCs for his former Ken's TV YouTube channel – the Lewisham-born DJ, radio host and UK rap tastemaker has steadily navigated his way to becoming one of the most trusted voices in UK rap.
Radio residencies on Radar, Reprezent and currently BBC 1Xtra have bolstered his reputation both in the underground and the mainstream, however, hosting freestyle videos with his Mad About Bars platform on Mixtape Madness is where the DJ has really connected further afield. "We never expected that it would go as mad as it did," he says, "we took everyday as it came and now we're 6 seasons deep, we've had some iconic artists on there and for some artists that moment changed their life and propelled them upwards."
Launched in 2015, no one could have predicted the impact Mad About Bars would go on to have. Kenny was one of the earliest platforms to champion UK drill and bring through an exciting new generation of artists, putting out some of the scene's most iconic freestyles and helping to propel rappers such as Digga D, Headie One and Central Cee to international success. While speaking with Kenny, it was difficult to work out what he loved more: the music itself, or its transformative qualities and potential to change someone's life for the better.
The Lewisham native holds deep-felt beliefs about rap music and its place in the world. "Rap music is an art," he says, "I look at my life and I think if I never had music I don't know where I would be. I've went through phases of my life where I wasn't sure where I was going to end up and where I haven't had much opportunity. All my opportunities in life have come from rap music."
Over the last few years, the UK drill scene has found itself in an aggressive line of fire from the police and the wider political establishment who, armed by the media, have done everything they can to hinder the genre's success and criminalise those who partake in it. As someone who regularly works with and platforms drill rappers, criticism has at times landed on Kenny's doorstep. "Of course people are going to throw the moral compass at me as a platform because I'm out there in the public domain. If you're a public figure you're open to opinions – no one's perfect but all I can do is educate the artists that I do work with and come across and show them to stay focused."
"I cant look at the stigma that's thrown and let it get me down. Some of the people that have these opinions about rap artists – it's their children's and family member's favourite artists. It's easy to scapegoat the artists and the music but we've got to go to the source of the issue. Why are these artists or talents in these predicaments in the first place? Until someone can answer that question and tell me they're doing enough to go to the source of the problem and help to make differences there, you can't judge the rapper who makes the music."
Early on in his life, Kenny's dream of paving a career in music couldn't have been clearer to him, but growing up in Lewisham meant his opportunities were slim. "For me it was crabs in a bucket mentality coming out of there because I had no one above to look up to that had achieved what I wanted to achieve. If I wanted to get onto mainstream radio, who from Lewisham was in the mainstream doing what I do now? I had no blue print."
I was a naturally introverted person, very closed off as an only child," he says, "I remember when I first heard an old school garage set on the radio and I'm hearing these sick garage riddims mixed in with these grime riddims. I fell in love with the pirate radio structure straight from the jump and it came to the point that it was an obsession. I would get a tape pack and record the radio. I remember my mum had this whole collection of afrobeat CDs and I was dubbing pirate radio over the top of it, so there were times she was thinking she's about to play her CD and she's hearing man go crazy on an 8 bar riddim on grime."
After falling in love with radio and learning to appreciate the craft of DJing, Kenny soon began to understand his place in music and what he could do to leave his own indelible stamp on the scene. "I am better at screaming about other people than myself. That's why my social media presence might not seem that big because I feel like I'm on this Earth just to put other people on, I'm content with that being the rest of my life."
"I know my legacy," Kenny claims, speaking to me over the phone while making his way to a studio he's helping to open."If I left tomorrow there would at least be a community of people that said you know what? He helped me, whether it be he filmed a video in 2010 or he put he on his radio show or hosted my mixtape, that's the legacy I always wanted to leave and it's good to know we can still do that and keep on going."
After a stint doing graveyard shifts for pirate radio stations around South London, Kenny made the transition into community radio and eventually joined up with the Reprezent team, where he tightened up his presenting skills and learnt the vital skills he'd need to succeed in the mainstream industry. "If I didn't make that step I probably wouldn't be able to structure freestyles on the radio and have people like AJ Tracey, Miss Banks, J Hus, Stormzy coming on the radio show," he says, "they all came to that Reprezent show at an early stage and without that transition I probably wouldn't have made the step to 1xtra."
Having already taken over the airwaves, Kenny is currently branching out into TV while he looks to expand his rap empire across the globe. 2022 is lining up to be another big year for the Londoner, with a new series of Voice of the Streets on BBC 1xtra on the way, as well as being selected to host Yo! MTV Raps.
When asked about how it feels seeing years of hard work pay off, Kenny was quick to remind me the work is still far from done if he wants to achieve legendary status and build a legacy that will stick around long after he has gone. "Im not the complete Kenny Allstar yet. There's so many things I have to offer and I think I can do on the community level for people that need to get through the door. I know it sounds like a cliche but money doesn't define my success. If I go tomorrow I cant spend the money in the grave but legacy is important. I want artists to feel like they had someone to rely on when they crossed paths with me, I want the freestyles to live on beyond me. I want everything to do with my legacy to live on and create opportunities for other people to bounce off and help inspire future generations."
"A legend to me is someone that didn't just pave the way in the scene but paved the way for a whole community and walk of life, that's legendary," he adds. "I'm grateful for the accolades I've received, forever grateful, because it could have gone so much different growing up but I've got a lot more work and foundation to build upon. I'm doing this right until my last breathe, so hopefully people can stay with me on this journey and have faith that you can never count out Kenny. "
Photography by: Zek Snaps.
Read next: "You'll need rubber gloves, shin pads, and anti-bacterial wipes": in conversation with Big Narstie