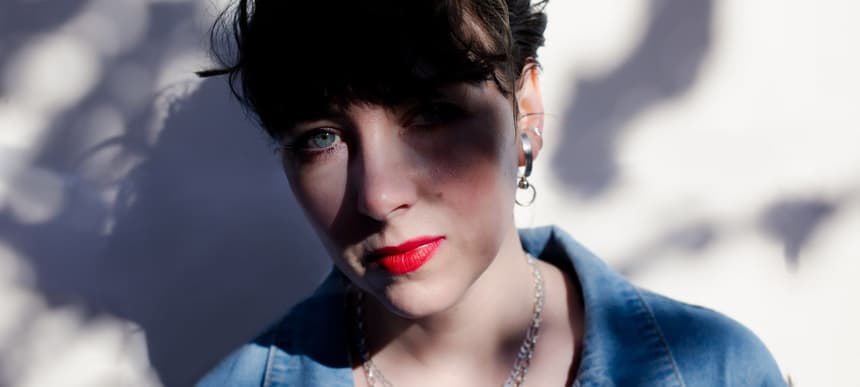 14.07.2022, Words by Billy Ward
"Kissing goodbye to the pop world": lau.ra has found her home on the dance-floor
From touring with Charli XCX to finding her feet behind a pair of decks, the DJ, producer and vocalist tells her story so far
Laura Bettinson never planned to end up as one of dance music's brightest stars when she began paving a career in the pop industry during her teenage years. But the fearless DJ, producer and vocalist has done exactly that. Since the inception of her lau.ra project towards the end of 2019, the now-34-year-old has collaborated with some of the electronic scene's biggest names and has garnered a loyal following across the globe with her high energy anthems and seemingly telepathic understanding of the dance floor.
Go back a few years, however, and Bettinson was scaling the world of pop under her FEMME moniker. Touring the US with Charli XCX, as well as working closely alongside Radiohead producer Nigel Godrich with her three-piece electro-pop band Ultraísta, the musician was on an upwards trajectory when she began to realise her musical destiny lied elsewhere. Her latest project 'Vol. 1 – The Mixtape' is a collection of singles made while plotting her leap into the dance scene. Consisting of experimental rhythms, thumping drums, and interwoven vocals from a variety of collaborators, the project is Bettinson's first to be released under her own name and also marks her transition into motherhood. We sat down with Laura ahead of her busy summer schedule to discuss her mixtape, leaving the pop industry, and why trying to fit a piano on the tube might not be the smartest idea.
Where did inspiration for 'Vol. 1 – The Mixtape' come from?
"I started making this music for Vol. 1 after being inspired by a trip to Miami Music Week. I was there in 2018 and 2019 and that was my first real introduction into the dance world. I'd already tried making a piece of dance music as a producer, so I kind of knew the world existed and obviously I've been out to nightclubs and enjoyed that but I hadn't taken a specific look at like what these DJs were doing once these songs were out in the world. I was absolutely astonished that these DJs were turning up with USBs and a set of headphones and touring the world with very little gear but able to play the productions that they were making in the studio literally days previously. I was just so inspired by that. I was like, this is where I want to be. This is where I need to be. I came home and thought, I want to try making some tunes like that."
What does the lau.ra project mean to you and why did you feel it was time to relaunch with your own name after Femme?
"For me in some ways it was kissing goodbye to the pop world. You know, I was so ready to leave that project behind. I loved doing Femme and I had some amazing experiences…I toured America with Charlie XCX, I played some amazing gigs in London. But ultimately I was starting towards the end of that project in 2018, I was just starting to move in a different direction musically. I no longer wanted to sit in a studio and write a song with a verse, chorus, pre-chorus, start to finish. I wanted to use my vocal as a sample, and that kind of immediately pulled me away from pop song structures. I suddenly just had a load of tunes that didn't sound anything like the Femme world at all. But equally for the first time in my life, I was really, really proud of the music I was making and I was really excited about it again. I just felt ready to put my name on it. Up until that point I'd always thought of a character or different name to put my music under, probably through the kind of fantasy that the pop world encourages."
So you're stepping into your own as a producer now?
"The start of lau.ra was me putting that Femme project to bed. It was an excuse to step a lot deeper into my role as a producer because I felt even though I was producing all of my own music in Femme, because I was singing on so much of it and because the visual side of it was so dominating, nobody ever really noticed that I was the producer, which started to annoy me a little bit. I would go into meetings with labels or publishers and they'd always ask 'who's making the tracks?' And I'd be like, 'me, I'm producing the tracks'. But it wasn't sexy to be your own producer in the pop world. They want you to be collaborating across lots of songwriters, lots of producers and that really wasn't that interesting to me."
Do you prefer working on your own rather than being in a band setting like with Ultraísta?
"Yeah, absolutely. Props to anybody that's been in a band and has been able to navigate those dynamics because it's like nothing else…everybody's pushing and pulling until you find exactly where that piece of music or that project is meant to sit. Whereas when you're making your own music it's obviously all down to you. I don't think I could be in a band just solely. I think I would feel a little bit suffocated but I love being able to run the two side by side. My lau.ra project is just a dream come true. I can literally make a track in the afternoon, put a bit of rudimentary mastering on the limiter and play it in the club that night and see how it goes down. And that for me is exactly the same kind of buzz that I used to get with rehearsing a Femme set for weeks and weeks on end and then taking it out on tour and seeing how it went down – but it's just so much more instant, which is a real thrill."
How did you first get into electronic music?
"When I moved to London at 18, I thought that I'd be able to take a piano to gigs for some reason. I tried to get a big stage piano on the tube about three times and realised this isn't going to work. Then I started to investigate loop machines and samplers, and I bought a few second hand samplers and drum machines off eBay and managed to pack them into a suitcase. Suddenly I was able to take my live set around with me. I guess the whole thing comes back to convenience – and I feel like that is the dance world for me – it's convenience – and it's perfect. It was like, wow, where have I been my whole life? It's taken me ages to get here, but I really feel like I've come to the right place now. But yeah, I wouldn't be where I was without having gone through that journey…without trying to stuff a stage piano onto the tube.
"My eyes weren't really looking into this scene until weirdly I ended up working in it. I feel like since the pandemic, there's been so much more progress, more women producers in dance music, and suddenly I can see a lot more happening and it's so inspiring. I just didn't see that growing up, which is probably why I ended up making pop music for almost a decade because that's the women that I saw in the music industry."
What was it like moving from a small town to the capital during your teenage years?
"When I moved to London at 18, I was so naive to everything because I just hadn't really experienced much living in Rugby, to be honest. I moved to New Cross because I was studying at Goldsmiths down in South East London. In 2007 New Cross was quite different then to what it is now. But ultimately, I'd never, ever been out of zone 1 up until that point. My experiences of London up until then had been going to the West End, seeing a show on a school trip or maybe going for a shopping trip. Then after moving to South East London it was really exciting and cool and there was just so much to discover. It was obviously transformative, I can't really pinpoint why, but no doubt it put me on this path and I am the person I am now because of that 15 years, which I absolutely adored. But now I've just moved out, I've done my time."
How's it been balancing motherhood with being a musician?
"It's quite tricky, I'm not going to lie. It's this struggle of not wanting to miss anything while he's so small, because I want to be there for everything. But ultimately, as a self-employed musician, I've got to get back out there because that scene keeps moving. Thankfully, I made so much music and I've been so prolific in the studio while I was pregnant that I had my whole year of releases mapped out, 'Vol.1' was already finished. It was mastered. I knew what was happening. I even have the next two singles finished coming out after that, you know. So I felt very organised and I'm thankful for that. Have I really made any music since he arrived? Other than the remixes and mixes I've done for people, I haven't really created a new song since he arrived. So let's see how we go. 'Vol. 2' might be a little delayed, put it that way."
What advice would you give to someone starting out in electronic music?
"I came at it from having an experience in the club. Just going out and collecting a load of inspiration to find out what gives you that feeling…what are the songs that make you lose yourself? And then try and recreate a bit of that in the studio. But really all you've got to do is just start practicing and that's all production is. Getting good at it is just doing hours and hours and hours and hours of it. Like anything you want to master, it's just put the work in, it doesn't come overnight. Your first mixes will be shit. They are. I listened to the mixes I did even two years ago and I'm so much better now even than I was then. It's practice and it's passion and it's just getting out there to start doing something."
Stream lau.ra's 'Vol.1 – The Mixtape' below:
Read next: The rise and rise of HAAi