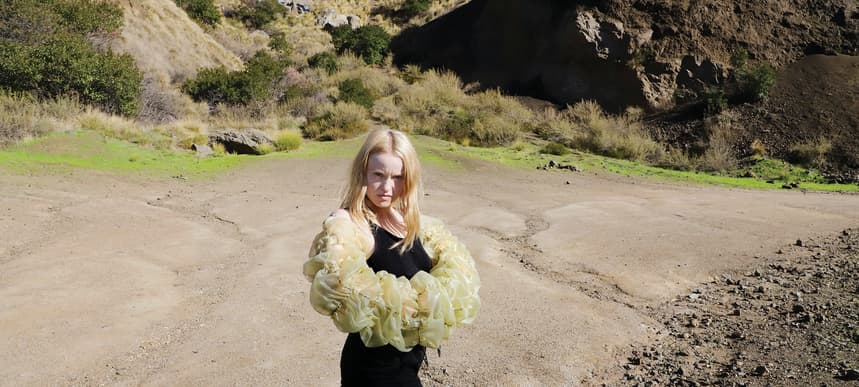 30.04.2021, Words by Felicity Martin
Child skaters and LA highways: the influences behind KUČKA's 'Wrestling'
"Watching this six-year-old take the hardest fall and then just jump right up onto the board was so inspiring and flicked a switch for me..."
With its otherworldly stylings, KUČKA's music truly sounds like nothing else out there. Which makes sense when you consider how much Laura Jane Lowther has moved around the world in her life, residing in Northern England as a kid, Australia as a teen, and LA as an adult. Released today via LuckyMe, her LP 'Wrestling' is a bold statement of intent, with huge pop lines and irresistible hooks meeting intimate electronic production – no surprise really, given Lowther's past collaborations with SOPHIE and A$AP Rocky.
With a few tracks on the album made in collaboration with Vegyn, Nosaj Thing and Flume, the whole thing has a truly unique visual and sonic aesthetic, with everything made with KUČKA's creative partner and wife Dillon Howl. "'Wrestling' is a deeply personal album and releasing it feels like I'm passing around my diary for everyone to read," KUČKA says, "liberating and vulnerable at the same time. It's introspective but with a little bit of party along the way and really touches the full spectrum of emotions that come with so much change. My hope is that as people immerse themselves in the world, they connect not only to the music and lyrics, but also themselves." Below, she shares the tracks, artists, settings and YouTube accounts she's been taking influence from for the record.
Sky Brown
"Quite early in the process of writing 'Wrestling', I was in the middle of a YouTube hole when I came across a video of this TINY girl pulling off the baddest skateboarding moves. I was having a kind of shitty day and struggling to pull myself out of my own head and honestly, watching this six-year-old take the hardest fall and then just jump right up onto the board was so inspiring and flicked a switch for me, so I decided to make the track I was working on about her. I feel like a running theme of 'Wrestling' is working through your inner conflicts and I absolutely love how discovering this video was so influential to my record."
Highway 395, LA
"During the writing of 'Wrestling' my wife and I took a few trips up Highway 395 which is just North East of LA. Our original goal was to take photos at Mono Lake, but we absolutely fell in love with the drive up and ended up taking a lot of the images for the artwork in very random stops along the way. I was particularly struck by the jagged edges of the mountains in contrast to the vast salt lakes. When I was working on the sound design for the record I kept returning to the intricacies of these textures again and again. The above image was taken by Dillon Howl at Mono Lake and was used for the single cover for 'Contemplation'."
Baba Stiltz – 'Showtime'
"I listened to this EP on repeat for about a month some time during the writing process so it's almost impossible that it didn't influence the writing in some way. I love how each track has totally different sounding production but somehow the playful but earnest lyrics keep everything linked in a way that is so cheeky and loveable."
Nosaj Thing – 'Fated'
"This whole album is textural heaven. I love how everything feels so relaxed yet it has so much movement and depth. I was so happy when I ended up getting in contact with him and working together for 'Real' since I've always admired his production so much."
Tirzah
"I feel like Tirzah's lyrics, although much different to mine stylistically, encouraged me to express more intimate and deeply personal subjects. I love how direct her lyrics can be. Also Mica Levi's production has always inspired me to experiment and get weird in the best way possible."