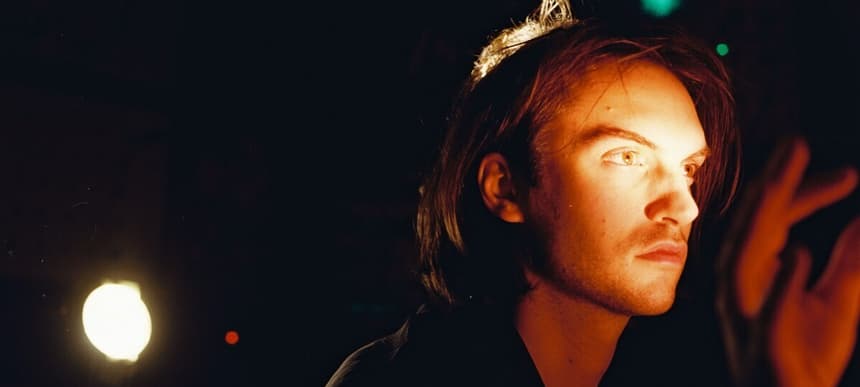 05.08.2015, Words by dummymag
LA PRIEST: getting back to being a bit crazy
It's a Tuesday afternoon in a lecture theatre at Birkbeck University and a man in an ill-fitting suit is talking about Alan Yentob. The speaker, Eric Swineblade, is recounting an anecdote about how he met the veteran broadcaster at the GQ Awards a few years ago. Yentob, drunk, relayed to Swineblade a strangely poignant phrase: "Love is a book that should never be opened. Love is a book that can never be closed."
"And to that extent," Swineblade says, switching casually over to the next slide of his Powerpoint presentation, "It's very much like an Amazon Kindle."
The event is a listening party for LA PRIEST's debut album 'Inji', presented under the guise of a mock symposium titled Learning To Love. Eric Swineblade is the creation of character comedian Damien Slash, a prolific YouTuber whose characters are prone to talking in buzzwords and garbled business speak. His presence makes for a strange, unique listening event, but it's one befitting of a talent as strange and unique as LA PRIEST.
LA PRIEST is the alter ego of songwriter, multi-instrumentalist, and producer Samuel Eastgate. Across 'Inji's 10 tracks, Eastgate – going by the name of Sam Dust – creates a world of sound that's both wonderful and strange. Eastgate jumps from contorted pop songs to extra-terrestrial funk basslines to crooked synthesizer experiments with a ceaseless energy and sense of adventure that few other musicians seem to possess. It's a listening experience like no other, and the most original debut album to arrive this year.
None of this, however, will come as a surprise to those familiar with Eastgate's past work. Eastgate is perhaps best known as the frontman and lead songwriter of Late of the Pier, the last truly radical British band to emerge out of the mid-'00s indie scene. Late of the Pier's debut album 'Fantasy Black Channel' remains one of the finest records of the century so far: produced by Erol Alkan, who at the time declared Late of the Pier "not only the most exciting new band out there at the moment, but the most exciting band around", 'Fantasy Black Channel' steamrolled genre boundaries with an unwavering belief in the limitless possibilities of music. It was, and still is, motorways ahead of the competition.
When it was released in 2008, 'Fantasy Black Channel' felt like it could herald a new wave of young, intelligent, daring bands, but it really ended up being the end of an era rather than the start of a new one. Although smart pop groups like Egyptian Hip Hop did appear, it wasn't long before bands lapsed back into genre formality. Amidst a string of seemingly never-ending international tour dates, Late of the Pier released a double A-sided single in early 2010 (the brilliant Blueberry / Best In The Class) before disappearing entirely.
In the years that followed, there was a constant appetite for more. Forum posts, Facebook groups, online features, and social media campaigns demanded their return. The phrasing was usually the same: it was never 'What happened to Late of the Pier?', it was always 'Bring back Late of the Pier.'
After five years, most people had accepted that the band had moved on with their lives. But in March this year, a post appeared on Late of the Pier's long-dormant Facebook page: "Say hi for something new from Sam Dust…"
"The thing with me," Sam explains, "Is that I don't really have a great concept of time." It's a few weeks before Eric Swineblade's lecture, and Sam is sat by a pond in the tranquil back garden of a house in East London. He's preparing for his first ever live show as LA PRIEST, taking place in a tiny shed at the bottom of the garden later in the evening. It's an intimate showcase for his label, friends, journalists, and a handful of competition winners, seeing Sam light up a Saturday Night Fever-esque tiled dancefloor with a bank of synthesizers, guitars, and samplers.
"When people say 'What have you been doing all this time?', I just kind of thought that I had been doing stuff," he continues, "I didn't realise I was gone for so long. I have to be reminded sometimes to share it all with people."
Sam did do an awful lot in this time. He worked on other people's music, some of which was released online anonymously. He wrote an album with Connan Mockasin. He built a synthesizer, Gene, with plans to sell it to order, although he only ended up producing one copy. And he travelled – to the States, to Greenland, to France and beyond, with a recent trip taking him to Morocco with his brother Isaac to shoot the video for 'Inji's lead single Oino. Eventually, these travels took him to his current home – a cottage in Llanfair Caereinion, rural Wales, where he lives with his girlfriend and their dog, Smeagol, who graces the cover of 'Inji'.
A lot of 'Inji' was written over the course of the five years since Late of the Pier went on hiatus, a period of creative freedom that hadn't been afforded to Sam in some time. When Late of the Pier released 'Fantasy Black Channel', they were committed to a long, restrictive touring schedule. "I think it was just after we'd finished the record, we were sitting down for breakfast somewhere in London, and this massive folder just got bonked on the table by our tour manager," Sam recalls, "It was like: this is what you're doing for the next two years. It was kind of horrific. Exciting as well, going around the world, but there was never any escaping from that for that time."
The band planned a four-track EP to follow up 'Fantasy Black Channel', but could only find time to record Blueberry and Best In The Class in between tour dates (although one of the songs from the planned EP appears on 'Inji' in the form of Fabby, a crashing instrumental). While Best In The Class was a beefed up version of an older song, Blueberry hinted at the direction that Late of the Pier were generally hoping to pursue. "We wanted it to be like The Beatles, if The Beatles started out today," explains Andrew Faley, Late of the Pier's bassist, "So it's like you're hearing what The Beatles would sound like if they were inspired by everything that came out since the '60s. Blueberry was supposed to be on 'Fantasy Black Channel' but we could just never get it finished. The Beatles were probably the biggest inspiration to the band, though that probably wasn't obvious. It was the common ground that we all united on and that we all grew up with."
The inability to record was symptomatic of the wider problems with the music industry at the time which made it nearly impossible for a major label-signed band to flourish. "We all had gripes about what had already been booked way in advance," says Sam, "Recording was just stuck in the tiny little gaps between all that stuff, which for me is just a blueprint for failure. I don't know why labels ever work like that. It's probably a good thing nowadays that those sorts of deals don't get given out to bands, because it probably saves them." After a series of increasingly pointless shows – like a US tour with Deadmau5, or an early afternoon slot at SXSW that ended up with the band led offstage by security – Sam was itching to start making music again. "The thing that really burns you out is having ambition that you just can't do anything with," he says, "Feeling like you're repeating every day over and over again. It's like a Groundhog Day kind of thing."
Late of the Pier needed a writing break, but it didn't arrive for months. When the opportunity to take time off finally presented itself, they took it – and took it far. "We just kind of went to an extreme," Sam says. "After the Late of the Pier record, there wasn't really any problem with thinking 'What do we do next?' It was more: 'What do I want to do next?' We were all feeling a bit selfish."
Sam ended up moving to St. Ann's, an area of Nottingham still affected by the collapse of its manufacturing industry, notorious for its high rates of crime and poverty. It was around this time that he and Connan Mockasin began working together, writing an album under the name Soft Hair. The two artists had struck up a close friendship after Connan supported Late of the Pier on their biggest headline tour in 2008. For a brief period, Sam also joined Connan's touring band as a live guitarist (Connan appears on 'Inji', playing guitar on one of its highlights, the sultry and mysterious A Good Sign). Plans to release their collaborative album were temporarily put on hold after Connan's own career started to pick up following the word-of-mouth success of his debut album 'Forever Dolphin Love' and its follow-up, 'Caramel'. They still hope to do something with it, one day. "The Soft Hair record is 90% mixed and finished, and nobody's really heard any of it," Sam explains, "I can't really explain it for people who haven't heard it, but we don't feel any pressure [to release the album]. Whenever it comes out, it will still have the same kind of effect."
In the end, it was Connan's success that presented Sam with the opportunity to resume making solo music. LA PRIEST was a moniker he'd used in the past as an outlet for his instrumental dance music, playful experiments that were mostly put online on Myspace. Besides the occasional remix commission, LA PRIEST's only official release was his 2007 single Engine, the debut release on Erol Alkan's Phantasy Sound label. Attempts to write a full dance album in this style were never realised – Sam didn't feel the material was up to scratch – but he eventually came round to the idea that LA PRIEST could be a vessel for all of his songwriting and production. "I don't know why it took so long to realise, but I was like, 'It doesn't have to be dance music. Why am I thinking like this?'"
While Sam kept writing with his old bandmates, there was never an endgame in mind. "We never tried to write stuff like, 'Oh, how do we make another record?' But it makes sense, because we never did that with the first record. We got together and we played music loads. We carried on doing it." They remained friends: Sam Potter, Late of the Pier's keyboardist, acts as LA PRIEST's tour manager, while drummer Ross Dawson came down to Sam's first official LA PRIEST show at London's Electrowerkz in April – a reunion that feels particularly important in light of the sudden and shocking death of Dawson aged 27 in May. ("Ross told me a few weeks ago how much he loved Oino," Sam later told The Guardian, "And he was the only person I wanted to hear that from, because we grew up listening to the same stuff and wanting to achieve the same things: to be as good as the bands we were listening to. So when he said that I'd cracked it, it was pretty amazing to hear.')
The only time there was really a conversation about Late of the Pier as an entity was when they talked about the concept of the band. A typical Late of the Pier interview would be littered with in-jokes and non-sequiturs, throwaway remarks that resonated with fans and created a world for the band to inhabit. "I think we think of the band as a sort of mythical group of people that aren't really us," says Sam, "We fed off the stories that people took from what we said and the jokes that we told. They took on a life of their own." Eventually, Sam and his bandmates accepted that perhaps Late of the Pier was bigger than just its members. "We discovered there was fanfiction about us," he says, "We'd never heard of fanfiction before, and some of it was pretty scary stuff. Then we got sent all these really nice Japanese homemade comics. And that was it, really – that's us, we're just these story characters."
Although 'Inji' was written without his old bandmates, there are still collaborations on it, like with Leon Vynehall and Lxury. "I'd not worked with people for ages, so I felt kind of stupid for not trying it out," explains Sam. Vynehall was living near to Sam in Leicester at the time, and the two ended up making a lot of music together, mostly for their own amusement. One was a 20-minute long krautrock-esque jam. "I don't think either of us knew anything about krautrock, so we just made a really naïve interpretation of krautrock with Casio keyboards," Sam says, "I think I lost the files for that one. I can't remember if it was any good or not." Lxury – the alias of young Croydon-based producer Andy Smith – was a fan of Late of the Pier, but hadn't realised Sam's connection until he received some early 'Inji' demos. "I had to stop myself from overplaying the demos," explains Smith, "All the energy they had in them was definitely there from the beginning."
Smith met Sam at a professional studio, working on quite a lot of original material together ("Some of which will surface at some point," Smith adds). They quickly realized they didn't even need a studio, so Smith headed up to Sam's house, using his home-built modular synthesizer to finish up their tracks. 'Inji' is full of sounds prised out of these homemade instruments. If 'Fantasy Black Channel' felt as if it were beamed down from outer space, these instruments and sounds give 'Inji' a much more earthly quality. "It's my attempt to give machines as much of a convincing lifelike quality as I can," Sam says, "Some of the stuff I use is in various states of disrepair, meaning there's an element of it that's chosen by the machine that you can't control. So some the record was made by building things badly – I'd build a synthesizer and then forget what I was doing halfway through, and whatever noise it'd make when I next turned it on would be the sound of the song."
One of the synthesizers he designed, Gene, was intended to be built and sold on-demand, but only one edition was made, commissioned by his friends at Charnwood label Tasty Morsels. Album track Gene Washes With New Hair is literally just the test track that Sam used for the synthesizer. "Me and Connan had a lot of fun inventing instruments. We had these sketchbooks and we did a lot of drawing, making up instruments, like this strange cylindrical thing with strings up the sides and mechanical bows. I think there's a real gap in the market for eccentric instruments. If musicians weren't so busy making music, they'd be good people to actually create instruments, rather than scientists or marketing people."
For a while Sam was funding himself by fixing broken instruments, but he says that it "just got really boring" after a while. "Even stuff like building instruments, it uses a really logical side of your brain, and it takes over," he says, "You start thinking logically about everything. When I'd made an instrument I'd be like 'Right, great, I'm gonna make a record with this now,' and then it'd just take weeks to get that logical, constructive, scientific thing out and just get back to being a bit crazy again."
This sense of getting stuck into a project before getting bored and pulling out seems to be a recurring thread in Sam's life. "If I'm in one place for too long it loses its kind of shine," he says at one point, "It stops going in subconsciously. You start to think about the next step." Later, he describes his music in a similar way. "With a lot of the songs, I just used one instrument and tried to get loads of sounds out of it, and a lot of those instruments I don't have anymore. I keep getting rid of my equipment after I use it." It's an approach that makes you wonder if Sam's best ideas have simply been shelved due to overfamiliarity, never to see the light of day, and whether after he's done touring 'Inji' he'll just disappear for another five years.
"I kind of wish there were two of me," says Sam, "I kind of want to do everything at the same time. I have intentions to do bigger things with all the things that have been hinted at. I'd really like to do more stuff with Tasty Morsels, because they're starting a label and that's incredible. Labels generally are just nightmare machines, just a load of shit. Now that I've got a record out… It's really hard to tell, but perhaps that'll give me time to do other stuff again."
For now, Sam's got his sights set on something closer to home. "Wales is pretty good. I found out recently that they do a lot of illegal raves in Wales, which you don't get a lot of in England. When I was a kid I was listening to early rave music, and more than just the music, you can hear the excitement, the congregation. So I might see if anybody wants to put me on at a rave. More than anything I'd like to do stuff at the last minute. I'd like to just turn up at a place and play."
LA PRIEST tours the UK throughout November (info). Domino Recording Co. released 'Inji' on June 29th 2015 (buy).