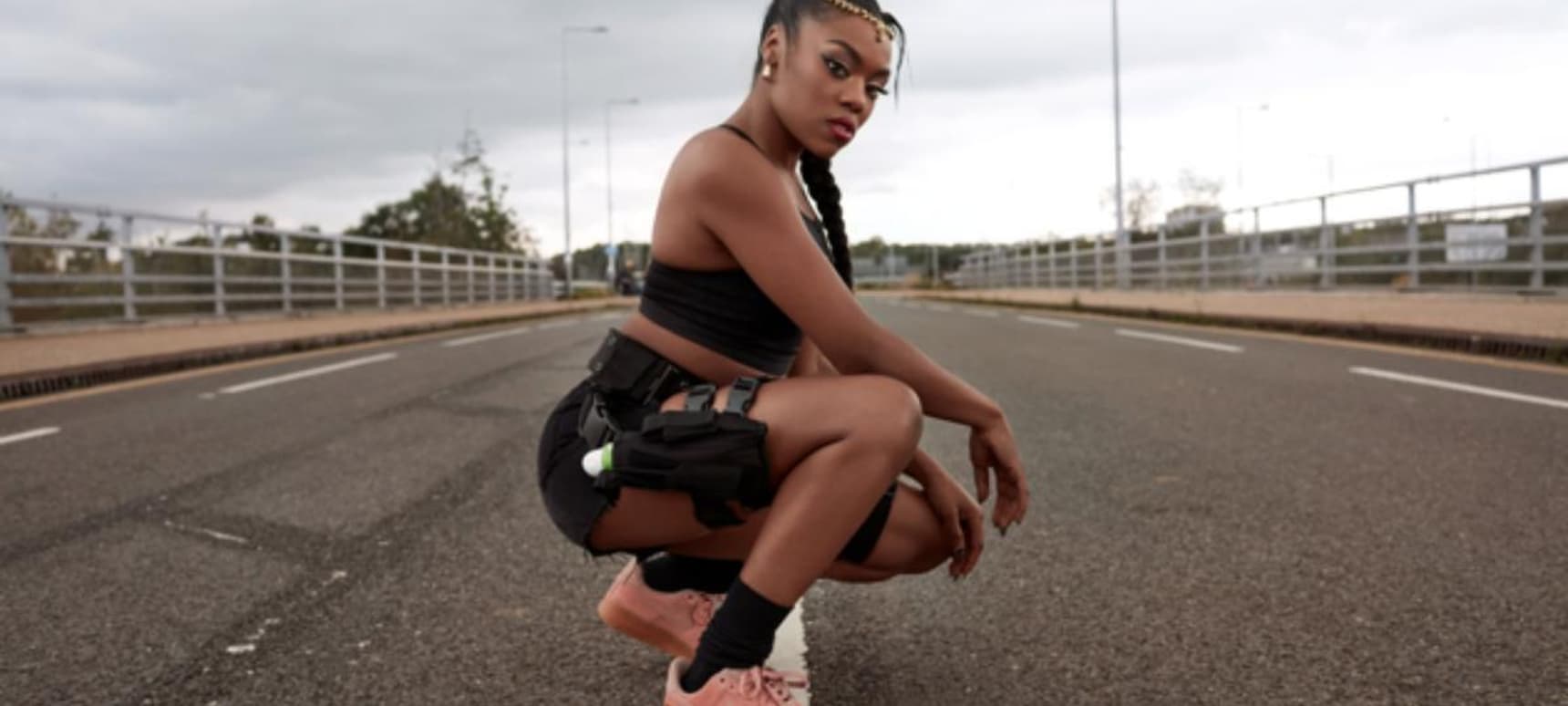 16.03.2018, Words by dummymag
Lady Leshurr, the Queen of UK Rap
We can't even begin to detail just how much of an impact that women are making in the UK's urban scene these days. Once an afterthought and, in some circles, seen as inferior to the mean in skill and appeal, the tide is turning thanks to a select few of artists who cannot be ignored. One of these is Birmingham queen Lady Leshurr, the no holds barred, whimsical MC with a sharp tongue and representing the pride of female rap.
Nothing has been the same for the scene since her arrival in the late 2000s and those who weren't averse to her strong Brum cadence tuned into real raps about life, relationships and simple exhibitions of lyrical skill that would make the hardest male MC proud. While a big name in the grime/rap scene for years, the mainstream was made to stand up and watch in 2015 with 'Queen's Speech 4', which garnered 50 million YouTube views. The message had become clear that Leshurr can put serious numbers on the boards. Behind all the success however is a bubbly, hilarious young lady dedicated to music and, after nearly a decade in the game, she shows no signs of stopping.
After becoming the latest face of Captain Morgan's #LiveLikeACaptain campaign, in which she laid down a track with fellow Birmingham producer Swifta Beater, Dummy caught up with her to discuss female MCs and her Birmingham home.
How do you feel your lyrical style has evolved since you first burst into the scene?
Leshurr: "My lyrical style has definitely evolved just due to the fact that I've been challenging myself with multiple different flows recently and I've been experimenting with the tone of my voice."
Tell me about your 'New Freezer' freestyle.
"'New Freezer' is just a cover to Rich The Kid's smash 'New Freezer', showcasing my talent and ability to attack the track with skippy flows, but remaining true to my British sound.
Does writing lyrics and finding inspiration for them continue to be quite an easy process?
"Yes. Usually I just put a beat on, press record on my phone and just say whatever comes out of my mouth. Some people may find this embarrassing. You have to be prepared to feel awkward to reach any targets in your career. I'm always trying to push myself."

Tell us about your new song with Swifta Beater? That's a collab I think the people have definitely been waiting for.
"Yes, it's been a long time coming! I've always wanted to work with Swifta, I've always loved his melodies but we both knew when the time was right it would happen. I'm really happy with how this song came out, it's nothing too serious, still got a bit onf banter but showing awareness to people that like to drink and party. It's for a good cause so you can't really go wrong!"
Captain Morgan designed a bottle especially for you, right? How was that seeing your face on a bottle?
"I couldn't believe it [laughs]. I was smiling from ear to ear. I've always drank Captain Morgan on a night out, so it was a crazy feeling when they chose me to be the face of their promo campaign this year!"
What do you hope people take away from this new campaign?
"I hope they just listen to the core message first of all. The visuals are great and relatable, and it does have some sense of humour to it, but I just wanted to make a song that teenagers and adults can listen to but also think twice about their alcohol intake."
I'm sure you get asked this a lot, but to you, is the grime/rap scene in Birmingham in a healthy state?
"Indeed. Right now, it's in the best condition it's ever been in! So many artists like Mist and Jaykae to name a few, are charting and selling out tours. 10 years ago, this could never really happen for a young MC from Birmingham.
Women are definitely at the forefront of UK music, with people like yourself, Jorja Smith, IAMDDB in the ascendancy. In a scene that doesn't always give women their props, do you think this was long overdue?
"It's always going to be overdue because it's still not equal. The audience that listen to the music don't see it as much as the artists that have to endure it. I've been here 10 years plus, and I feel like women have to do 20 times more to even get a 'wow' from a lot of males. Some men in general just don't like to listen to female rappers and that's fine too, but some base it off other reasons. I could talk about this topic all day, so I'll stop here!"
Where do you think you would be or doing if you didn't make music?
"I would definitely be a music teacher or work at a youth club. Music is actually my life."
Listen to Dummy's curated playlists on Spotify.