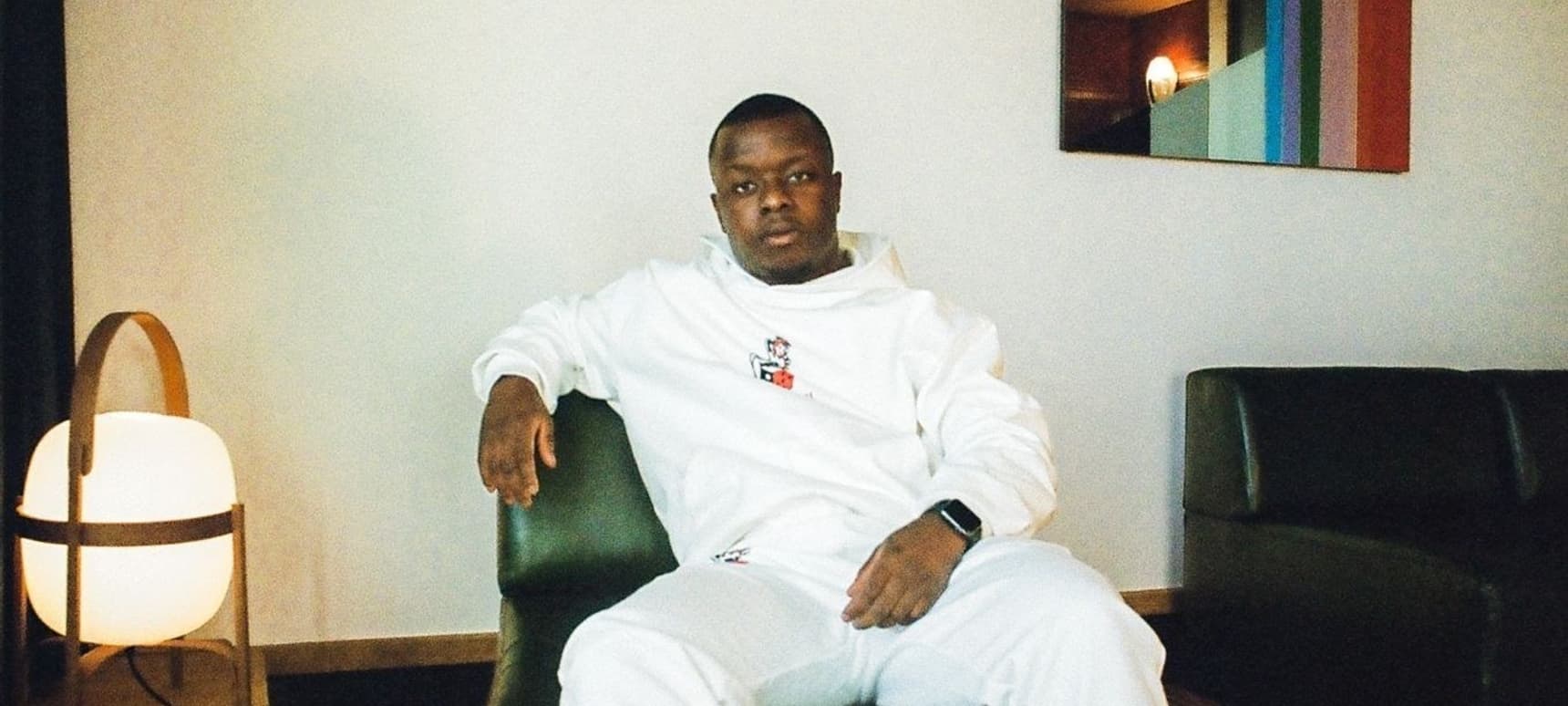 17.12.2021, Words by Maisie Goulsbra
LCY on raving, music community and '22:22'
"There will definitely be people like him in the future, but I don't think there's anyone that can be like him right now."
The last two years have been pretty epic for multi-genre artist and visionary LCY. From playing alongside Giant Swan and DjRUM on Tower Bridge as part of fabric's 'London Unlocked' series, to being selected for a prime time mix on Annie Nightingale's BBC Radio 1 Academy, they were named as Tom Ravenscroft's Spotlight Artist on BBC6 Music and have recently been selected as a BBC1 resident for 2021.
Aa a former member of 6 Figure Gang collective, alongside FAUZIA, Dobbs, Sherelle, Jossy Mitsu, and Yazzus – LCY's place is firmly cemented as a figurehead who continues to push a concoction of underground sounds. Including on their label SZNS7N, which is home to an impressive plethora of intoxicating and innovative releases over the past year, spanning all corners of electronic, bass and club music from the likes of NARA, Yazzus, Lijah, Tailor Jae, Diessa, Grove, Teya Logos.
Previously operating under the alias L U C Y, and wearing a mask to perform in, their rebrand has heavily incorporated storytelling to produce audio-visual pieces like 'Pulling Teeth', which centres around the life of a fictional character made up of part dog, part human, part robot. Their brand new track '22:22′ is out now with it's own visualiser, acting to solidify LCY as one of the UK's most exciting multi-discipline artists. But their journey started with lots of hard-graft long before now and Dummy sat down for a chat with LCY to find out how they got to where they are today.
Hi LCY! Things have massively blown up for you over the last couple of years, but were you ever driven by mainstream success?
I've always been anti-fame or anti self-recognition in a sense but I've realised you can only do so much with so much budget and exposure equals bigger budget. If I'm a bedroom producer my dreams are not realistic. I would love to be at a stage where I could perform to huge crowds with no one knowing who I am, but that's not a reality in this day and age. You can't trick the 02 arena into coming to see you as someone that they don't know.
Even the music that I thought was relatively underground that I listened to growing up had been signed or co-signed by a major or a huge independent label. I've always wanted to connect with people in the same way that these artists connected with me at a young age and that's not possible if no one knows who I am. So in the last two years I've had a realisation that I have to suck it up and be more attuned to getting more exposure.
It doesn't necessarily mean anything bad. There's a stigma around becoming more mainstream – I'll talk to like my elders and people I respect, say in the dubstep scene, and they'll have experiences with people blowing up out of proportion and getting a lot of grief for it when actually that is how live music scenes develop. As much as some people will hate them and the explosion in some regard (and it can have a really dangerous effect on a community, which you do need to be conscious of) it directs the evolution of music, and that's a priority for me.
Congratulations on your BBC1 residency for the new year! Do you think your approach to radio will change now that you approach radio?
Supporting up-and-coming artists will always, always be a priority to me as it is to a couple of my peers like Object Blue and Sherelle. It's a fundamental basic of radio, especially underground radio. I had my first radio on Kane FM when I was at uni when I had no friends and no access to musical spaces in the city, so it was a lifeline. No one was listening to my music at the time and no one had an interest in my music, but these people allowed me to go on radio and not only play my music but all my peers' music. Even though there might not have been that many people listening to it, that's how things grew. Everything needs a starting point. If I can find provide someone a slightly bigger platform on radio or with the label, than what they had before, that's such a positive.
Can you talk about the community aspects of some of the scenes you're involved in?
I came up respectfully in the 140 scene, which at the time was baffling to me 'cause the music I was making, I had never considered grime – it was just at 140 bpm. If you listen to the earlier stuff, it was all over the place sonically. It really didn't have a linear genre throughout, but the 140 scene kind of adopted me in and really helped me develop. It was super helpful to meet loads of people who were doing the same, well not the same things, but who had similar goals in music with a similar mental attitude, like Sicaria Sound for example.
I find that when you go clubbing, ('cause I was always a raver before making music) that when you meet people you have this synergy that carries into the music that is created and put out as a communal feeling. The only thing is, there's definitely room to grow within these scenes and especially the older ones. When people wanna be purist about music it can be carried into their mindset and the whole foundation and fabric of the scene, whether it be fundamental misogyny, transphobia racism or sexism.
There's often a lack of wanting to address this, and it's presented as just focusing on the music but if you're just focusing on the music and not dealing with the mindsets of the people at clubs then you can end up with a toxic situation. So if those scenes aren't serving you as a producer, artist or a punter then don't feel like you have any obligation to be a purist to them. Sometimes it's healthier to distance yourself from a scene if it's not nurturing you in the right way.
How and where were you exposed to the music you were?
My Mum's super musical, she does the music in church and is a pianist. The other side of the family have people in orchestras and Irish orchestras who play the fiddle and all of these amazing things… There's is definitely a musical lineage but I've not always been able to play the music that I've been a fan of. My mum tried to give me piano lessons from a young age and it just didn't work. Now I know I'm neurodivergent and that it wasn't the right way for me to learn, what with the coordination and the concentration I needed to have for it.
… Radio, LimeWire, friends, and my brother who was hugely into his rock, metal, punk side of music from a young age. I was always desperately trying to impress him with my music knowledge. I wanted to learn every single album that there was on the planet! It was like a bug, downloading as many albums (illegally) as you possibly could, and downloading as many mp3s and listening broadly. Then I honed that in when I started listening to radio because it was kind of when dubstep was at its peak and you know listening to late night radio growing up in Bristol would be like Ujima and GWR as well.
There's two sides of using visual branding for you. The mask hid your appearance but your label and artist branding relies heavily on visuals. Was the mask to do with rejection of femininity in the music industry?
You've given me some food for thought. I guess the mask was in a way a rejection of coming across feminine because I didn't want to be judged as a female artist. I guess that's where a therapist would have a field day and say that was early signs of gender dysphoria or whatever. But aside from that I do have image dysmorphia so it was difficult being in the public eye and the mask helped with that. There were so many reasons why the mask was there, but it was more the anonymity, I wanted to be accepted and be able to say, this is my name, this is the music I put out, and you can either listen to it or not.
It's a contradiction because I love making and creating visuals and I love the process of that, but not when it's centred around myself, so it ended up helping because it forced me to create, create, create. I couldn't just post a selfie and have that generate listens, but now with self-expression and feeling a bit more comfortable, I can incorporate myself into that.
Do you see yourself as a role model?
No, I see myself as a facilitator for other people and to be honest at the moment I don't feel like I'm doing enough to facilitate other people. I definitely want to expand more into youth work and directly helping my city and there's amazing people doing that at the moment, like Saffron and so many people who are building access to other people. I always thought I would get so far and then this magical pot of money would appear and I'd be able to reinvest it into my city and the youth music scene.
I think next year I'm actually going to focus a bit more on facilitating that because I can do it with my own label by providing a platform and actually create a direct way in to making music. But for younger people still in school without the budget, that is what I feel passionate about, because I had that accessibility. The youth club that I went to shut down for lack of funds and this is a historic place, this is where Roni Size and so many people in the Bristol music scene came through and had their first experience making music. That this place doesn't exist anymore sickens me. If I was growing up in Bristol right now, I would not have the opportunity for the career I have. I don't particularly want to be a role model, but if you break it down, what being a role model means is someone who's doing good that people look up to – that's something to aspire to, and I would like to facilitate other people's futures.
You are a Virgil Abloh fan, what did he mean to you?
When I was at uni I was borderline obsessed with Kanye West – reading everything I could and watching every single show back to front, multiple times over, so I knew who Virgil was before he became the creative director of LV. I found so much peace in his way of looking at life; his way of designing things and his way of being like fuck you to everyone about what he can and can't do, it was incredible.
He started communicating with Sherelle, and then we go to go to this show irl and it honestly changed my life. I definitely want to do stuff with clothes, but it was also his reception. Like for example he'd reply to anyone so fast, all while running initiatives, 5, 6, 7 shows a year, running around all over the world. Even if you don't understand or comprehend what he did physically, you can still respect that work rate. And that's even before what was going on behind closed doors.
The people that I look up to the most are people who's one drive is to create and facilitate, and he is someone who does that, but in so many different realms. He's definitely an idol to me and probably always will be. Just before he passed he played my song in a mix and I was screaming to Sherelle that he'd followed me back, and replied to me, and messaged me. I feel really blessed that one of my idols played one of my songs. It makes me very emotional, but yeah, he's just magic, a magic-being. There will definitely be people like him in the future, but I don't think there's anyone that can be like him right now.
What's your take is on PinkPantheress and what she's doing with music?
I'm always waiting for crossovers between the mainstream and electronic music. When it sounds sonically fresh, I have admiration. Peaople are saying she's bringing back the rave and it's creating a distaste for her in the underground scenes with people saying she's not making "real jungle", however you'd define real jungle.
I would just love people to listen to her and acknowledge the whole lineage that came behind her. I'd be scared is it was a Craig David situation with someone blowing up. That's where people who have a distaste for the artist are coming from – they're worried it's going to shake things up a bit too much and destroy a scene. But these genres at their purest form will never die and it's okay for people to pay homage to them and use elements of them in their own music as long as they're being respectful.
If Justin Bieber made a jungle track, that would be very concerning
I think it's a phenomenon – I don't think I've ever seen anything like this before – obviously it's because of TikTok and it would be very scary if Justin Bieber made a jungle track, that would be very concerning. I think that could definitely have a negative impact! But PinkPantheress came up organically, she was a fan of the music. Also, lots of my friends love both underground and mainstream music and are huge fans of her.
In your sets you tend to take people on a longer journey than play straight up bangers. Is that something you do purposefully?
I've been DJing for a long time now – almost ten years, and it used to just be about finding as many sick songs as I could and playing them. Actually I find it way more therapeutic and way more fun to think about it with an arc. That could mean starting with bangers at the beginning and levelling out but I have taken a lot of interest in other people's sets. I've had the opportunity to go before, after and on the same lineups as lots of incredible DJs and live acts, and the ones that I really, truly love are the ones that take you on a journey. It doesn't have to be a planned out journey, it's just a sonic awareness, it can even be like a particular high hat pattern that goes into the next one.
It's more aligned with techno and house DJs – when you can't tell where the crossover is between the tunes. It's not big drops like grime for example. I love both styles of DJing but I'm more attuned to the journey at the moment. and I still struggle at reigning myself in 'cause I have a short attention span, so I have to wrestle with being patient and letting the song play out and letting everyone hear the elements of the song that I enjoy.
There have been a few sick b2bs this year that initially I wouldn't have expected, but learning techniques with these DJs has shown that DJing is a super flexible tool. Your imprint as a DJ is not about the songs, but the way you put them together.
It's cool that you slot into lineups that are techno, jungle, grime and still maintain your own sound, what would you describe your sound as?
I go for more moods that anything. Dark, heavy and aggressive is where my heart is, whether it's techno, dubstep or grime – as long as it's dark and aggressive I can get behind it.
Have you got a favourite ever DJ set?
The best DJ sets are usually the ones where the crowds are the best and that's partially up to me but generally it's like a cyclical energy. I can only take so much credit when it's a live set because the crowd does so much to make it enjoyable.
How did you find the tower bridge set when there was no crowd?
It was my favourite for everything, like the visuals were amazing so a big shout out to that team. But also it was the first recorded set that I'd had where I'd meticulously planned to have that journey. I was hyper aware that I was going on after Djrum and his sets are fucking crazy, I've always been a big fan of him – his skills as a DJ are unmatched and I knew this before I went on so I sat in my room for like a week and went through everything three times to make sure it was perfect. It wasn't perfect, but I felt happy with it because I'd thought about it. My first BOILER ROOM was in my old style where I just put as many good tunes on a USB in genre order and then played them how the crowd received them. I want my sets to be planned to an extent but if you over plan then you're not listening to the crowd that you're playing for and you need to be receptive. You can't just go to a place and play techno where it's a 140 crowd, or they won't get the release that they need. My primary aim is to make people dance. I'm not an egotistical DJ. Everyone needs to have the best time that I can possibly give to them.
Who are you listening to at the moment?
I'm still finalising mixes and projects so I'm trying not to listen to so much music. If I listen to too many different genres it can really skew my direction when I'm trying to hone it in and decide on what it's supposed to sound like. But let me see, quite a lot of jazz, I'm more a fan of instrumental jazz so like the classics. At the moment on my Spotify I've been listening to a lot of ZULI, lots of hardtekno, lots of jazz, an artist called Pelada, their last release was in 2019 but it's so good. More on the experimental side of jazz and more on the experimental side of electronic because I don't find it messes with my direction so much when it's completely all over the place – it helps because it reminds me that it's okay to experiment and do things that are not linear.
Let's talk about '22:22'!
Yay! I'm quite a spiritual person and I feel strongly about our spiritual pathways. I felt like that was the right name for the song for whatever reason. It's like a meditative, sad part of a project… In my head it's supposed to be the soundtrack to a contemporary dance piece that doesn't actually exist yet but the idea was meditation, sadness, self-reflection, all of these things in the context of a story.
When was it written?
It was actually an intro to a song that got scrapped from a couple of months ago and then I took it and deconstructed it and added strings to it. When I make music that I like and can listen to, I have to get into quite a meditative blocked out state and that's what materialised from that. I was playing it on loop while creating and I think the idea of it is that you can just listen to it on loop, it's continuous but it's good to put on while you're painting, creating…
What's next?
Hopefully as much music as I can make. I'm tryna keep my mind good – keeping the dark forces as a reference point but not necessarily indulging in them enough to send me spiralling. That is my aim for next year.
Stream '22:22′ here or watch below.
Listen to LCY's Dummy mix.
Read next: The 10 Best 160 BPM Tracks, according to Sherelle.