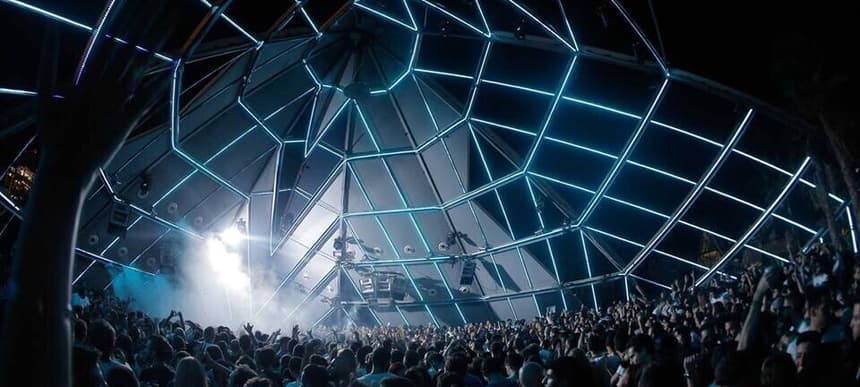 12.11.2019, Words by Gemma Ross
From conflict to crossfaders, liberalism in Lebanon is taking hold through electronic music


Beirut's The Gärten now plays host to a progressive group of people who have rarely been able to make themselves known in the country's past...
An illuminated pyramid perched on Beirut's coastline regularly sees 4,000 young adults flock through its doors to party amongst palm trees and neon lights until the early hours of the morning. Just across the border, Syria hosts one of the largest conflicts of the decade, and Palestinians continue to fight for their freedom and identity.
Looking past the newly built unique form of democracy that now divides Lebanon, a fresh-faced generation of liberals find their sanctuary on the dancefloor, surrounded by thousands of others with a shared political mindset.
Some 2,500 miles away in West Amsterdam, Ali Saleh sips on a cocktail named after his very own club: The Gärten. "Pretty good," he admits, before sinking back into his chair. Saleh could be considered a pioneer of a newly-politicised generation within his country. Straight out of a Q&A session at Amsterdam Dance Event where he discussed his impact on Lebanese nightlife and its importance in a post-civil war environment, Saleh sits down to consider the wider picture.
"We've been through a lot in Lebanon. It's not just about oppression, it's a combination of many things," he says. "Wars, domination by other countries. We now have a 'democracy', which is complete bullshit." The modern cultural happenings mark the beginning of a change in its political climate, whether for the better or the worse. The recent democratic system is now failing the underclass in Lebanon, supposedly one of the most unjust in the Middle East.
But just 30 years since Lebanon's civil war, the liberal youth have found refuge and hope in a musical sphere. The Gärten, Ali Saleh's 4,000 capacity nightclub, has evolved into the home of a leftist generation, for just six months a year. During winter months, the club takes refuge indoors. "There's so much to do at The Gärten. If you want to be on the dancefloor you can get lost with thousands of people. If you want to eat or chill out, you can do that too."
Often regarded as the best club in Lebanon, The Gärten signifies a changing point for the country. Saleh created the club as part of his childhood fascination with music, and teenage years sneaking into the equally popular B018. "I used to be a hip-hop DJ and threw small events when I was in school. Never to make money, just to have fun.
"We used to go clubbing at B018 when we were 16 or 17, bringing fake ID's to get in. I was kicked out of that place more times than I remember," Saleh laughs. "Electronic music never really picked up in Lebanese club culture, and B018 always had bad connotations linked to it."
The Gärten now plays host to a progressive group of people who have rarely been able to make themselves known in Lebanon's past. The LGBTQ+ community are beginning to use the club as a safe space for personal expression. "A lot of things are changing but my country is still plagued with so much religious dominance," he says, deep in thought. "Looking at the queer community, I think we often take one step forward and two steps back."
"Naturally, conflict leads to more creativity. The entire scene in Berlin came about because of the history with the wall."
As of recent years, electronic music has become a place of tolerance for the religiously un-tolerated, specifically following Berlin's incline of progressive club culture. "Liberalism is a reaction due to war and oppression. Naturally, conflict leads to more creativity. The entire scene in Berlin came about because of the history with the wall." Many derelict buildings which are left as a result of post-communism and war-ridden territory are now being used as hubs of hedonism for the youth.
"We wanted to give people a space to be who they want to be, which is also relatively cheap and accessible to everybody. The only other clubs in Lebanon were commercial ones which were mostly centred around table service, with no dance floor and a big bar. You had to book a table and dress a certain way, you can't be yourself. It's a place for cigars, dresses and high heels."
It took time to create the modern masterpiece that now lies in the heart of Lebanon's capital. Now, on its seventh year, The Gärten is a product of many other trial and errors along Saleh's club-creating journey. "We saw an opportunity where other clubs weren't managed properly and didn't introduce new music. So, we launched Überhaus – it was a huge success. But it was an indoor club, and we often had to turn down a lot of people because of the size.
"We thought, 'You know what, we should take a risk'. We needed a bigger venue, which is why we created The Gärten." Housed in an open-air, pyramid-shaped venue, the club sees a range of people through its doors, three days a week. Reflecting on his favourite memories at the club, Saleh says: "opening nights throughout our history have always been incredible. Everything leading up to that one night and experiencing the final product each season is something truly special."
Making plans for the future, Ali Saleh now intends to build an entire festival following the club's huge success. Years of religious and political dominance in the country have only pushed the music scene further in the way of progressive attitudes, expression and liberalism – and who knows where it may lead next.
Find out more about The Gärten here.