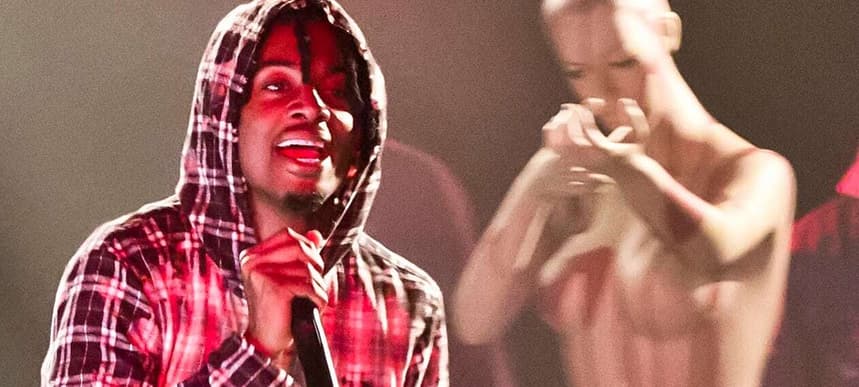 27.02.2018, Words by dummymag
Live report: Playboi Carti, o2 Kentish Town Forum, London, 25/02/2018
The new generation of rappers get a lot of flak for a number of reasons, but one thing that cannot be knocked is their tremendous charisma and aura. One such rapper with bags of these in abundance is Atlanta's very own, Playboi Carti, who dazzled the sold out o2 Kentish Town Forum with an unprecedented energy that bounced off his young audience with aplomb.
His onlookers reflected an annoying aspect of the social media-driven, image obsessed youth today; rarely did any of the exuberant, stupidly young audience around me put their phones away to witness the show with their own eyes, preferring to look back on who has the best snaps for their Instagram. Carti paid it no mind though, and as his set began with 'Location', the place erupted. Then proceeding to cram in as many of his songs as possible in his hour and a bit set, Carti went into Big Shaq mode, letting his music ting go…well, you get the idea.
Before the crowd settled into a track, he snatched it back and moved onto the next one, and this ongoing sequence soon became one of the set's most endearing parts. His biggest hit, 'Magnolia', curiously played very early into his set, triggering confusion from me as to why he gave away what was a deafening moment so prematurely, but an encore towards the end of his set proved it still had as much potency as the first play.
Carti was incredibly impulsive throughout, spending three quarters of his set not actually on stage, preferring to be in the heart of the mosh and orchestrating a visual madness. Particularly when he climbed up a speaker and onto the balcony, becoming immersed in his fans in a truly dizzying sight, he became the rockstar the crowd were expectant of.
Saving time for a complete swerve, the audience was blessed with a one song cameo by the international man of grime, Skepta, who in a very brief moment made the crowd his own. But it didn't distract from the main attraction and, though the set came to an abrupt end (due to the venue's curfew being passed) it sticks in the memory as a highly unorthodox but, ultimately, rewarding show demonstrating the obnoxious dynamism of a young rapper with the world at his feet.
Listen to Dummy's curated playlists on Spotify.