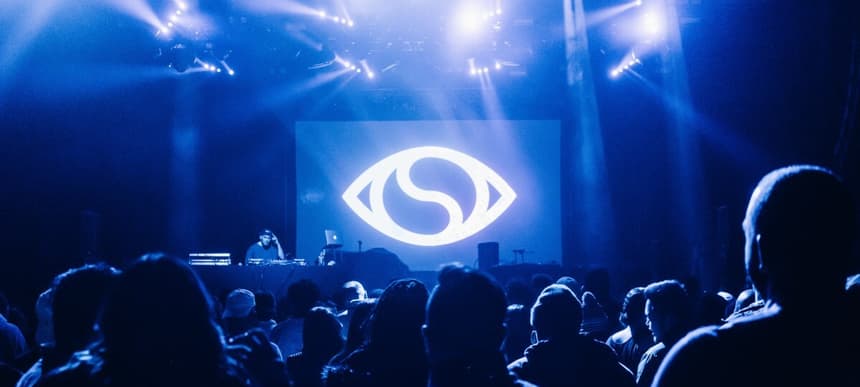 24.01.2018, Words by Nicola Davies
Live report: Soulection's seven year anniversary celebrations, New York, 13/01/2018
The Soulection 7 Year Anniversary took place not in their base of L.A., but in the much colder Brooklyn. To see this many of the Soulection family on one stage is a rare occurrence, and quite rightly it was sold out. I say 'family' purposefully, because that is the only way to describe this group of like-minded people. The emanating energy is so full of respect and love, all helping one another succeed by being themselves, and succeed they do.
Co-founder Joe Kay holds down the weekly Beats 1 show, which just aired its 343rd episode; no small feat for a podcast that started in the pre-Soundcloud era. His co-founder, Andre Power, is the creative director and a DJ, who just finished up a New York residency at Schimanski. It's a collective that continues to make an impact on the musical landscape, not only by sharing technically skillful and emotionally uplifting mixes, but by consistently showcasing new artists and adding talent to their circle from all over the world. As a producer-focused entity, it started ahead of its time, as only now are producers receiving some of the shine lyricists have long held.
Brooklyn Steel is one of those venues that always delivers a quality live experience. With huge warehouse ceilings, split level at the back, and plenty of bars, it makes for a spacious but atmospheric setting for dancing without elbows in your face. Fans were streaming in quickly from the first beat with The Whooligan, aka Julio Galvez. With 15 years' DJing experience under his hat, Galvez also holds the role of Director of Worldwide Bookings and Partnerships for Soulection. Speaking to him after the event about opening the show: "I love it, it's always very special to play for those people that just come in. Doors are at 7:00 PM. They're super excited. Every song was moving folks and by the time my set was done and Sasha started, it was almost a packed house. I'm grateful that we have some diehard, loyal fans that come through early and just want to vibe out from the jump."
Sasha Marie played an eclectic set, covering everything from hip hop, to house, to RnB and even some JME (which pleased me greatly). We were treated to a live performance from Devin Tracy, supported by j.robb on the decks. With a soprano-esque voice and kind eyes, you couldn't help feeling woozy listening to Tracy's melodic lyrics about love and loss.
Monte Booker was next, and he leveled up the game. The producer and now DJ (most known for his work with Smino) gave off an infectious, giddy energy. From the very front where you could see him mouthing lyrics, to up top where you could see the impact of well-designed lighting and visuals; every single body was moving. From Kanye West, to Justin Timberlake, to Smino, Booker played a blinder.
"I'm grateful that we have some diehard, loyal fans that come through early and just want to vibe out from the jump." – The Whooligan
My personal favourite was the penultimate performance of the night, Sango. By this point the stage has filled up behind the decks; the whole family are dancing as if no one's watching. Joe Kay is taking photos of everyone; there is no hierarchy here. Next to Sango are Monte Booker and j.robb vibing out to the ridiculous set that's taking place. From his trademark Brazilian funky sound, to Drake mixes, Sango can do no wrong. Dancing and slapping his palm against his chest to the beat, we were enchanted. The best mix of the night was slipping from his own version of Goldlink's 'Crew' into 'Crew' proper and Timbaland's 'Are You That Somebody'. The moment I realised what was happening can only be described as euphoric.
And then there was Philly's own, The Magnificent DJ Jazzy Jeff. Galvez said of the headliner, "To be able to book him for our seven-year and actually do business with him on that level was a really special moment for me personally, and the rest of the team. If you weren't already a believer or you just didn't really know, people were blown away. To see him freak newer music and mix to classics from his generation, that was really special." This wasn't some old school hip hop set that you would be forgiven for expecting. DJ Jazzy Jeff came with a hype man, and in a flannel shirt and shades, provided the crowd with more than enough to get them through to midnight, going from 'Easy Like Sunday Morning', to 'Ante Up', to 'Gucci Gang'; genres could not hold him. He also included the sounds of Big Shaq and Skepta; cue British girl screaming. About half of his set featured Stro Elliot, the newest member of The Roots, who levelled up nicely to the Philly prince.
Reflecting on the event as a whole, Galvez recalls, "There was a moment where my assistant Tiffany and I went to the very back and up top, and just looked at everything when it was a packed house. You notice every little thing. The visuals are working, that means the visuals guy is doing his job. That means the projector's working. Wow, the lights are amazing, that means the production is working. The sound sounds amazing. The tech is working. People were moving around on stage. The fans are having a good time. The bar is packed. You get to look from afar and feel really accomplished." And so they should. It felt like being inside one big radio show; elevated, amazed and so, so happy.
The best part? It didn't end there. The after party was down the street, and had already been going off for a few hours, courtesy of Khalil and Pauli of Back To Life, their UK centric club night in New York. Khalil told us, "It was an honour to have Mean Red and Soulection ask us play the afterparty. I know a bunch of the Soulection guys and it's truly impressive how they've built a global community around a vibe, dope producers, and an aesthetic to match. Even when I played Andre Power's New York Party last year, it was pretty amazing to see so many people come out based on the strength of the brand."
"There was a moment where my assistant Tiffany and I went to the very back and up top, and just looked at everything when it was a packed house. You notice every little thing. You get to look from afar and feel really accomplished." – The Whooligan
The same sentiment could be said for this night. Andres Javier took over from the Brits, with Sahar Habibi following with smooth R&B from the likes of Destiny's Child, which got the crowd hot and heavy. With j.robb following up with hip hop and dancehall, Kronika with some house, and finally Andre Power taking the reins for the final hour, ending the night with Jorja Smith, just perfect.
Seven is a significant number. It represents something extraordinary, something wonderful. In the space of seven years, Soulection has built a global brand of diverse music, simultaneously glued together by a cohesive sound. Looking to the future and reaching beyond the music itself, Galvez comments, "All of the management are young men of colour, we're all trying to manoeuvre through this whole landscape, this music industry, and we're forever learning. We're trying to destroy stereotypes of men in the music industry. We're trying to be better people, and I think we're doing a great job. I also feel like we have so much to accomplish." It's that supreme ambition and 'never enough' attitude that keeps Soulection relevant and stronger year-on-year.
"Our supporters and fans are some of the most amazing, beautiful people on the planet, and they're so woke. They're so knowledgeable of music. They're healthy, they're active, they work hard, they're educated, they're artistic, and their vibe is just amazing." I couldn't have put it better myself. To many, many more years of Soulection.
If you're in North America, catch the Soulection Radio Tour with Joe Kay – first night is February 1st in Brooklyn.