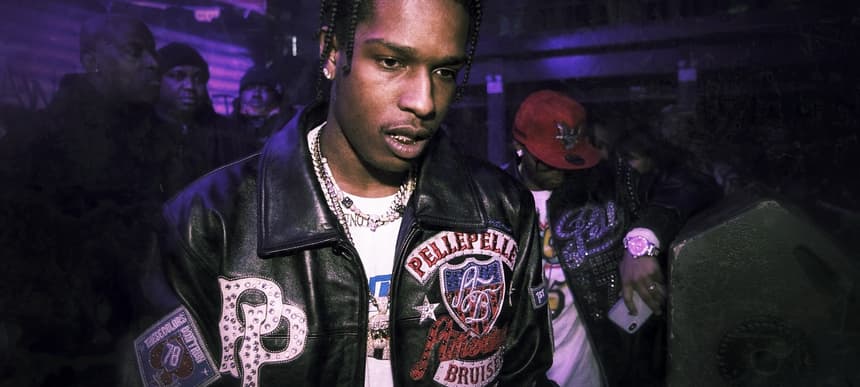 31.01.2018, Words by Nicola Davies
Live report: Yams Day 2018, New York, 18/01/2018
The third annual Yam's Day had all the hype going for it. With the billed line-up including Lil Yachty, French Montana, and of course, A$AP Mob, there were almost no limits to who the surprise guests might be. Last year, the likes of Kendrick and The Weeknd popped up, alongside the announced line up: Joey Bada$$, Lil Uzi Vert and T-Pain. So, really, anyone could have showed. As an event to commemorate the untimely death of A$AP Mob co-founder, Yams, in 2015, Yam's Day is a special night on the New York City hip hop calendar. But this year it wasn't meant to be.
We turned up to the venue with high hopes. With more portaloos outside than a festival and various local food trucks, we entered a huge factory-turned-expo centre in the Bronx. The stage backdrop was your typical NYC street scene, complete with a bodega and liquor store. To the left was a visual panel with moving images, mostly of Yams in different guises; sometimes Jesus presiding over the city, sometimes just his smiling face with moving eyes and braids.
Along with a strong, herb scent, we were greeted by a steady rotation of warm-up acts: G Perico, A$ton Mathews, Retch and Da$h, with A$AP Lou on the decks throughout. Quite a discerning audience, they were picky with who they moved to, but rest assured when A$AP Rocky came out to perform a few unreleased tracks, they reciprocated his energy. He also spent some time talking to the audience about Yams himself, representing "all the weirdos, all the burnt-out motherfuckers, all the druggies, all the little n*****s that don't know what they want to be tomorrow, but they know they're something, my n****. That's the dream we had fucking with Yams." "RIP Yams" and "Long Live Yams" were chanted at regular intervals; there was no question this was a celebration of life.
Of the bigger names, Nav came on first. His set was a little lacklustre, with the vocals drowned out by the backing track for the most part, aside from a few louder adlibs. Next was Lil Yachty, who by comparison commanded the stage. After commenting on how fat he was getting, Yachty steadily hyped up the crowd with 'iSpy' and 'Peek A Boo', bringing out PnB Rock to perform 'iRun'.
A slightly more controversial guest followed, when Lil Boat invited 6IX9INE on stage, who brought a sizeable entourage out with him. Not personally to my taste, but the shift in crowd interaction was unquestionable. Playboi Carti's performance followed, whose track 'Magnolia' is really all you want to hear in New York. After a few more tracks including 'Wokeuplikethis*', it was time for another change over. So far, Yam's Day was going off without a hitch.
After an elongated pause in music for calls to clear the stage, Rocky decides to create a mosh pit in the crowd. He repeatedly shouts, 'Open that bitch up', in two areas, and finally settles on a third, like Goldilocks. But this is where the night takes a turn.
Flacko gets called back on stage:
"Rocky, Rocky! Hold on one second bro for real… Rocky this is hectic bro, this is hectic bro…there's shit going on back here…There's a security issue going on bro."
Soon after, the night is over.
Keep in mind, neither French, A$AP Mob nor any other guests have performed (from backstage photos, it seems as though Lil Uzi Vert was scheduled to appear).
Due to supposed gunshots to the side of the stage between sparring artist entourages (neither the gunshots nor the identities of those involved have been confirmed) a stampede ensues, and the venue empties faster than you can say Pretty Flacko.
Stuck in a corner of railings, I was getting crushed before being lifted up and out by a friend. What followed was a slow, shaky and freezing walk out of the venue before accepting the night was over and heading home. Although we saw ambulances drive up, no injuries have been reported.
A testament to family, Yam's Day is a yearly reminder of the brotherhood that is A$AP Mob. Whether it was gunshots or just metal chairs, this year's commemoration was disrespected by pettiness of the lowest order.
At the time of writing, there had been no formal message from the A$AP team; one can only speculate on how disappointing and anger-inducing this disruption must have been. An undeserved ending for a celebration of life and music, I would be surprised if Yam's Day doesn't resurface for a fourth year, back to publicly remember their brother surrounded by friends and fans, only.
Check out Dummy's curated playlists on Spotify.