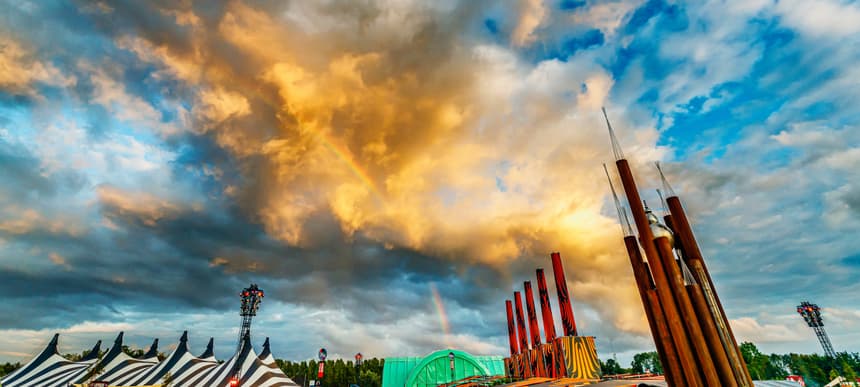 03.09.2019, Words by Daniel Laxness
The practicality of the Dutch made Lowlands festival 2019 another success
From a newly-freed A$AP Rocky making moshpits to Channel Tres's deep dancing frenzy, the Netherlands festival delivered both on music and organisation...
There's something deeply rewarding when attending Dutch music festivals, something that transcends the idea of purchasing a ticket to see an abundance of world-class acts for a few days. What could possibly make a festival experience in the Netherlands so different from others around the world? There are a number of reasons, but for starters, their practicality is a total game-changer. This was the case for Lowlands, an annual three-day music and performing arts festival, held about 60km outside of Amsterdam near the provincial city of Lelystad. Boasting some of the most exciting names in music from a large scope of genres and countries, this year alone included talent like Ross From Friends, New Order, James Blake and Helena Hauff, to name a few.
What made the experience even more blissful than the gold-standard musical bookings was the well thought-out schedule and timings. This gave mental and physical space for attendees to breath, relax and really take in every show without having to rush between stages. On top of that, the site's intelligent design and clever use of space made way for a smooth and hassle-free experience, something many other festivals may take for granted. The weather at Lowlands this year was not the most generous, however thanks to the country's practicality (again!), the festival ran at the pace as though there were blue skies, as all stages were covered and most areas had shelter.
Boredom at Lowlands is a fictional concept, something completely unheard of. Surrounded by fields and a picturesque lake, there was an abundance of activities on offer. From morning yoga classes to insightful workshops, much-needed massages to a vintage market and weirder facets like a life-sized game of Pacman, there was something for everyone. But this only scratches the surface. There were flipping rustic wood-heated saunas and hot tubs, as well as a lounge area by the lake where you could chill out after having sweated out all your toxins and casually watch Billie Eilish take to the main stage. If you don't find that to be a beautiful sequence of events then I can't help you.
As mentioned above, one aspect I found really positive at Lowlands was that the quantity of acts playing for such a big music festival wasn't excessive. It often becomes tiring when you find yourself having to run a marathon to catch every act at a festival. Here, the ratio between headliners, up-and-coming artists and local acts was, simply put, harmonious. You could calmly navigate the festival site and stumble across new discoveries until the acts you've set out to see begin to play. With minimal overlaps between acts, it was refreshing to come across acts like Norwegian 20-year-old sensation Girl in Red, Belgian rap mastermind Zwangere Guy or Dutch-New Zealand band MY BABY whose jam-like performance was a captivating experience.
Moreover, pleasant surprises such as the Bergen-based 'synth-pop' band Boy Pablo, gave (in my opinion) one of the best performances at Lowlands 2019. From their charisma to their impeccable musicianship, the whole show exuded 'good vibes' and put a smile on everyone's face. Elton John favourite Channel Tres plunged the entirety of his audience into a deep dancing frenzy with his West Coast take on house music – the perfect 'aperitif' to get you in the mood for Honey Dijon's set.
Another exciting turn of events was A$AP Rocky's presence at this year's edition. Having spent nearly a month in custody in Sweden due to an assault charge which occurred during a Stockholm fight, he was freed a week before Lowlands and delivered a high-energy performance, including a handful of back catalogue tracks and a countless series of moshpits. Rocky also made an appearance during Tame Impala's electric audiovisual set, inviting him on stage to perform 'LSD (Love.Sex.Dreams)' together: a definitive highlight.
Aside from the top-tier talent present at this year's edition and the handful of activities, it must be said that one of the key elements of Lowlands (or any other Dutch festival, for that matter) is the friendliness and good energy Dutch festivalgoers bring. This gave Lowlands a wholesome and intimate experience despite the size of the festival. With the 27th edition now under their belts, it's safe to say the next edition will be equally as memorable.