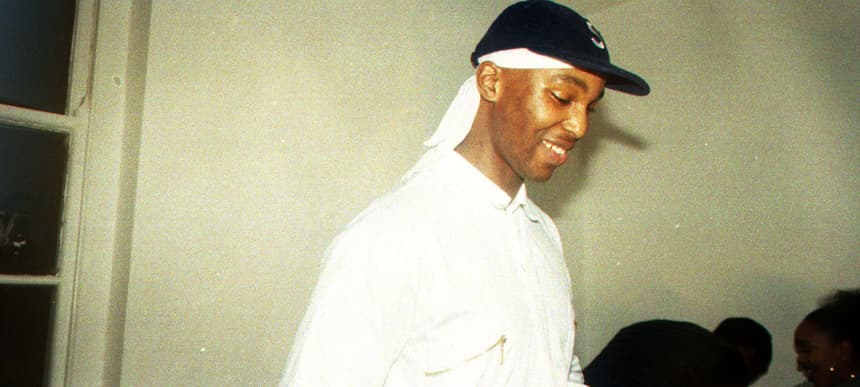 07.03.2019, Words by Rahel Aklilu, Photos by Shannei Rae Brown
M.I.C is a master of meaningful conversation
The North London rapper who'll "dougie on your grave" is anything but your typical grime MC...
The Master of Inane Conversation, or M.I.C as he is more commonly known, is surprisingly deep in speech, despite his moniker. "I'm terrible at small talk, so thought it would be ironic," he explains. Before me sits a thoughtful, polite and soft-spoken man – a stark difference to the M.I.C who, in a now-legendary series of bars for Just Jam, spat that he would "kick in your newborn's head, leave your dog in the woods, if you get a terminal illness I'll pull out the IV drip, I'll pull your du-rag off, sell your daughter crack, throw you under a train, make your wifey never go back…" And so on and so forth.
Aspiring to one day become the "Kate Bush of grime," Lamar Ita is anything but your typical grime MC. The now-viral snippet of the bleach-headed MC wearing eye makeup on Tim and Barry's show has incited everything from laughter to concern about his emotional wellbeing from Twitter users all over the world. Those bloodthirsty bars, he tells me, were an expression of anger towards an unnamed man who used to abuse a close friend of his.
Vocal self-expression is not something new for the North Londoner, who uses his social media as a platform for tearing down all sorts of ignorance and prejudices – racism, sexism, homophobia, to name a few. In the same freestyle, he proclaims: "woman-beaters I can't support, those cases don't reach the courts". For an up-and-coming MC to be so vocal about the mistreatment of women in a scene that has historically and systematically facilitated and turned a blind eye to mistreatment and abuse – from the veterans to the new-school – is refreshing and hopeful. "LGBT people can be treated equal, really in our community, I'll call that impunity," he spits on 'Afropunk, Atlanta', before touching on eurocentrism, gentrification and micro-aggressions in the following bars. It's this genuine individuality and fierce bars that has gained him an array of fans, plus endorsements from vegan restaurants.
How to respond to this sudden surge in his fanbase? Smiling over a green tea in a local café of his, he tells me: "it was validating to see how many people liked my bars, and it definitely brought more light to my EP". One year later, he hasn't released any more music, wary of falling into the trap of "compromising and oversaturating the market with half-baked music". Instead, Boiler Room performances and a monthly NTS show with best friend and occasional collaborator PK Brako have allowed him to ride the reverberating waves of his debut.
His debut EP, a year old at the time of writing, showcases just how eclectic the 27-year-old is. 'Heaven Is Black' chronicles M.I.C's own journey in identity and image, exploring the arduous battle of self-acceptance amid racism, colourism and internal conflict. Describing it as "grime, definitely grime, but Afrofuturist in themes and experimental in sound," it's hard to imagine that 'HIB' lies in the same category as "traditional" grime tunes. Yet that's exactly what M.I.C. is here to do – push grime away from the strict self-imposed boundaries it has grown creatively complacent within.
Describing the process behind 'HIB', Ita explains the inspiration drawn from Brazilian metal band Sepultura, and their 2006 album 'Dante XXI', based on Dante Alighieri's The Divine Comedy. How did a metal band and a 700-year-old medieval Italian poem inspire the musical journey of an MC from Enfield?
"I remember reading around The Divine Comedy almost obsessively. I was unemployed and had been watching Tyler, the Creator and Danny Brown interviews all day long," M.I.C explains of his foray into music – after only starting to like music at the age of 14. "My mum showed me Wiley's 'Wot Do You Call It?' and I'd started listening to Jamiroquai and Gorillaz," he says, pointing to the fact that the only accessible music (which was through the Official Charts) was pop, which he jokingly describes as "dusty".
Thus began M.I.C's own allegorical journey towards God. First there was Inferno – 2016's aptly titled 'You're Going to Hell If You Read The Sun'. On the way up from the fiery pits, 2017 gave us Purgatorio in the form of 'Revenge for Colonialism'. Then in March 2018, Paradiso came – only, it was black.
'HIB' chronicles a journey to Ita's Utopia, a process he describes as "more therapeutic than it was supposed to be". The five-song, fourteen-minute EP is started off by fan favourite 'Qway (First Blower)' and ends at the highest point of Heaven, the realm of pure fire in 'Empyrean'. "Every track is me getting closer and closer to the idea of my Heaven, like 'Afropunk, Atlanta' is in homage to the event, where I had one of the best days of my life, and Atlanta being a mecca for black culture," he explains of the tracklisting.
M.I.C's lifelong love of cartoon animations is evident in his work. 'HIB's cover art is a cartoon of M.I.C's interpretation of a painting of The Divine Comedy – complete with black angels. The second track is titled 'Virgil' after the protagonist of DC series Static Shock and M.I.C's fellow London rapper Virgil Hawkins, as well as the voice of reason in The Divine Comedy. So strong was this love that at one point, he aspired to be a voice actor for cartoons, pointing to UK songstress Estelle's role in US animated television series Steven Universe. "Cartoons offer a sense of freedom and unbridled creativity that isn't the same as live-action movies," he says, referring to constraints such as budgets and CGI that prevent live-actions from truly exercising creative freedom. The ease of technology and 'limitlessness' of artistry allows for greater freedom according to M.I.C, personal favourite types being US cartoons and anime.
What's next for the artist who is influenced by everything and by nothing? After constant prodding, he wryly reveals he is working on a debut album – conceptually worlds away from 'Heaven Is Black', but equally experimental, he promises. Until then, we can only hope not to get on his bad side or he'll quite literally "curse man, juj man".