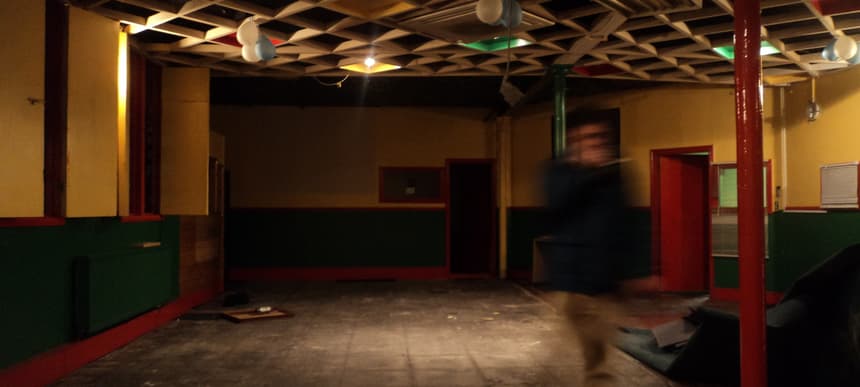 10.04.2019, Words by Felicity Martin
Make Some Space: Emma Warren on the tracks that shaped Total Refreshment Centre
Chronicling the importance of the late Hackney music hub on the explosion of new London jazz...
An Edwardian factory that over six years became a venue that sparked the explosion of new London jazz, Total Refreshment Centre's importance on UK music cannot be overstated. Set up in 2012 in what was originally a Caribbean social club, it quickly became a generator of culture, putting on high-quality events from a wealth of now-globally-acclaimed musicians including Nubya Garcia and Shabaka Hutchings.
Cultural commentator, journalist and TRC family friend Emma Warren is someone who has seen UK music culture develop from acid house to jungle to garage to grime and dubstep, and chronicles the history of the esteemed Hackney venue in a new book that outlines her experience and involvement with the space.
Make Some Space: Tuning Into Total Refreshment Centre compiles interviews with figures including Four Tet, Gilles Peterson and Louie Vega, and the story is a lesson in community and shared spaces, as well as a nod to the thousands of people who passed through TRC over its course of time.
Though it may not longer exist as a four-walled venue (the studios are still very much up and running), the legacy of Total Refreshment Centre lives on, and its impact will no doubt continue to create waves in UK music for years to come. Below, Warren talks us through the tracks that shaped TRC, telling the tale of the storied, hyper-influential venue.
Comet is Coming – 'Unity' (Impulse!)
Sons of Kemet – 'My Queen is Doreen Lawrence' (Verve)
"Shabaka Hutchings is key to understanding how Total Refreshment Centre became a central part of the story of new London jazz. He's a titan – a 'jazz monster' as Gilles Peterson calls him in the book – and did more than anyone to extend TRC's reach internationally, as well as providing a centrifugal reason for London musicians to come and hang and play. He introduced South African band The Brother Moves On to the venue after bumping into them in Camden, and they in turn co-signed the place as non-exploitative to their friends and family at home. South African bands BCUC and Sibusile Xaba followed. Both the Comet and Kemet records were given life at the venue's in-house recording studio, which is run by Kristian 'K' Robinson, aka Capitol K."
Emma-Jean Thackray – 'Red Bush'
"The TRC story I've told is interspersed with quotes from musicians from what's being called the New London jazz scene. I figured this was better than trying to describe tonnes of different gigs and it provides a nice breather in between the chapters, which take you from the building's beginnings as a chocolate factory, through it's two-decade-long life as a Caribbean social club, right up to the venue being closed down in summer last year.
"One of the artists I spoke to was Emma-Jean Thackray who is an incredible multi-instrumentalist, producer, DJ and trumpet player. She was my gig buddy for many excellent TRC events and describes in the book what it's like as a musician to find your tribe, and to find a space where you're accepted and welcomed, just as you are."
Kokoroko – 'Abusey Junction' (Brownswood)
Kokoroko – 'Uman' (Brownswood)
"'Abusey Junction' might now have 27+ million views on YouTube but it was first performed at Total Refreshment Centre, at the launch of Brownwood's excellent compilation 'We Out Here'. Bandleader Sheila Maurice-Grey talks in the book about TRC being an 'entry point' for Kokoroko, a rare place where you could experiment and try out new bands. Other musicians including Nubya Garcia, Joe Armon-Jones and Theon Cross explain what else made it special: Alexis Blondin's brilliant curation, open-minded audiences, enough messiness to be able to make the space your own, finding unexpected collaborators, the unstructured freedom."
Street Service – 'Just For You' (I Like It Records)
"The book sinks into the past, because it transpires that the building itself has a fantastically layered history that echoes and reflects what happened at TRC – and provides a kind of blueprint of how unassuming, homegrown spaces can generate culture. Throughout the '90s and 2000s it operated as Mellow Mix, a Caribbean social club that included rehearsal rooms, pirate radio, grassroots theatre and events. The guys that started Mellow Mix did so with the money they got from this tune, which they released on their own label and which was picked up by 1st Bass who'd just had a hit with Back By Dope Demand. It's a cute and catchy street soul stepper."
African Head Charge – 'Stebeni's Theme' (On-U Sound)
Mighty Diamonds – 'I Need A Roof' (Empire Records)
"One of the many bands that passed through Mellow Mix were African Headcharge, a band co-founded by Bonjo Iyabinghi Noah. I interviewed him outside Hackney Empire one warm evening and he told me that he was one of the first Nyabinghi drummers to arrive in the UK – he'd learned how to at his grandmother's Poco church in Clarendon, Jamaica, before he arrived in the UK. They didn't write this tune at Mellow Mix but it's a classic, so it's on the list. I also interviewed the Mighty Diamonds for the book, as they helped tell the story of the visiting reggae royalty that passed through Mellow Mix during the '90s – see also Luciano, Big Youth and local legends like Black Slate."
Glamma Kid – 'Moschino' (Mafia & Fluxy)
"Iyael Iyases Tafari Constable made brilliant fast chat records in the late 1990s, which were recorded and released by Mellow Mix in-house band Mafia and Fluxy. He also won Mellow Mix's Hackney Young Singer Of The Year award in the '90s, something which helped set him off towards an eventual MOBO in 1998. Remember, at this point no-one was interested in Hackney or Hackney music: the borough was stigmatised and reduced to 'murder mile' stereotypes. Glamma's MOBO made an impact on another east Londoner. Wiley tweeted: 'It was MOBO 98 when I realised I could make it. I saw Glamma Kid get an award. He gave me hope.'"
Makaya McCraven, Joe Armon-Jones, Nubya Garcia, Theon Cross – 'Halls' (International Anthem/TRC Recordings)
Angel Bat Dawid – 'Black Family' (International Anthem)
"The ChicagoxLondon event at TRC in October 2017 brought together Londoners with like-minded Chicago musicians including Ben LaMar Gay and Jaimie Branch. One set at ChicagoxLondon featured Theon Cross, Nubya Garcia and Joe Armon-Jones on stage with Chicago drummer Makaya McCraven. They had met for maybe ten minutes before and improvised the whole thing. Makaya took the recordings home, cut them up and released them as 'Where We From'. The whole thing is fire, but this is a special kind of fire. See also TRC extended family member Angel Bat Dawid's awesome 'Oracle' album, particularly that baseline at the start of 'Black Family'."
Kamaal Williams – 'Black Focus' (Brownswood)
"Henry Wu had a studio with Scratcha DVA at TRC for a year or so. The music that became 'Black Focus' began life as a Boiler Room session recorded at the venue. Wu told me about how they decided to change their name from The Henry Wu trio to Kamaal Williams after the video went up and got Boiler Room to change it. His interview in the book is essential: he recalls what was good about TRC but also raises some questions about how venues like this contribute towards or help counter gentrification. There's a good Scratcha interview in there too, minus the unprintable bits."
Alabaster dePlume – 'Did You Ever Hear About the Mau Mau?' (Lost Maps)
"In the book, Dan 'Danalogue' Leavers from The Comet Is Coming describes what he calls 'a collapsed wave of feedback and inspiration' that fed into the music coming out of TRC because of this unusual confluence: they had a recording studio, artist studios, a venue and receptive regular audiences all in one place. Crucially, people were left alone to get on with things, with a notable absence of excessive rules or systems.
"Alabaster de Plume's album 'The Corner of a Sphere' is a good example of this. It was written and recorded at TRC, tested out at Alabaster's monthly Peach events at TRC and was mixed with a group of friends who drank wine, got involved in choruses, and generally brought some more magic to the mix. This is a tender and spooked moment from the record which helps show that there's much more to TRC music than what's being called New London jazz."
Snapped Ankles – 'Dream and Formaldehyde' (Leaf)
"The Snapped Ankles studio is in the TRC building. They're very TRC people: entirely committed to doing things their own way, as if this was the way everyone operated. They've also got a lot of the post-punk undertones that sit under TRC's behind-the-scenes operations. The record, which is explicitly about gentrification, conveys some of the tensions of being situated in a building that has somehow escaped being turned into luxury flats (so far, at least)."
Listen to the playlist on Spotify:
Pre-order 'Make Some Space: Tuning Into Total Refreshment Centre' here.
Boiler Room are putting on a Total Refreshment Centre event this Saturday at the Barbican – find tickets here.