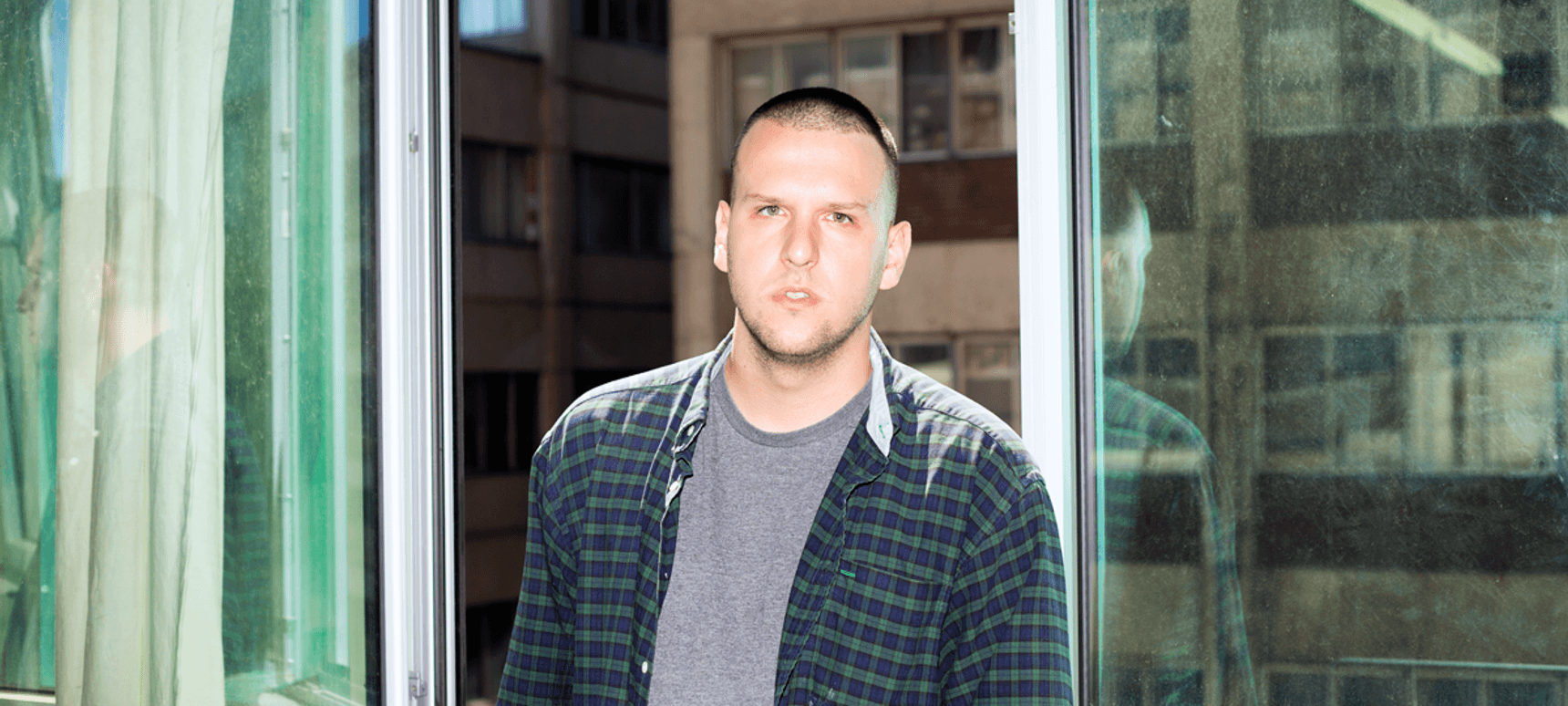 18.10.2016, Words by dummymag
The Art Of Noise: Martin C. Pariseau
On a rainy August evening, I met Martin C. Pariseau in a loft overlooking Montreal's Mount Royal. I'm greeted with subtle jazz melodies that merely overpower the patter of rain against the large glass windows. Throughout the afternoon, Martin has been working on a pitch for what might be his US breakthrough music video. Leaning against a window, the 20-something director lights a cigarette and confesses that the offers have, indeed, been coming through, following the success of Lite Spots – a four-minute piece for one of the lead singles from Kaytranada's latest drop, '99.9%'.
Martin is not one up for the small-talk. Within the first couple of minutes the Quebec native darts between his thoughts on the history of grime to the reasons he had for dropping out of film school. Such level of candidness is also reflected in Martin's work. Infatuated with truth and personal histories, the director uses video as a tool to offer a glimpse into the world of the more established artists from Quebec.
Contrary to the trite collage-like videos, which piece together a couple of nudes and mango cirocs in a DS2 colour palette, Martin favours an approach that reflects the reality in its totality. He admits encouraging the artists to be themselves, as opposed to crafting imaginary identities on screen. By attempting to "humanise the image of the producer" and take music videos "back into the real world," the visionary hopes to lay a foundation for an url middle ground where the artists and their following can meet.
Martin's vérité-like approach allows the viewer to grasp what it might actually feel like to spend months on a solo tour, or have heaps of cash but not enough hours in a day to spend it. He admits to following no set recipe, yet his deeply-rooted desire to make everyone feel comfortable with the concept behind each and every project is what has been constant throughout his work.
When less is more and one works with a close-knit group of friends, there is always some room for experimentation. Still, Martin is keeping it within the family for yet another reason: creating a safe and nurturing space for communal learning. "I've always wanted to do projects that are the best for the artist and not for me, which sometimes can be very hard, as you want to do what would be best for you as a director. "
Making waves in the local scene since for over three years now – when his first video, a piece for local rap crew Dead Obies in 2013 – became the talking point of Quebec. When asked how he arrived at the project, Martin reveals that "back then, they [Dead Obies] had a very small following but were about to put out an album and had recently been ditched by a more established director. I had been wanting to make films for a while but did not feel like I was ready so, I thought, let me try music videos and see where it takes me."
The lo-fi video went viral for local standards, gathering over 30,000 views within a couple of hours. Martin elaborates that, "[in Quebec] there are so few people within that age, language and taste demographic – that pretty much anyone to whom it might have been relevant, had seen the video…and the artists landed a record deal the next morning!" And yet, the creative refuses to take the credit for the fateful turn of events, adding that it was their music that attracted the attention of the label in the first place. "A good music video does not really have a lot to do with the director or the concept. 80 or 90% of the music videos are killer songs. You're just there, praying that you'd get blessed with a sick ass song."
Martin recalls getting on the phone with an established music producer the following morning and being offered a new project. Cautious at first, Martin retells the story in great detail with unfeigned delight and disbelief, as if it was only yesterday.
"I got approached by a music video producer, who said he had seen the vid for Tony Hawk and he wanted to know what else I could do. And I was like, yea, yea, yea, for sure! I got this! So, he told me they had $1,000 and a camera for the next 24 hours. It was missing a few pieces, but whatever. I could pick an artist, shoot a video, and we'd see from there. I had just met this guy, Kaytradamus (now Kaytranada), and we made At All. We basically did everything we thought was okay to do. We recently spoke about it – how back then, I was pretending to know what I was doing, my cinematographer Ariel Méthot was pretending to know what he was doing, and, even, our gaffer was pretending to know what he was supposed to be doing… but none of us ever knew the truth about each other. We just got lucky! It was a case of all of us just saying stuff to look legit."
Having scored top marks with his 'fake it 'till you make it' methods on his first two projects, Martin embarked on a quest for a more cohesive approach and a personal signature. He likes to think it wasn't until Hers, a video for an old friend and frequent collaborator of JME, Tommy Kruise, that he found a way of doing things that felt right. "I think the key to the way into the industry is to pick a certain way of doing things that you feel comfortable with and commit to it," Martin ponders. "Really commit to it."
It wasn't long after the video for Hers that Martin started to direct true crowd-pullers, marked by confessional shots that last a tad too long to keep you in your comfort zone: a feature that strikes as particularly unusual in rap videos. He unveils that it lies in a desire to highlight the innate talent of the artists, "because rap is all poetry, at the end of the day."
This statement seems particularly true of his recent rap video for one of the contributors to the ever-evolving 'Life Of Pablo', Allan Kingdom, and Jamaican native – Chronixx. Set in Kingston, the video uses rapper's performance as an evocative backbone to a mysterious fable about going back to one's roots and discovering a physical attraction.
Montreal's creative is assured that it was the location of the shoot that brought out such level of candidness in the performances of the two artists. However, it might have played out differently, should the shoot have taken place in Europe, as intended before Chronixx hopped on the track. The video for Fables, taken from Kingdom's latest release, 'Northern Lights', proved to be a true challenge, as just within a few weeks Martin had to restart the creative planning from scratch, schooling himself about the mythology of Jamaica and Google-walking the potential locations in the furthest corners of the country.
Aiming to avoid appropriation of any culture other than his own, he admits being extra cautious about the choice of each setting. "All the locations have a meaning that isn't necessarily overt. Even the waterfall we shot at… it had a very significant meaning for the local community, as it was liberated by a feminist movement." Martin clarifies that the end product was not merely an outcome of thorough research and planning, though. With an open mind and faith in serendipity, the director allowed the weather to dictate the mood of the video, turning a sun-kissed tale about friendship into an enigmatic tale that keeps you on pins and needles for much longer than four minutes.
"Life can throw you the biggest curveballs, and you can either freak out like I did in my early days or embrace it and allow it to guide you." – Martin C. Pariseau
"The first scene was supposed to be really sunny. A bunch of people talking, the kid going to meet his friend after school. It was set out to be a very establishing scene for the narrative, and, we arrive there [in Jamaica], and it's the first day of filming, and I have never seen that much rain in my life! It was pouring so hard that we had to hide in a little hut. We had covered the gear, and ourselves, with an aluminium rack and just the sound of the rain hitting the rack reached 100 dB. It was louder than being in a festival! And then my producer said that the extras weren't coming and we weren't able to use the actor in the rain, as his agent opposed the idea. So we were stuck in this hut and had to make it our very first location…"
The creative wraps up the recollection by concluding that it is easy to dismiss the very greatest of opportunities if one has a tunnel vision during the creative process. "Life can throw you the biggest curveballs, and you can either freak out like I did in my early days or embrace it and allow it to guide you." Realising that he's gone too deep, Martin smirks and admits that, at the end of the day, the baseline for the project was an idea he's fostered for a long time.
Filming rappers in waterfalls.
Martin clearly enjoys creating rap videos as they're fun, whilst also hugely important. He's a firm believer of playing the game in order to change the game. Mostly, when it concerns female objectification. Shying away from sexism on screen, Martin admits preferring grime music videos over mainstream rap and hip hop, as to him, grime is grounded in one's immediate surroundings.These aesthetic and conceptual threads seem to translate across all genres considered in Martin's work. With his video trilogy for producer and DJ behind Secret Songs, Ryan Hemsworth, he created pieces that explore the theme of alienation through a futuristic yet personable approach, that really takes you far into the after hours of the performer's life.
Together, the creative duo broke the bank to go for a VR session, which included flying out to Nepal and then returning to exploring the streets of Montreal in a rented Lambo (and a helicopter). Yet, what made these experiences so memorable was their presentation and shedding light on the feelings that come with fame and living out of a suitcase.
Giving thanks to his risk-taking nature, Martin has managed to garner a series of stand-out low-budget pieces. His DIY approach is most obvious in a recent project for Montreal rap crew Loud Lary Adjust. For the emotive Blue Volvo, Martin embarked on a true gamble, spending most of the budget on a car only to drown it a few days later.
"We just left it drift into the abyss, and it worked."
If there is one thing the Quebecois rising talent has perfected by his mid-20s, it is the ability to give birth to great ideas without splashing too much cash. Surrounded by the local creme-de-la-creme, Martin and his friends have mastered the art of seizing the opportunities the local art scene and government have to offer. His five-star roster of friends does not end with Kay, Ryan Hemsworth, and Tommy Kruise. The director spends his time in the company of imaginative creatives who've set up an art-gallery-cum-studio that houses pirate radio, making profits from selling vinyl and hosting bbq parties, and workshops for the likeminded.
"The rest of the Quebec doesn't reflect at all what we create or consume, so the audience is small. Montreal has huge local artists that get stopped on the street for autographs, but it's hard for them to break out of the local scene," Martin notes. "There is very little opportunity for them to blow up because, if you produce content in patois, the audience doesn't really exist." He also suggests that, although turning to English might seem like the most obvious option to gain a few thousand extra followers, the next challenge becomes breaking out into the US market. "What I see, is that, if you're good, you reach the regional ceiling very early, and, following that, no matter how good you are, you find yourself repeating the projects and your signature style, unless you break out of the area…'cause the money really ain't here. The cash is in Toronto, in New York, in Los Angeles, but since we're a French speaking area, things can get hard."
If there is one positive aspect to this sense of a self-contained creative bubble detached from both Canada and the rest of the world, it is that competition in Montreal's creative landscape is high, aided by relatively low rent and readily available space. However, a full commitment to perfecting one's craft is required in return. This has not gone unnoticed, though, as over the last decade labels have started paying more attention to the area, which has nurtured talents like Arcade Fire, Grimes, and Kaytranada.
When we go on to talk about the duration of his recent projects, it comes to light that Martin feels a strong bond to his base and wants to continue representing Montreal in the future, as opposed to drifting away to Los Angeles or New York once larger projects come his way. "In Los Angeles, you get a track sent to you, and it's expected to submit a proposal within three days. Whilst here in Montreal, I'd just have dinner with Kay and speak about it. Then, I'll see him the week after and we'd catch up on where we're at."
Another contributing factor to his sense of belonging to the area lies with the fact that Martin has worked with the same crew throughout his entire career, alternating between cinematographers Jessica Lee Gagné and Ariel Methot, whilst also frequently collaborating with editor Xavier Lévesque. And he intends to keep it that way. However, when it comes to the musical talent, the creative is looking forward to expanding his horizons. "I was lucky Kay was my friend, I was lucky Tommy was my friend, I was lucky Ryan Hemsworth was my friend…but there's only that many friends one can have. Now, I'm looking to expand my circle to help me continue learning new things."
"I still follow my gut feeling every day, asking myself – do we feel each other's vibe? Do we want to try to mark the imaginary together?" – Martin C. Pariseau
Believing that music videos currently have little direct impact on people's lives despite the medium's vast reach, Martin hopes to be part of the generation that helps to moves the form forward. Admitting that he's not one to give into tempting offers that might require him to compromise his vision, he does however find solace in the recent trend of videos shifting towards the format of shorts that paint an increasingly well-rounded portrait of the artist and the context of their work – be it Schoolboy Q, Kendrick, or Drake. What's more, Martin views these projects as a means to extend our attention span that has so greatly eroded as a by-product of the rise of instant content such as Instagram and Snapchat. In the years to come, Martin hopes to continue making music videos with the people he trusts and shares the same vibe with, parallel to carving his way into the world of fiction film. "If I don't attribute value to what I do, nobody will do it for me. Despite being in in a precarious space and time in my career, I still follow my gut feeling every day, asking myself – do we feel each other's vibe? Do we want to try to mark the imaginary together?"
The Francophone visionary might need just a couple more opportunities to get his hands on A-list projects in order to truly secure a more stable position in the industry. And there is no sign Martin is about to give up.