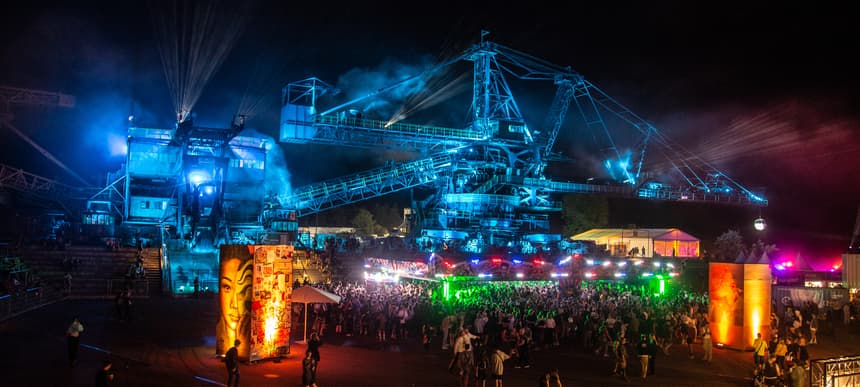 16.06.2022, Words by , Photos by Kirsten Otto
MELT 2022 returned to the City of Iron with a bang
The German festival proved why it's one of Europe's most prestigious party destinations
Surrounded by massive iron giants, beautiful lakes and magical forests, Melt Festival 2022 returned last weekend for the first time in 2 years, without any Covid-19 restrictions. Taking place in East Germany's Ferropolis, also known as the City of Iron, the festival yet again strives with an impressive range of 13 stages and an eclectic genre pool, which features everything from techno to grime and dream pop to ghetto house.
Walking to the festival site on its third day, there are faint sounds of thumping bass, ecstatic groups of punters covered head-to-toe in a combination of glitter and mesh and imposing mid-20th century mine excavators. We make our way to the Liquid Jungle stage, a little venue tucked between the forest and the lake, to watch Keshavara's performance. While sheltering a sun-kissed crowd from the heat, the Cologne-based artist showcases his love for big melodies, nicely hidden behind buzzing synths, cheesy e-drums, summery guitar riffs and his soothing voice. Looking at the crowd, you wouldn't believe they've been dancing since Thursday already – the energy and vibe is already magnificent at 6pm.
Though it might be easy to get stuck at the first stage, a trip to one of the festival's main venues begins to show the huge variety on offer. The Ping Pong stage is located in an amphitheater surrounded by excavators, and plays host to one of this year's biggest names, Peggy Gou, later in the evening. Here, French artist Myd's performance is viewable from the stairs where it's easy to admire his fans going crazy in the blaring afternoon sun.
While walking around the festival site, the impressive strip of food stalls offer everything from vegan döners to käsespätzle, a traditional German dish. With at least one bar at every stage, as well as some extra ones scattered around the festival, it's a positive surprise to see so many options available. There is no option to pay by cash or card at the festival, though, as it's premiering its new cashless initiative. Every punter receives a small barcode chip on their wristband, which can be topped up online or on-site. The lowest top-up option is 40 euros, which seems steep, especially if you're just there for a day or two.
After eating a tasty vegan döner, a trip to the Big Wheel stage is next on the to-do list. Despite its name, the stage itself isn't enormous but the sound doesn't disappoint – wherever you go on the festival site, you can hear the loud bass and beats blasting out from the small, sandy section of the former mining operation.
Melt Festival has done what other festivals are continuously struggling with…
The vibe at the Big Wheel stage remains high all day long, and whatever time you walk past, there is always a crowd dancing. On this particular day, the Big Wheel stage is curated by Berlin's DJ Spit, whose diversified sound is mirrored in his line-up – kicking off proceedings with CcC's fast-paced techno set before rapper BbyMutha takes to the stage with inspiring lyrics on sexuality, motherhood, and identity. We stay to watch LCY's and DJ Spit's energetic B2B set, which quickly becomes one of the weekend's highlights.
Melt Festival is known Germany-wide as the festival with one of the best line-ups, and while there, it's natural to want to tick off as many artists as possible. However, going from the loud, energetic set at the Big Wheel to Leon Vynehall's beautiful, melancholic live set at 30KV feels like a mismatch. A large portion of the crowd with the same thought end up going back to LCY and DJ Spit, and it remains crowded all the way through Nene H and VTSS.
During VTSS' set, my friend says how much she loves the diversity of gender and ethnicity on the roster – and it's true, Melt Festival has done what other festivals are continuously struggling with.
Catching the last minutes of Overmono's live set at the Ping Pong stage before Peggy Gou starts, it ends up feeling more like a concert than a rave with fans barricading themselves in the front row and screaming when Gou comes on. Gou plays for two-and-a-half hours and closes the third day of the festival at 5am, as the crowd slowly braces themselves for the 30-minute walk back to the campsite. Melt isn't a 24-hour festival, but there is one stage outside the festival grounds near the main camp called Club Floor, which runs 24 hours and offers people who aren't done yet a couple more hours of dancing in the morning sun.
After a successful Saturday, the last day features artists from Yung Singh and Sherelle to a DJ set by The xx's Romy and a live set by Jamie xx at the Big Wheel stage, this time curated by Partiboi69. The day consists of a lot of switching between the Big Wheel and the Paper Stage, starting with Partiboi69's eclectic set featuring Rammstein's "Du Hast", followed by a hypnotic, hard-hitting techno set by the Ukrainian power couple Etapp Kyle and Daria Kolosova. At the same time, UK rising stars Yung Singh and Sherelle B2B Tim Reaper play the Paper Stage. I have wanted to see those three DJs perform for a very long time, and my expectations have been exceeded more than I could have imagined. After Sherelle's and Tim Reaper's B2B set, Ellen Allien closes the festival with a classic techno set.
Overall, Melt Festival is a fun weekend with a prestigious roster in a jaw-dropping location not too far from Berlin. After two years of no festivals, Melt provides a much-needed return to normality and a beautiful kick-off for festival season.
Read next: Dot To Dot festival was a showcase for the next generation of UK music