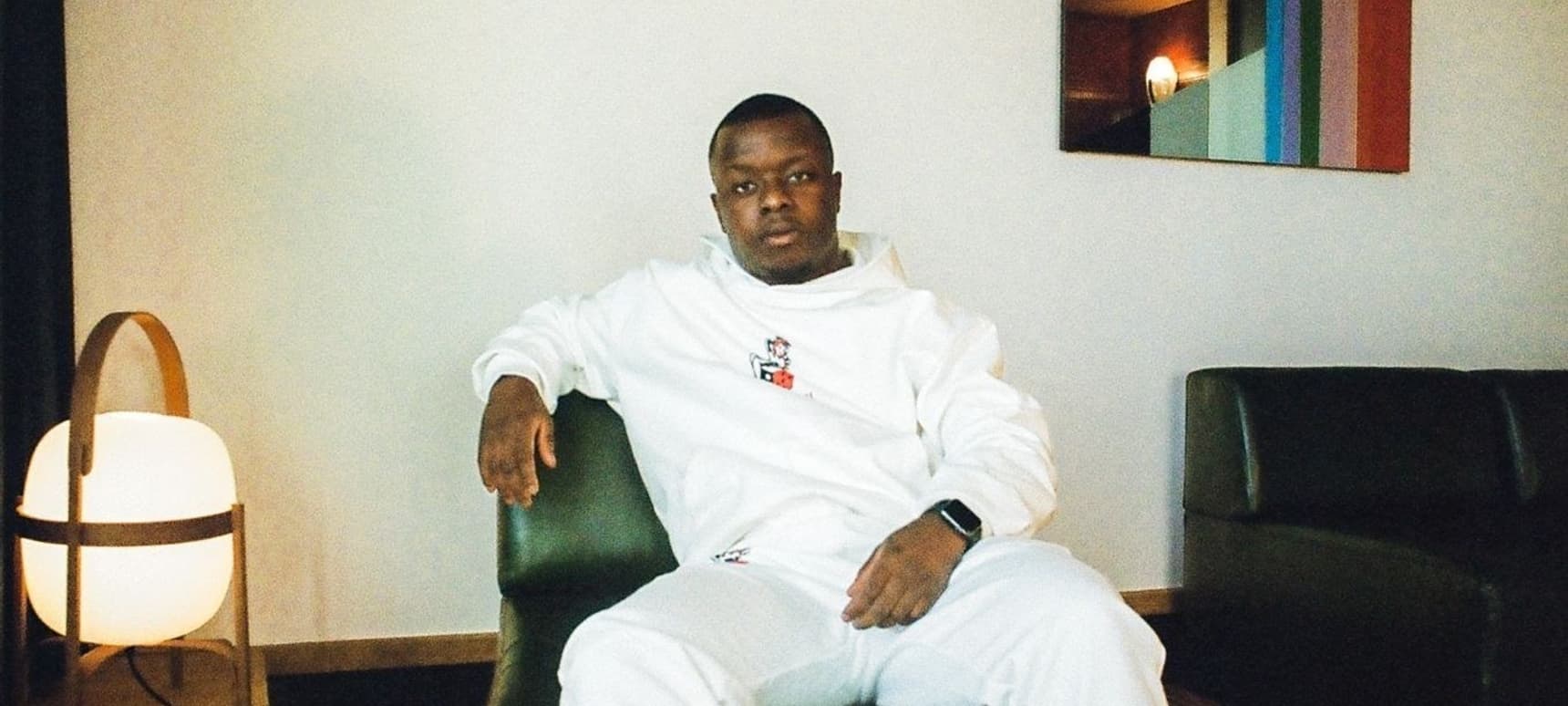 06.10.2021, Words by Maisie Goulsbra
Michael Adex on discovering Aitch, and his 360 entertainment company, NQ
"I just thought 'I don't know what it is but he's got something about him, and I like it'."
Michael Adex, who goes by his last name, Adex, is CEO of record label, publishing house, and talent management company NQ, and the manager behind the award-winning success of Mancunian rapper Aitch. His three-year-old business venture NQ (formerly Northern Quarterz) has recently expanded to include MIST, Poundz, Ayo Britain, Mastermind, as well as Frankie Stew and Harvey Gunn, plus other creative talent like magician Dawud.
With all that success, it's easy to forget that Adex is only 25 years old, but he's spared a few moments of his time to talk to Dummy about his journey thus far, and where he's headed next. Adex joins our Zoom call in the boardroom of the newly launched NQ House – the high spec three-storey headquarters and co-working members space – that was opened by Greater Manchester's Mayor and Labour MP, Andy Burnham. Behind Adex, hanging proudly, are the plaques for the five platinum, and nine gold certificates that NQ artists have been awarded.
Describe yourself and your career.
I describe myself as a creative entrepreneur. I have a fascination in things that are quite complex and with the business world; the different ways of making money and ways of making things happen have always interested me. In the creative world it isn't necessarily as traditional as selling lemons on a lemon stand. Finding out how that works in regards to film, TV, music, and art is how I got into doing what I do now.
Do you think it's harder being a creative entrepreneur outside of London?
Yes, I think so, if you're not willing to travel. With London being the epicentre of the creative industries and the economy in the UK, there's obviously more opportunities when more conversations and more decision-making is happening there. The closer you are to London, the more opportunities you have. With me being based in Manchester further up north, I'm further away but it doesn't stop me. There's no border control into London as far as I know, so it's just about seeking those opportunities, but it's harder because it's not on my doorstep.
There's no border control into London as far as I know.
Even so, you have been incredibly successful in your career so far. Do you think that's all down to hard work or do you think it's important to have a support network around you to achieve goals?
I think it's down to hard work. Within this industry or any industry, you always have to have some sort of luck, but I really do believe that you can create your own. It's about putting yourself in situations and opening yourself up to different experiences with different people. From there, opportunities come, and you've got to make sure you take them.
Where did your vision for NQ come from initially?
It came from the point when I decided I wanted to get into exploring and understanding music more. I wanted to create a 360-degree entertainment company encompassing my broad interest in film, TV, and sport. That's how the vision came about.
You recently grew your roster to include non-musical creative talent. What does the future of NQ look like?
I like to think that I'm good at spotting talent, but talent is not enough, artists need to be driven. My role is to guide artists to opportunities, but they also need to take them. We've just took on Dawud, who is an 18-year-old magician from London and he's still very young, but he's very, very talented. We're just working towards giving him the right kind of opportunities to showcase his talent and develop himself. He always talks about his big trick; Dynamo walked on water, so Dawud wants to go to the moon.
Dynamo walked on water, so Dawud wants to go to the moon.
Anything's possible if you put your mind to it. The fact that he already had ambition and knows where he wants to go is a step in the right direction, but as a whole organisation and company, we want to help make those kinds of things happen by working with talented people. Hopefully in five to ten years from now we'll do that in multi-disciplines; I want film, TV, and sport to be a part of NQ – whether that's by having different business under NQ or having them branded as NQ.
With someone like Aitch, did he have a fully formed vision of what he wanted to achieve when you started working with him?
No, not everyone does. You can ask someone what they want to do today but most people won't know. Especially with young people when they're making decisions about university and college – half the time they just pick courses that everyone else picked… I did anyway! So, Aitch didn't know what he wanted to do specifically. He was someone that was very talented at a very young age and there was something that I saw in him. I pushed him to explore that talent and take it further; he had the dedication and applied himself. He's got to where he's got to today and I'm happy to have been a part of that journey.
How did you get into the music industry?
My background is in football but I'm an avid music listener. I used to scour the net using SoundCloud, LimeWire and all sorts of stuff. I collated loads of music from all stages and places that I liked and had playlists (which I sadly lost on a plane). I used to reach out to the artists who had social media by messaging them. A lot of the time the artists weren't massive, I liked to dig deep and find what people were talking about that hadn't blown up yet. I listened to all the big stuff too like the J. Coles and whoever was out there popping, but a lot of the stuff that was popping wasn't really that big. So, I created a dialogue and when they got to a point that they were big enough to start touring, we would build on that. We'd do little meet and greets and it was a good way of getting to understand the industry and build up my contact list.
Did anyone ever question your authenticity at the early stages or were people on board?
I definitely think some people may have questioned my authenticity, but I think that's just the nature of the business, especially with people signing bad deals, bad contracts, management, and labels. With every good story there's a bad story, especially because I didn't have a track record – I was just a kid that knew a few artists. But it was always very mutual – often I knew artists before I got involved in the business. I came from a place of wanting to help build artists up. I think the ones that needed to understand that understood it.
I was just a kid that knew a few artists.
Were you tempted to move to London?
Prior to this I'd spent a lot of time with bigger artists in the industry and throughout that time I used to go to loads of different cities to see the landscape of what the UK had to offer. A lot of time, I came from the perspective of partying and having fun, but at the same time I was reflecting on how a place was and how it was set up.
Manchester always had that kind of special feeling about it. It was a very easy decision when it came down to it. When people come to Manchester for the first time, they tend to really love the city. Economically it's growing, there's the music history (Oasis and Factory Records), but even outside of music with the football clubs, the nightlife and the universities, it has so much to offer. It made sense to stay here rather than move to London. I'm not afraid to travel – it's only a two-hour train down the road.
How have you managed to work with both Manchester City and United as brand partners?
It's so hilarious because I don't know how we didn't get into trouble for this – our roster are mainly United fans. One of the first things we were involved in was a kit launch film that Aitch starred in, and executively produced the actual script for. But we were part of the activation for the Manchester City launch so we got Aitch to come out as a surprise guest too, and it was all filmed in the same day. I guess we got away with that one, and we've still got a great relationship with City.
You had some big names at the NQ house launch, how was it meeting Andy Burnham?
It was great, we've been involved in stuff together before – I was part of the Our Pass initiative which was made for young people to be able to travel around Manchester free to go to activities and events they wouldn't normally be able to go. We donated some tickets to a show, and they could go to things like an opera. Andy is a great guy, he's got a real affinity for Manchester music and is part of the Tony Wilson generation, so he's been keen to show love and support for Manchester music businesses. It was great to have him there.
Where are your favourite venues in Manchester at the moment?
The Warehouse Project is really good – I like the multi-purpose use of it, there's so many different types of events that go on there. And the Manchester Academy, we used to do a live show called 'Next Up' where we showcased all of our 'Next Up' artists from the North.
What's your A&R process at NQ?
If it's good, then we sign it! The way I see it is, if I like it, there must be other people out there that feel the same way. If I find a thousand or five thousand fans then an artist has a good chance of having a career.
Are there any new artists that you're really excited about?
Plenty. There are a lot of artists with potential that I'm excited about, but a lot of the time I don't sign artists based on what they're playing. Often, it's based on what I can see in them. For example, with Aitch, the music he was first making was grime – very different to the music he's making now. I don't necessarily sign artists based on the music I've seen or heard. It's more about the feeling someone gives me and what I can see in them. Sometimes you don't know specifically what that's going to look like, but that's why I think the A&R process is a bit of a gut feeling.
What was the initial gut feeling when you first discovered Aitch?
He was unexplainable. He was only fifteen/sixteen and this was back when he was doing grime sets, so he was in amongst people who were twice his age – holding his own while keeping quality and composure – he naturally kept that star quality. I've seen that from him since he was young. Funnily enough I told my friend who runs a big Instagram page now, that Aitch was the first artist I wanted to sign, but I didn't actually know what I wanted to do with him, and I'm always someone who has a plan. I just thought 'I don't know what it is but he's got something about him, and I like it'. So, I thought I'd just go with it. I made us a plan in regard to a release structure and it obviously went the right way.
What's next for you and for NQ?
We just signed Frankie Stew and Harvey Gunn from Brighton who just finished their UK tour. We're really excited with the roster and all the different types of music we're involved in. Frankie Stew and Harvey Gunn are definitely different from what we've done before, but musically we just want work on good music – whether it's rap, indie, or rock. That's something I'm really excited to delve into with the record and publishing side of it. We're working with some film and TV stuff as well. MIST has got his show with the BBC coming at the end of the year, which is a 'Top Gear' vibe show called 'Gassed Up' so keep an eye out for that. And we're looking to do some stuff with Dawud on the film and TV side too. We're growing and taking each day as it comes but we've got lots of stuff lined up.
Visit the NQ website to find out how you can get involved.
Read next: The 10 Best Artists Coming Out of Manchester, according to DRS.