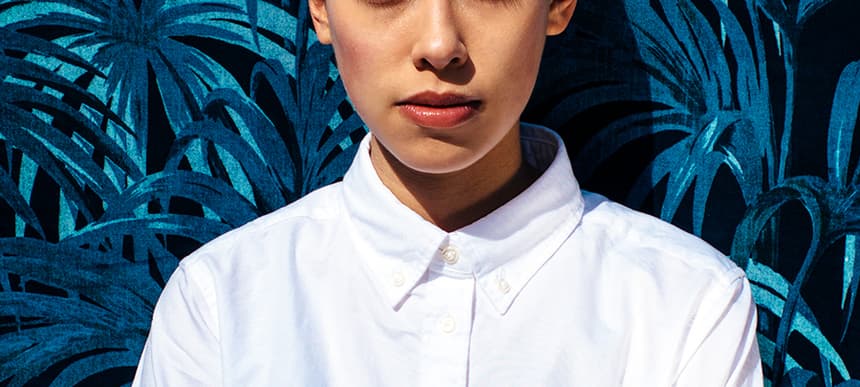 14.05.2015, Words by dummymag
"I still have this battered CD in my car": Monki's favourite albums
Monki spent her teenage years absorbing the sounds of London's pirate radio stations and BBC Radio 1's invaluable specialist shows, gradually taking on her own positions within local and online stations before landing a gig at Rinse FM after starting out as an intern there. It wasn't too long until she was taking on UK and international club and festival gigs, showcasing new producers with her Zoo Music label, and hosting killer lineups at her Monki & Friends nights at Fabric.
Now holding a position at the BBC herself, Monki's next move is a contribution to the esteemed, longrunning Fabriclive mix series. Her selection mixes up today's bass-heavy selections of Mella Dee and Sudanim with the hyperactive sounds of DJ Haus, the old school house of FPI Project, club belters by Danny Daze and Robert Hood, and MC specials from Chimpo and Slick Don. It's a varied selection but, for anyone who's tuned into Monki's shows over the years, it's as true to the selector as it comes.
We asked Monki to contribute to our 10 best series, and she opted for her favourite throwback tunes, taken from some of her favourite albums from her childgood. The result, however, is indicative not just of Monki's own musical upbringing, but probably of a whole generation of music fans. Anyone who's a similar age and from a similar part of the country can probably relate here: pirate radio, grime, US rap as heard via music channels, hand-me-downs from family members (where a lot of DJs might have had a rave-going older brother, Monki had a garage head for an uncle), and album-oriented dance music a la the Chemical Brothers.
"I wasn't sure what to do for my top 10, so I've done a little throwback," Monki explains over email, "These are my top 10 albums from my childhood and a little a bit how I first heard them. These all came out before I was a teenager (which may scare some of you) – around the age where you start discovering your own musical taste. All of them were super influential to me and to many people my age. I wasn't born holding an obscure techno record, so don't expect to be scratching your chin."
01. Dizzee Rascal 'Boy In The Corner' (2003)
Monki: "For a lot of me and my mates, Wiley and Dizzee were our gateway to grime. So when this album dropped all our tiny minds were blown. I don't know anyone in their early 20s who doesn't recognise that kick and snare."
02. The Streets 'Original Pirate Material' (2002)
Monki: "'Original Pirate Material' is in my favourite albums of all time. Weak Become Heroes my favourite track off it, I still play the Ashley Beedle remix from time to time. Has It Come To This in a close second! Absolute masterpiece."
03. Jay Z 'Blueprint' (2001)
Monki: "I think around the age of 10 you start the realise what music you like, instead of just listening to the radio in the car with your dad. I discovered MTV music channels and my uncle was still a teenager when 'Blueprint' came out, so his musical taste was very influential on me. He use to play me hip hop all the time, and I would try nick his CDs for a couple of hours."
04. Sting & The Police Best Of (1997)
Monki: "This was the first bit of music I owned. It was my mum's and she gave it to me on tape when I was six. I would fucking drive my dad up the wall listening to this album non-stop on long drives to work. I still know every word from start to finish."
05. So Solid Crew They Don't Know (2001)
Monki: "When owning a white Audi TT was cool and Harvey wore leather jogging pants before Kanye West. I don't really need to know much about this album, romeo done."
06. The Prodigy 'Fat Of The Land' (1997)
Monki: "There were two albums I remember my mum playing on repeat in the kitchen throughout growing up. The first one was 'Fat Of The Land'. From this album I found my love of early rave music by looking at their back catalogue and listening to their first releases."
07. Chemical Brothers 'The Surrender' (1999)
Monki: "The second album was this. I watched them at Glastonbury when I was 14 and it blew my fucking mind. I couldn't see much mind you (if anything at all), so I'm looking forward to watching them again there this year and catching a glimpse."
08. Kanye West 'The College Drop Out' (2004)
Monki: "Before he went batshit crazy, he produced something I used to have on repeat every day on the bus to school of about six months. Super charming album.
09. DJ EZ 'Pure Garage II' (2000)
Monki: "As well as hip hop, my uncle introduced me to garage – almost solely through this CD. He would go to The Works to watch EZ play and I would listen to this CD. I still have this battered CD in my car, the same one he gave me when I was a kid."
10. Phoenix 'United' (2000)
Monki: "Apart from hearing Oasis and Blur in the charts in the '90s, another band caught my attention. I didn't know much about them at the time, but I picked up this CD and I still pick it up all the time."
Fabric release 'Fabriclive:81' on May 18th 2015 (buy).