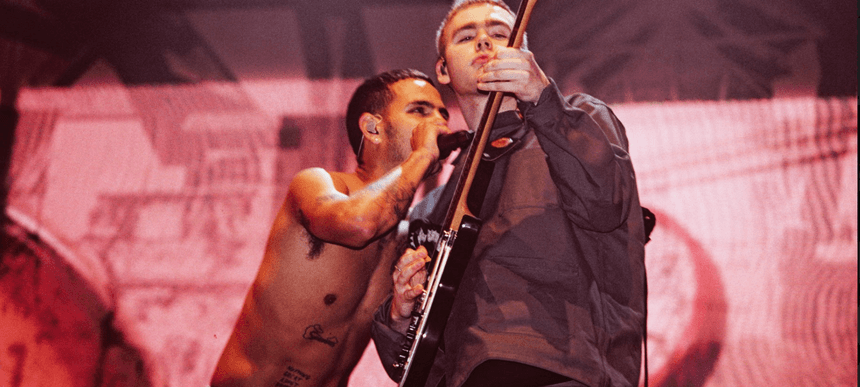 03.03.2020, Words by Ben Jolley, Photos by Lillie Eiger
Mura Masa brought out a festival-sized line-up of guests at his London headline show
Alex Crossan's early-2000s Blink 182-style riffs went down a storm at Alexandra Palace
"Thanks for being here at this historic night of my life… I've got some friends with me," Mura Masa beamed at the start of his London headline show in front of 8,000 of his biggest fans (including his mum) at Alexandra Palace just weeks after the release of his second album, 'R.Y.C'. The Guernsey-born producer, singer and multi-instrumentalist wasn't alone; across a genre-hopping 90-minute set, which veered between pop-punk party, full-on rock concert and trappy electronic rave – Alex Crossan welcomed near enough every artist he's collaborated with.
The highlights came quickly, too – after Clairo joined early on for auto-tune-heavy anthem 'I Don't Think I Can Do This Again', Cosha got us dancing with debut album highlight 'Nuggets'. Then, out of nowhere, stormed a bare-chested slowthai – who made his first on-stage appearance since last week's controversial NME awards, turning up the dial for a rowdy one-two of 'Doorman' and 'Deal Wiv It' that got friends on shoulders, beers flying through the air.
Switching the vibe again, Alex's live touring vocalist Fliss joined for 'One Night' (sadly minus A$AP Rocky) which threw it back to the days when Crossan was better known as a producer, bringing tropical percussive drum-led beats to would-be singalong chart hits.
The new direction Crossan has gone in with his second album is almost a total departure from those days. But at Ally Pally, his thousands of fans got the best of both records. While the new album received some negative reviews, there's no doubting their power in a live setting – especially the arena-sized 'No Hope Generation', which comes full of early-2000s Blink 182-style riffs and stomping drumbeats. The strong sound-system and towering strobes help here, creating a real party atmosphere – which is exactly what the mostly teenage crowd want on this bitterly cold Thursday night.
It was also worth noting how the Mura Masa live set-up has developed; in the past Alex was comparatively hidden behind synth pads and hardware making the beats while a rotating stream of vocalists took the spotlight, but now with a full live band in tow, he seemed happy to take centre stage while singing over Massive Attack-style trip-hop beats on contemplative slow-burner 'In My Mind'. The stage layout, with a standing lamp on the left and visuals of different rooms, made the audience feel as though they were at home with Alex; a clever technique to make his fans feel like they're a part of his extended family.
After Georgia joined him to provide the vocals for the edge-of-the-dancefloor groover 'Live Like We're Dancing', he even threw in a lighters-in-the-air moment near the end with 'Teenage Headache Dream's. To close the show for good, a radiant Nao arrives in a glowing golden dress for 'Firefly', which sends the entire room into a sense of hysteria. Lesser artists might have been swallowed up by a venue of this size but on the strength of this show, it's clear that Mura Masa is an artist who's capable of doing it all – irrespective of genre, creating hits is what he's made for.
It would be wrong not to mention Mura Masa's choice of support acts here; despite being extremely bold choices for an arguably mainstream audience, it's a great platform for them to grow their fanbases while performing on one of the capital's biggest stages. First up was Shygirl who, despite being more used to smaller venues and underground clubs, staked her claim as fast-rising queen of the underground. Arriving onstage armed with a fan and regal fur-lined coat that made it looks as though she was stepping into a boxing ring, her stage presence was undeniable as she rapped breathlessly over pounding trap-inspired beats on 'BB' and 'UCKERS'.
Warp experimentalist Yves Tumor, contrastingly, delivered a real show that at times recalled Prince. With the stage shrouded in smoke and lit up by strobe searchlights, the enigmatic Miami-born performer paced across the stage while doing his best to seduce the young crowd with his lo-fi R&B/funk/noise fusion. "You guys look a little stiff. Let's shake it out of you," he shouted while stood tall on the amps.
Dressed in a black top hat, leather trousers, high boots and gold chain, he dragged the microphone stand along the floor before holding it up high. Effortlessly segueing through tracks from critically-acclaimed 2018 album 'Safe in the Hands of Love' as well as brilliant new single 'Gospel For A New Century' from his upcoming fourth album, it was clear that (with the right crowd) Yves would have no trouble headlining venues of this size.
Whether it's his own genre-defying creations or through championing upcoming talents, Mura Masa again proved himself an expert curator who is always looking to the future.
Keep up to date with all the best new music via our weekly-refreshed NEXT HYPE playlist.