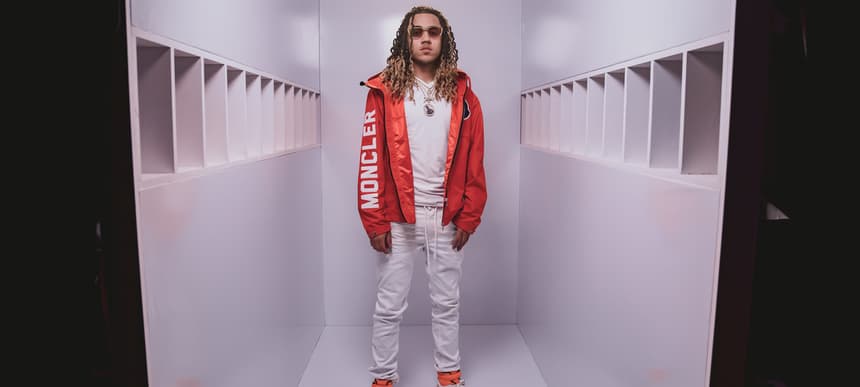 21.06.2019, Words by Billy Ward
Nafe Smallz aims to fill the void on buoyant new EP 'Good Love'
The Luton rapper's sound proves to be a winning formula in the ever-changing and highly reactive landscape of UK music...
At just twenty-two years of age, Nafe Smallz has – with a laser focus – already scaled the mountainous music industry to heights that many artists spend their entire career chasing. High flying with some of the biggest artists on the globe, the Luton born singer-rapper has already lived an illustrious career since dropping his 'Ozone Music' EP in 2014; shooting him to number 1 in the Link Up TV download charts, and subsequently, the public's attention. The artist's production quality and features have continued to blossom from then on, with 2015 release 'Project O' being just as successful as its predecessor, and 2018's 'Movie Music' boasting an impressive list of names such as Chip, Yung Fume and Stefflon Don.
Smallz's sound has proven to be a winning formula in the ever-changing and highly reactive landscape of UK music. Drawing on elements from trap, hip-hop, afrobeats and drill, before adding a crucial sprinkle of US cross-compatibility – Nafe's explosive rise to success is hardly surprising – with a flurry of artists taking inspiration from his sound in hope of reaping the same rewards. It comes with no shock that this recipe of success is continued on the new project, 'Good Love'.
"I'm about love right now, man, I'm all about the love"
Speaking about the new EP, Nafe told Dummy: "I'm about love right now, man, I'm all about the love. I want to spread love". Unsurprisingly, 'Good Love' is about just that.
The record's most noticeable difference from 'Movie Music' is the over-arching feeling achieved when listening to it. In place of moody instrumentals and low, rumbling bass: a higher tempo and pitch can be heard right across the board – not forgetting the singers voice, who dances up and down the vocal scales with increased fluidity and delivery on the new mixtape.
The happier mood on 'Good Love' is as evident as it is purposeful; telling us he hopes his music "feels good, makes you feel full, and fills the void in your life, I hope this music can do that for people, it's definitely doing that for me right now, so yeah that's the vibe". The exotic keys and auto-tune constant throughout the record resonate with a tropical energy, and, with the release coinciding perfectly with the start of summer – it's clear the twenty-two year old wants his tracks at the top of your playlists this solstice.
The EP's title track features US superstar Tory Lanez; serving to perfectly showcase the Luton born artist's cross-compatibility with the American sound. The high-octane party anthem proudly flaunts its dancehall roots, with the two artists' styles seamlessly blending influences from their home countries together to make for a club classic. The mere existence of the song proves how much Nafe has achieved in recent times who, back in 2016, said in an interview: "If I had to choose three artists to work with out there [the States], it would be Travis Scott, Tory Lanez and Future".
After crossing off two of the names on the list since opening for Future in Amsterdam a few years back, and now collaborating with Lanez on the new track, it's clear the young artist will be hopeful to one day eye up a huge collaboration with global star Scott as well.
"It was sick working on the Skepta track, a blessing. I've looked up to Skepta since my come-up… to get to work with him on a track was mad"
Aside from the EP, the increasingly popular songwriter has also been making big moves elsewhere – most recently, featuring on Skepta's song 'Greaze Mode', earning its place in the highly acclaimed, number two ranked album, 'Ignorance Is Bliss'. Nafe told us: "It was sick working on the Skepta track, a blessing. I've looked up to Skepta since my come-up… to get to work with him on a track was mad." The hugely popular 'Greaze Mode' dropped alongside a video featuring Skepta and Nafe taking part in a bank job. The visuals have so far clocked over two million views since premiering; offering many a first glimpse into the killer hooks that have come to characterise Smallz since starting his career. "The video was mad, it was super fun shooting," he says, "it was a big blessing to be a part of and part of the album, the album's sick, inspirational…"
The fourth song on the EP, 'Lil More', features a verse from grime legend, Chip – a collaboration that the two artists have enjoyed continuing throughout the years. The rapper spits with his usual cocky punctuality – stylishly complimenting Nafe's hooks – making for a tune that's bound to get stuck in your head for the rest of the day.
It is no secret that the grime veteran has followed Nafe since the early days of his career, offering his experience to help the youngster find his feet in the wilderness of the music business. Speaking in an interview about their relationship, Nafe said it "came about through Chip just rating my music and hitting me up… he would also drop me some feedback on my tunes and tell me what to do better, which I didn't mind because Chip is someone who's experienced in the game and to have that opportunity to get feedback from him is a blessing".
With such a variety of artists on display, 'Good Love' can't help but impress when boasting its star-studded tracklist, with one of the most hyped-up songs of the whole project being the collaboration with M Huncho, 'Like a Film'. Sliced from the same loaf as Nafe in terms of musical styles, these two artists represent a new wave of music in the UK scene at the moment, right at the forefront of the industry. Huncho's recent Fire In The Booth went viral after his auto-tuned lyrics found a cutting-edge hybrid of singing and rap – articulated in a unique, switching flow that resulted in creating a whole genre of its own. Original, but addictive – this couple of singing-rapping pioneers continue their original sound on 'Like a Film', the video of which is set to hit two million views imminently. The chemistry between the two have left fans aching for more, with many calling for a release of a joint mixtape at some point in the future.
Having only mentioned a few of the musicians offering their assets to Nafe on the EP, collaborations with Toronto rapper Lil Berete on 'Sex Money Drugs', Yxng Bane on 'No Fake Love', and Og Mano on 'Way Too Long' must not go unmentioned. The blend of UK and US artists stays constant throughout Nafe's work – a move benefitting the singer's sound commercially as much as musically.
The nine-track project serves its purpose in bringing about a wave of good vibes just in time for summer. Five years since the release of his first project, the Luton rapper has come a long way – evident through his rising stature in other artist's eyes, and the growing number of viral hits he keeps seeming to produce with every release. The new EP amalgamates Smallz's varied tastes and big-name contacts acquired in such a short period of time. Closing things off, the 22-year-old summed up the record, saying simply, "across the board, I'm just letting you know what's good".
Stream the EP in full below: