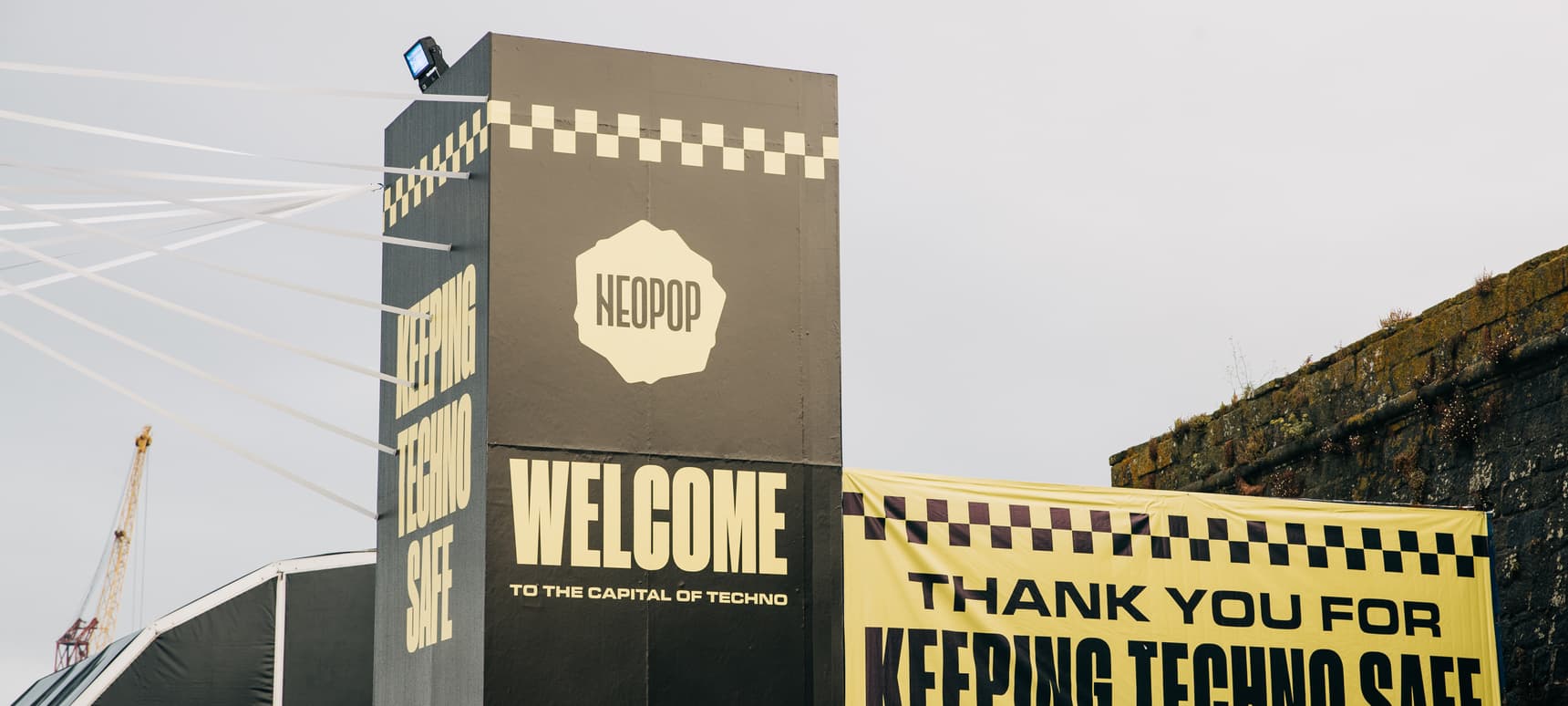 10.09.2019, Words by dummymag
Neopop festival 2019 was a story of keeping techno sacred
The Portuguese festival programmed towering techno from the likes of Underworld, Jeff Mills and Amelie Lens...
Viana do Castelo is suspiciously silent. Down its main artery, the Portuguese city is preparing for the religious festival of Nossa Senhora da Agonia, as life-sized hearts adorn the buildings and bleachers emerge on the sidewalks. The riverfront is hazy and greyed-out – no sound except for raindrops hitting raincoats. You'd be forgiven for not noticing that the fort of Santiago da Barra is now an embroidery of vibrating subwoofers and unforgiving walls of sound.
In the festival's eighth year, Neopop continues to make good on its motto of 'Keeping Techno Safe', best understood by the rapacious fans, the 24/7 dynamos bringing the Capital of Techno to heel. The 16th century fort encloses the sound like a gemstone, carrying the weight of an entire culture, even if only for four nights.
The first of these was awash in waves of sweat and ecstasy. From becoming touchstones of techno since 1994's 'Dubnobasswithmyheadman', Karl Hyde and Rick Smith have gone on to make Underworld a headlining spectacle, currently revisiting their seminal debut. No complaints, though: there were echoes of 'I Feel Love' in the tempestuous 'King of Snake' and glimpses of light in 'Rez' leading to 'Cowgirl''s divine hammering. That it culminated with 'Born Slippy (Nuxx)' was a given, but to witness the power of its cathartic thump was sobering.
The dancers below became atomised, which are doubled down on for the oscillating expeditions of the ANTI Stage. It rang true all the way from Tiago Fragateiro and Frank Maurel's weaponry on the opening night to the next dawn, when Ivan Smagghe spearheaded his dark path through techno. His performance followed Interstellar Funk's spacial delight of a set, peppered with acid charges and breakbeats – funk made bionic.
Hours later, back at the NEO Stage, a cluster of screens resembled a vigil before a scream erupted in anticipation of the high-impact sound of Amelie Lens. Unlike Paco Osuna's patiently evolutive and artful sequence, her Belgian brand of techno was served no-frills and all magnitude. It taught us that bangers can also put you on the brink of monotony – the antidote for which was located uptown, as Red Bull Music curated a stage in the Sá de Miranda Theatre.
The dome in trompe l'oeil and the candelabra made for a stark contrast to the darkened grounds of Neopop, but so did the musical highlights. British duo Plaid mixed volatile electronica with a gargantuan sound sculpture by Felix's Machines; Aïsha Devi plunged into sacred and Y2K imagery, rituals and excess. French visual artist Noemi Schipfer and Japanese architect Takami Nakamoto united as Nonotak for a masterclass in crossing music and light, as did keyboardist Carlos Maria Trindade (from the iconic pop band Heróis do Mar) and Switchdance (a producer from Lisbon via Goa) for a marriage between pulsing music and ominous choreography.
Back to the fort and on the last day, the perennial Jeff Mills gave a towering demonstration of his art. He denied the crowd the genre's more gratuitous pleasures – the ones served by the likes of Lens or Pan-Pot – and made you think about Neopop's name: what if techno can be a sort of grotesque, immediate, warped pop? But Detroit-born Mills made his mark not by becoming a techno evangelist, but by subverting the 4/4 despotism: sub-bass grooves were excavated and drums softened in his set.
As Neopop drew to a close, Tale of Us greeted us with their bittersweet, anthemic sound: the synths somewhere between Giorgio Moroder and Fatima Yamaha, a natural high before the end. They made it even easier to understand techno as harrowing pop – not the ergonomic, radio-prepared kind, but a continuous bombardment of gratifications in the shape of drums and samples; the kind of music that leaves you not with a chorus, but an sempiternal itch. For those still longing to scratch it, the festival returns next year.
Find out more about Neopop here.