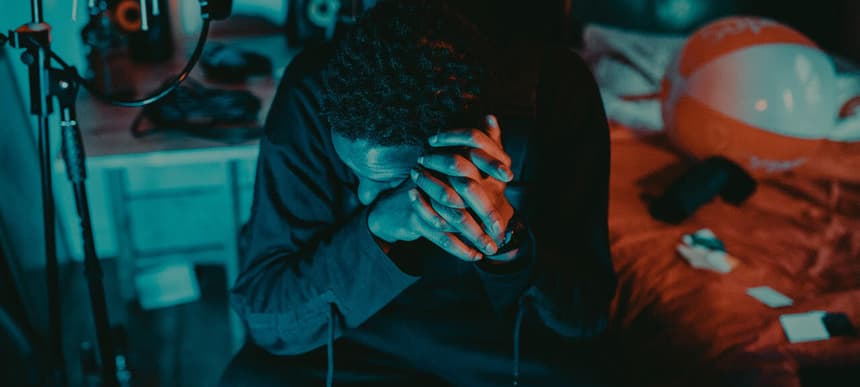 16.03.2018, Words by dummymag
Next: A2
The UK's urban music scene is bursting with life at the moment. Every corner you look are some of the most colourful, charismatic, vibrant musicians the country has to offer, and there is never a moment where they don't use their various platforms to let themselves and their music shine through. But, in amongst the stupidly good talent, A2 is an interesting anomaly.
The cool, calm and collected London rapper, singer and producer operates quietly, barely engages with social media, and lets his music leave a lasting impact, and he has mastered all of the above. His is music to suit all moods; the turn up, the cool down, the deep think and the intimate, and his jack of all trades approach has fostered some of the country's most endearing tracks in recent memory. The closest artist to Drake the UK arguably has, in both style and delivery, he has been making music since 2012, where a fierce loyalty to grime sparked a creative switch in his brain to produce masterpieces as sonically sprawling as those are lyrically enticing. Over the years, his material has matured from no holds barred grime, to more downtempo, introspective grooves that touch the soul, a telling sign of how he has grown into his life and artistry.
2017 brought the release of the stellar Blue EP, catapulting him further into the collective consciousness of the scene and a sign that he is now ready to take the limelight. A timeless project for any occasion, it brought forth a newfound appreciation for A2's dedication to finetuning his craft. With fans in big places – he also made an appearance in the heralded New Gen album last year – and a superb self-confidence, A2 is making his impact more and more known by the day.
We spoke to the emerging talent and picked his brain about his musical shift, his latest project, and the pursuit of happiness…
…on his entry into rap
A2: "It was a fascination from a young age. Fascination with keyboards and sounds."
…on his lyrical style
"It's clever, it's thought provoking and honest. Those are three words."
…on the importance of his early ventures into grime
"Crazy important, man. It taught me to almost harden my heart because I wasn't really getting love in grime so it gave me more energy and more desire to just make it in my own lane where I'm comfortable. Not only that, there's also making beats, which allowed me to develop a lot into this…whatever you want to call it. I can't even say the final form. [Producing] was just being able to manipulate everything in the creative process from start to end. I was able to control every instance about how I want the listener to hear it and take it in. So it was that and I was wasn't able to get beats or types of beats that I wanted so I just started to make them myself. "
…on his position in the UK rap scene
"I feel like I've found my pocket, and I've found my home base where I'm just comfortable presenting me in audio form. I don't try to fit in with the crowd so I think that alone just puts me outside from my peers, I don't try and do the same stuff. But sonically the sound is just me. I think if its just you then its going to sound different to everyone else. I think that's the separation."
…on his BLUE EP
"I wanted to show that I'm a textured, layered artist and it's not just simple music. It's almost like it could be called a blueprint because, for me, it's a blueprint of how I want things to go from now on. It's like, 'let me show you my levels now, early on'. So I want everyone to understand that this is the levels I'm capable of and it definitely confirms that I am. Literally BLUE is a staple, like this is it, it's a landmark project to say, 'this is what A2's capable of', and even then there's going to be more."
…on his wider catalogue
"I'm proud that over the whole duration of these projects, 90% is produced by me. I have created most of it by myself. The majority actually; with most of these projects, everything has just been curated by me. There's been no one else with me that's done anything apart from mixing down. That's a proud thing for me to know that I've done several EPs and projects and made beats for them and did well."
…on London
"I think the only thing that comes out of my music is a lot of my British accent and, culturally, I'm British. But apart from that I listen to a lot of different music, and take a lot of different things from different cultures and countries. The only thing that puts me in this industry is that I was born here and that I'm a native. Other than that I'm pretty universal, I'm worldly man. Forget the London thing.
…on his meaning of happiness
"Achieving all your life goals man. I feel like everyone sets up life goals or pinnacles they need to reach. So if you achieve them, that is happiness. Right now I've got three that I need to achieve, and once I achieve them then nothing's going to be sad, nothing, all blissful. I think to achieve financial freedom is happiness, man. I mean there's other things like buying my house but financial freedom just rolls everything into one."
…on his low profile
"Fuck all the social media stuff. I can get on life with just humans and natural, face to face interactions, and not be out here seeing every minute. I think that's what messes with everything. With social media you get to see what someone's eating for breakfast, what they did today, their mum, their dad, you see their whole lives. But for me, I keep all that personal. It has to be a personal thing."
…on the journey so far
"It's been hard and lonely to a tee. But in my space I'm learning, I'm faithful. It's given me time to learn the process, learn the industry, seeing how those things work. Learn yourself. So you are ready to present yourself to everyone."
Check out footage from A2's recent sell out show at London's KOKO below.
Listen to Dummy's curated playlists on Spotify.