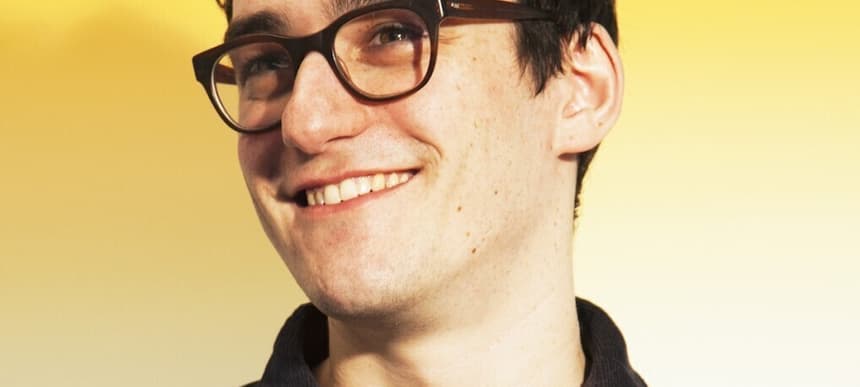 24.02.2015, Words by dummymag
Next: Danny L Harle
"It just felt completely frivolous," says Danny L Harle, "I thought it was just a bit of pointless fun that I'd take down off my Soundcloud after a while. I was literally just trying to make the most completely conventional song."
The song that he's talking about is Broken Flowers, his first single and one of the earliest releases on A. G. Cook's agenda-setting PC Music label. Released in the summer of 2013, Broken Flowers is still the most immediate and heartfelt thing the label have ever released: it's a beautiful dance pop song, built on a thick, floor-filling rhythm, deep organ riff, bittersweet lyrics, and an unconventional rhyme scheme.
Harle isn't what you might expect from a PC Music artist: he isn't as inscrutable as A. G. Cook, he doesn't adopt an OTT character like GFOTY, and he doesn't have heavily retouched, hyperreal press photos like Hannah Diamond. His unusual pop music feels at home on the label – but he's also a contemporary classical composer who's scored Jane Austen documentaries for the BBC. There is, he says, very little conceptual basis to what he does – he just wants to make music that he can listen to alongside the rest of the stuff in his iTunes library. "If it's not just something I want to play in my everyday life, I'm not gonna make it," he says.
Over a pint in a central London boozer, Harle explains that he grew up playing the cello, but was completely uninterested in music until he was about 12 years old, when a love of Slipknot and Madness led him to the bass guitar. Later, he joined the junior jazz group at the Royal Academy, where he fetishised "really technical jazz". Free jazz acted as a springboard onto contemporary classical, which he "reverse-engineered" into the world of medieval and baroque music. Later, he'd study classical music for bass guitar at Goldsmiths University – he was the first classical bassist that the university had seen.
Here, he started to experiment with some of the more ambitious ideas he'd been imagining. His final project was a piece of chamber music that used video gaming consoles as musical instruments – "but in-game menus, and things like that," he explains. One piece was a trio for tenor saxophone, piano, and The Legend of Zelda: the Ocarina of Time. Another was a John Zorn-esque game piece called Ultimate Champion, which featured a shredding guitarist, a speed metal drummer, and somebody on the menu screen of Street Fighter II. "The person playing Street Fighter II has to choose who is the greater musician," he explains, "Whoever plays the best in one section gets the solo in the next, for example. The reason it's called Ultimate Champion is because the nerdy bedroom-culture of these instruments, especially Street Fighter II, often makes the technical mastering of them to be a lone and futile victory; it's the sort of champion you don't want to be."
It was at university that he reconnected with his old school friend, Alex 'A. G.' Cook. Harle says that the two "were friends but didn't really know each other" at school, although they were into similar types of music. "Captain Beefheart, Archie Shepp, stuff like that," he says, "Music choices that made a point of being alternative." At university, they realised that they had a lot in common, bonding particularly over the experimental comedy of Tim & Eric. "The aesthetics and ideas of that were very influential," he says, "That sense of playfulness, and that sense of imitating crazy shit that you see."
It's this sense of wonder that characterises the music that they ended up making together as Dux Content. "We didn't know any vocalists," says Harle, "We didn't know anyone who did music." Yet despite, or perhaps even because of their limited resources, there was never any shortage of ideas. Dux Content's debut album, 'Lifestyle', is an awe-inspiring collection that imagines a world of infinite possibility. It's less 'anything could happen', more everything does happen. Non-album track Rouge, for example, has a tempo that shifts between 100 and 120 beats per minute every four bars; it's constantly in flux, never settling. Voice of an Angel was envisioned as an Aqua-style dance pop song, but with Harle and Cook both writing about five hooks each. "Instead of having one hook that's repeated over and over again, we just put all 10 hooks in front of each other," he explains, "Also, the track is in 15/8, rather than 4/4."
Their ideas weren't exclusively musical. Together, they scored a scene in the 3D-animated erotica film Heart of Death. They developed the concept for a kid's TV show called Dux Content's Jungle Jam. They imagined a fully mechanised opera. They wanted to write songs using children as singers, where they wouldn't impose a rhythm but instead shape a rhythm around their natural singing tempo (in the end, this idea mutated into Dux Kidz, a project which drew them to the attention of SOPHIE, where his relationship with PC Music started). They bandied about ideas for a jewel-encrusted mechanical swan that you'd sell to the super rich – "like oligarchs, or oil barons" – a romantic machine that could die at a random point in its life, singing a fully personalised swansong for its intended recipient. "At any point during its life, it could die," Harle says, "It could be during your lifetime, it might be immediately. It sings this song and then dies; poofs away or explodes or something."
Harle, at the time, was also on the brink of a very important revelation about pop music – namely, that it was actually really good. "Having been listening to a lot of deliberately alternative stuff, I just had this snobbish idea about pop music," he explains. His work on Dux Content – particularly a song like Like You – show some of his early forays into pop songwriting and production, but it was only after being invited to perform at a gallery in Stroud at the invitation of Guy Gormley, an artist and DJ/producer as Enchanté, that he decided to have a stab at writing pop music himself. Feeling "an immense guilt" over the idea of playing music that wasn't his own, he set out to write songs to go alongside those from the '90s dance albums he'd been listening to at the time – eventually resulting in Broken Flowers. Having previously thought pop music to be "simple," he was frustrated to find his own music lacked the punch, clarity, and technical accomplishment of the music he wanted to compare it to. "That's my challenge to anyone who says that pop music is shit," he says, "Try making it. Prove that it's so easy. Because when I tried to do it, I realised that this music is achieving what any 'formally' educated composer is trying to do, which is to communicate a compositional idea in the most direct way possible, and largely doing it better than any other type of music that I had heard."
Another revelation came through hearing the music of SOPHIE, and in particular the way that he restricts himself to a limited musical palette. "I thought it was amazing that he manages to sustain whole songs – whole sets – where there's pretty much a maximum of two things happening in it, musically," Harle explains, "You're told this in any school of music – not just classical – that you've got to make your ideas clear and concise. But no one says to make them so clear and so concise. It's quite a modernist aesthetic, to take it to such an extreme." Nowadays, Harle is listening to a lot of The Prodigy for the same reasons. "Liam Howlett is really on that level," he says, "There's usually maybe three things happening, maybe a synth line, a vocal sample, and a beat. But a track like Charly, for example – the energy in that one riff is just something else."
At the moment, Harle is working on music – lots and lots of music, including songs that feature the singer Raffy, the friend who appeared on his second single In My Dreams. Although Mamiko Motto recently touted a Danny L Harle album in an interview with The FADER, he says that there are no official plans for anything yet – although he's certainly drawn to the prospect. "I know I'm really into the idea of making an album, and I know I could make it this really explosive thing. I could do it in a month. I've got enough tracks; it'd be like that moment where you see a string linking them all together."
Danny L Harle plays Field Day at Victoria Park, London on Saturday June 6th 2015 (buy tickets).