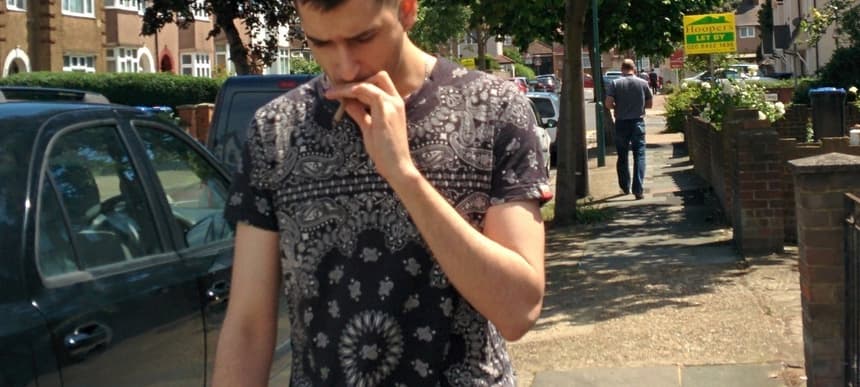 08.08.2014, Words by dummymag
Next: Dark0
Dark0 is sat, roll-up in hand, on a rootop garden overlooking Dalston, East London. He's just finished shooting a video feature in support of his new EP, 'Fate', and he's in high spirits. This might, admittedly, have something to do with the bottle of Patrón he's just finished off. But Dark0 has reason to celebrate: 'Fate' is another high note in the grime producer's year. A release for Visionist's Lost Codes imprint in April marked him out as a uniquely inventive talent in a scene with no shortage of talent, and a week earlier he played a breakthrough Boiler Room session with Boxed, the instrumental grime night that has, over the past 18 months or so, galvanised a small community of musicians and producers, and helped inspire a resurgent interest in grime music. (Dark0 will be at Boxed again later tonight, although this time as a punter rather than a player.)
Growing up in Neasden, North West London, Dark0 was always surrounded by the grime sound. "I've always been into the local sound," he says, "A lot of those artists were local, so the music circulated quite quickly. One of the members of SLK was in my school, in Sixth Form or whatever. All the music he brought in got bluetoothed around the whole school. So we was listening to Flirta D's Shottaz Riddim, and Youngstar instrumentals, and these things from small crews who were around at the time. That was school. That was sick."
After blowing a portion of his student loan on equipment while at university, Dark0 made early forays into production, making garage and dubstep alongside grime. His older brother introduced him to garage through DJ EZ's seminal 'Pure Garage' mix CDs, and later he'd borrow his brother's ID to sneak into FWD>>, where he saw DJs like Boy Better Know's Maximum. "I remember seeing Maximum at FWD>> and thinking, 'Yeah man, this is sick. I'd love to be able to play grime to a crowd of people.' It was instrumental grime – no need for an MC." Ultimately, it was his grime productions that shone through, and an early track caught the attention of Gilles Peterson's show on BBC Radio 1, giving Dark0 his first bit of airplay. "I figured, 'Alright, cool. I've got what it takes to be on radio – let's see where else I can go.'"
Dark0's music uses grime rhythms as a basis for soaring, colourful, melodic synth compositions. "I've always been driven by melody," he says, "It's always been my shit." The music on his new EP 'Fate' overtly references (and, in some instances, rips wholesale) the melodies of video game soundtracks from his youth, from J-RPGs to the Sega Megadrive to DOS games on Windows 3.1. It's not uncommon to hear producers with a melodic sensibility citing video games as a major inspiration on their music – be it Hudson Mohawke, Ikonika, or Joker – and Dark0's no different. "I guess for our generation, Sega Megadrives or DOS games were current. And as a youth, whatever you hear, you absorb – at that age, you're a sponge. And it just so happens that so many soundtracks were melodic – people had a lot more scope to be mad crazy with melodies. Everyone who's a gamer from this age group has an ear for melody."
"I've always just wanted to secretly sample my favourite video games to play out and see the reaction," he continues, "I didn't send my beats [on the 'Fate' EP] to anyone – I just made these tracks, and I played them at Boxed one time." You can imagine a DJ dropping a track like Mako March – based on the Shinra Corporation theme from Final Fantasy VII – and seeing the eyes of a certain pocket of the crowd light up in recognition. "And I like that," Dark0 says, "I like the idea of certain dedicated fans who are in my age group understanding that RPG reference. Likeminded people." At the same time, he admits, it's a case of juggling these with a club-minded approach. "It appeals to a certain demographic, but underpinning it is that grime sound."
It's when talking about parties like Boxed, and his involvement with the emerging instrumental grime producers, that Dark0 becomes most animated. He first became involved with them through Visionist, who hit up Dark0 a few years earlier and asked to release his track Skelly on his then-nascent label, Lost Codes. "He's literally a visionist," Dark0 says, "He knew where this was gonna go. He understood my sound. I trusted his judgement. He said, 'I'm gonna start a whole grime revolution.' And I said, 'Yeah, I love that. Grime needs to come back.'"
Following the 'Fate' EP, Dark0 is lining up "a couple of really big collaborations, which I can't say too much about", and helping bring MCs like West Londoner K9 through. Dark0 remains optimistic for grime's future (although he understandably has concerns about imitators and bandwagon-jumpers. "I don't rate a lot of artists doing the throwback sound – you know, the square waves, Eski clicks? You're not progressing it any further, you're just stagnating it, and that's not what this needs right now."), believing that there will be a renaissance of vocal grime over the next few years now that there's an infrastructure in place to help support it, with a solid foundation of producers, secure venues, and support from the press and music industry. "A lot of people who were involved in grime have now moved on," he says of the genre's early players, "But slowly, they're looking back. I think what we'll see in the next two or three years is artists like Wiley and like Skepta coming back."
"It's a completely different sound. You know that it's grime. And the fact that it has its own sound means it's self-sufficient – it's got an audience, it's not a wishy-washy sound. It's not: 'Is it house? Is it deep house?' That means that it's a trend that won't fall off. I think it's a very prominent, amazing sound. It's reckless. It's rebellious."
Gobstopper Records release 'Fate' on August 22nd 2014 (pre-order).