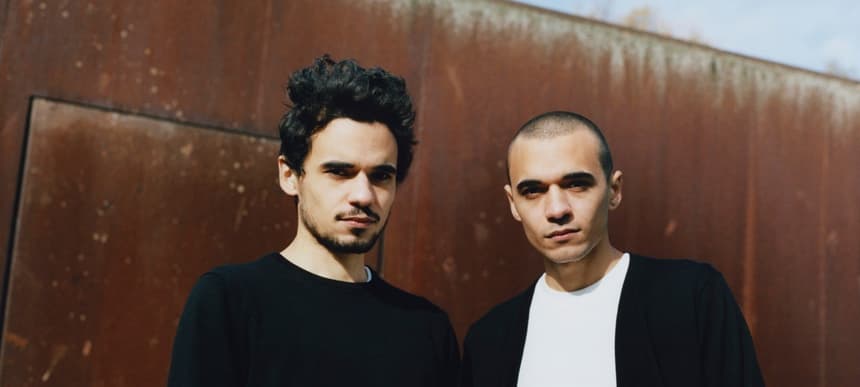 06.05.2015, Words by dummymag
Next: Formation
"The label took the music down from YouTube, so we had loads of people online posting things like, 'What the fuck?', thinking that we were aiming to be one of 'those jokes mysterious bands'". Formation's Will Ritson is talking about the twin duo's initial steps out of the home and into the field, referencing a self-released white label 12" EP from July 2014 – a three-track sampler which he and brother Matt recorded in Formation's infancy. "We were just running around London and dropping them in record shops," he adds down the phone excitedly, as Ritson himself runs around Wimbledon trying to avoid any spots that may cut out his phone coverage.
Given their connection comes directly from the womb, it's a surprise that Formation hadn't arrived sooner. "Oh trust me, it's been asking for it," Ritson says, pinpointing that Formation began "about two years ago", when he and Matt were tired of playing with other friends and bands, determined to find a new groove. With their parents keeping them out of trouble by inducting them to orchestras and music foundations in and around Merton, Matt and Will were "always fucking doing something," whether they wanted to make music a full-time hobby or not. Improvised music, "especially jazz," introduced them to a method of composition, though Will explains that the approach is by no means exhaustive. "We don't always try and go through improvisation," he says. "Usually me and Matt just throw ideas at each other. Our bassist is also our producer, so he gets us to hone in on the sound and groove quicker."
Unsure as to whether people would discover them through a "traditional" approach or not, the way that Formation teased their music through DIY methods didn't go unnoticed; Warner Music sub-label Meno Records snapped them up for their first "proper" release, the 'Young Ones' EP, released back in March. The title track is a cowbell heavy and feverish cut from the duo, capturing the sound of two nascent suburbans reliving their stories, club memories and sounds into refreshing new forms. Touchstones lie somewhere between Arthur Russell's disco-jazz freakouts with Dinosaur L and early DFA Records productions, with the elastic and funky Back Then sandwiching two sombre tracks, the introspective Take It All Away and the swaying No Great Change. Rather than retread, however, Formation take the aspects of the past and infuse the techniques and themes with a modern universal aesthetic. A "mysterious band" they are not, though they're not exactly itching to be in the spotlight either.
At its core, the 'Young Ones' EP takes the spirit of dance and sonic qualities of post-punk, making only occasional forays into a fast tempo. They excel at making sounds for moving bodies – the rhythmic and percussive elements are the anchor to their sound. Broaching the importance of percussion, I ask if there is anyone or anything that influences it directly. "You can find a groove in anything," Will says. "You can hear it in afro-beat, Cuban music; there's a groove in everything, it's always there, always existing. Drums are essential to music. Just now I was listening to Pantera and even in their breakdowns when the drums are high, they never stop playing. You hear everything is still moving, including the drums."
Ritson goes on to discuss his appreciation of the genre, especially the precision and discipline of groove metal. It's an unexpected source of inspiration, and one that's come to spurn an appropriate motto for Formation: "Power. Groove. Know-how.", a quote gracing their Twitter page, comes from a "pissed-up interview by one of Pantera's guitarists that we found on YouTube". They both knew it was some sort of epiphany, and though Will can't even remember the guitarist's name nor can he find the clip any more, it's an unlikely anecdote of the duo's eureka moment. Who would have guessed that metal would be source of Formation's groove?
With the immediate future in mind, Will says they have just finished recording their upcoming single (out in July 2015) with James Dring (Gorillaz and Blur), describing it as more "house-influenced" than their other material. Days before this conversation, Formation were playing with Years & Years in Germany, beating them at Mario Kart on their own tour bus and experiencing the intensity of German music fans. "They will you on to play well and expect a good performance from you which only encourages you more," he says, "You feel that energy surrounding you, so it can feel like there is a lot of pressure on you."
I ask if they wished he could have stayed on longer instead of returning home before seeing out the rest of the tour. Will bemoans the cost of hanging around the continent and going back and forth through tunnels, quipping "it's not a bad life to have, I suppose", looking around upon a rush-hour, gridlocked London.
Dummy presents: Mo'Wax & Marathon artists on January 27th at Miranda, Ace Hotel London (RSVP).