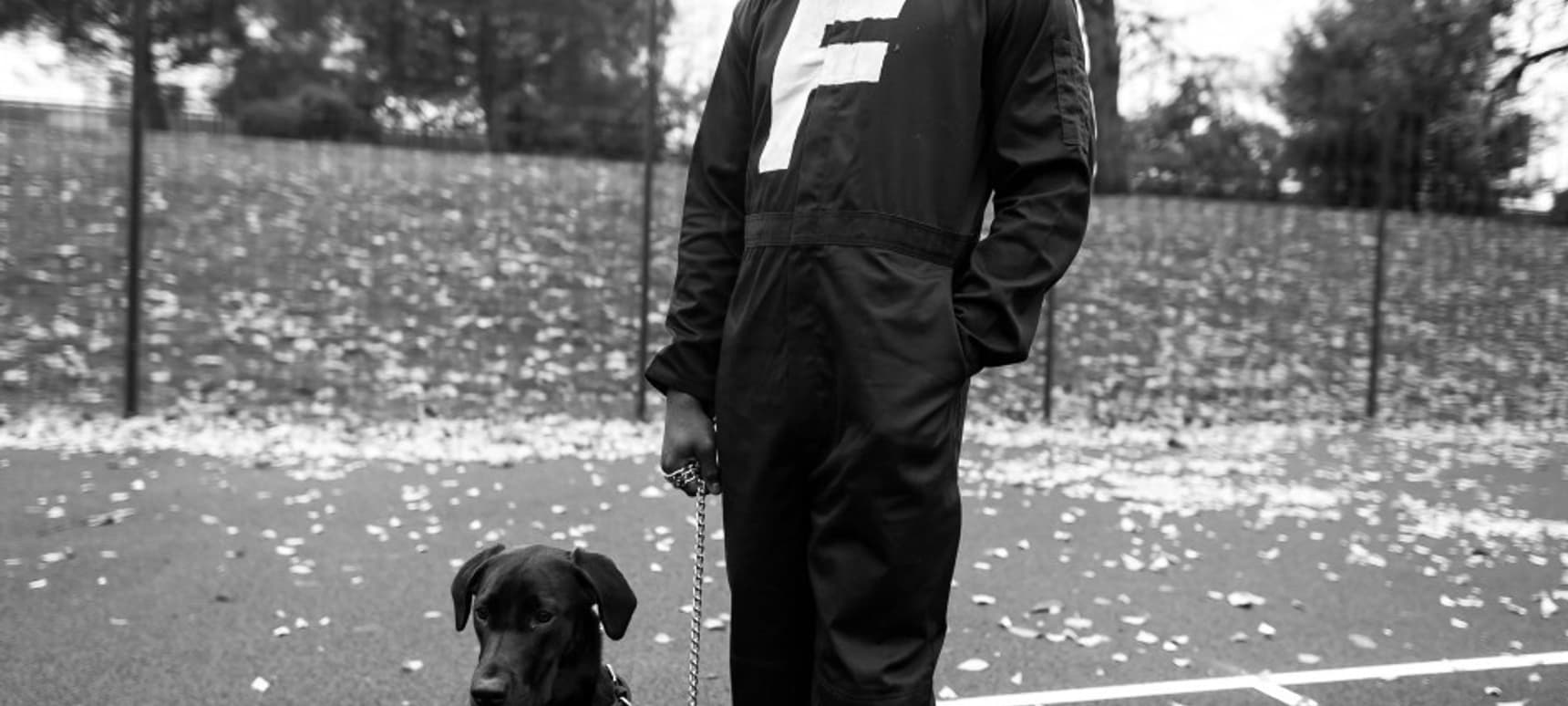 10.11.2017, Words by dummymag
Next: Fusion
Entering the grime scene with full force, Fusion is making relentless noise. With a (pardon the pun) fusion of old school grime soundscapes matched with rapid fire flows and aggression, the young rapper from Newham, east London, home to the likes of D Double E, Footsie and Ghetts, has tapped into the ferocity of the genre's early days, earning a reputation as one of the new generation of MCs worthy of attention, in a world quite different to when he was first spitting bars outside of his estate.
A chance encounter with grime pioneer Jammer led to his inclusion on the holy grail, the Lord of the Mics compilation, in 2015, and Fusion took it in his stride, highlighting his prodigious talent and letting everyone know that he was here to stay. He has since built on that amazing foundation, shelling down pirate radio sets, getting co-signs from the likes of Skepta and others, and dropping his debut Genesis EP last year, gaining acclaim from the underground and mainstream in equal measure.
Now about to drop his second EP, Ready, Fusion is about to enter phase two. That phase is defined by becoming a true musician, willing to take risks and divulge in the various sounds around him, despite grime being the main focus, to craft a musical backbone that cannot be replicated.
We spoke to the MC about his debut, his new EP, and the changing face of his east London ends…
…on the origins of his name
Fusion: "I like to make music and I'm very experimental. I like to mix different types of sounds, not just grime. I like garage and high tempo stuff. I'm a man of different flavours and with this EP, I hope people will start to understand that."
…on his lyrical style
"I grew up on a lot of greats – I used to listen to Dizzee Rascal, Kano and Skepta a lot – but I just like to write and create my own space, but I don't mind writing around certain people. When it comes to my style, it depends on how I feel; I can be hard and aggressive or softer or whatever, but when I'm in the booth I'm very experimental when writing about the topic. People haven't really heard that side of me, but that's soon to come."
…on his debut on the 2015 Lord of the Mics compilation
"I met Jammer and Ratty at a show in Maidstone, ended up performing there and the next day they called me up and I guess they were feeling my aura, we built up a friendship and different things started happening. I was just starting out but [Lord of the Mics] is when I started to take rapping more seriously. It made me more confident to hop on stage.
"I made 'Don't Get Me Mad' around those times. But Lord of the Mics is a household for the grime generation and, as well as getting my name out there, obviously I wasn't clashing on it, I only had a song, but my song stands out and lets people know that I'm not just a rapper. I'm a musician."
…on east London
"Things have changed, its not even as rough as it used to be. I don't know, but certain people definitely still carry the [old school grime] style, like Mic Ty from Newham coming through. But we're not in the same situation, back then it was definitely more intense; its calmed down now. You know it's not the same today as it was 10 years ago, where you had Déjà vu and guys fighting on rooftops where they could potentially fall off. I wasn't there but I know that if you used to watch sets and listen, the climate has changed."
…on radio
"Radio trains you, it keeps you fit. Practicing your lyrics and making sure you can use a mic properly, it's a training field."
…on his new EP, Ready
"It tells you that I'm one of the sickest MCs in my gen and one of the sickest musicians in my gen too. I've heard a lot of EPs from bare MCs – big up them – but I feel my EP is one of the strongest to come out this year. Big up A-Class from Birmingham, he produced the intro. I made 'For the Crime', me and my bredrin Rod made 'Calling You' and Five Nine made the other two. 'For The Crime' is the first vocal track that I produced, but it takes a lot of time to produce. I'm trying to get my own space soon so once I get it, I'll be able to do more of what I want 24/7.
"You'll be surprised but I haven't even gone into that much depth as maybe I should have, so that was just an easy process. I was calm doing those ones. That will come soon. It takes a lot of confidence to talk about certain subjects in certain songs."
…on the advice some of the grime OGs have given him
"Number one, not to be a sket and to not just do everything and be everywhere. Some of my older Boy Better Know members told me that, but I had to learn the hard way. You get caught up in things man, you go places and there's a lot going on. Where man is with BBK at events, they're happening all throughout the summer, but if I don't go to anything and spend that time in the studio focusing on my music, by the end of the summer, I'll have a mad ting. And to just keep working, if I've got free time, make sure I'm in a studio making music."
…on his place in the grime scene
"Who knows man, but I know I'm here to stay and I'll be here in ten years' time. God knows my destiny and I hope its something great. I want to have one of the sickest albums and to keep spreading my sound, making sure I'm on top, have my house, make sure my mum's alright and whatever I can do for my ends, whether I'm up or down."
Fusion's Ready EP is out on November 17.