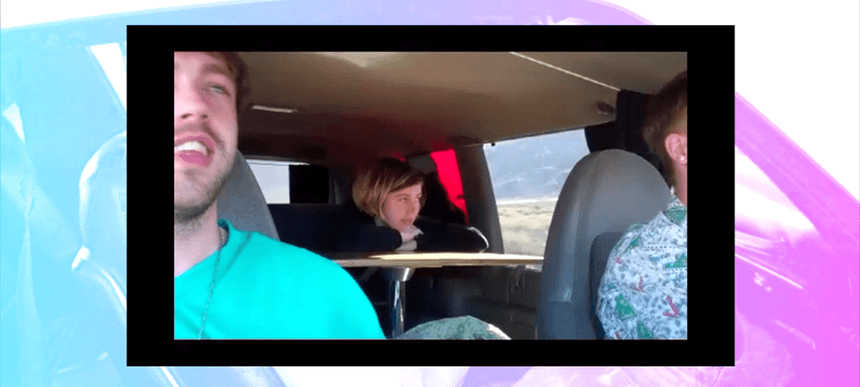 12.03.2015, Words by Steph Kretowicz
Next: Goth Tech
…you just started crying…, opens the voice of Goth Tech's latest track, Keeping It Slow. It's a bit weird hearing a fairly strong US-American accent announcing its spatio-temporal co-ordinates at 8pm, Central London, but localised vernaculars are pretty much a thing of the past when it comes to the culture of the World Wide Web. And as the YouTube video for said rave/trance/hard house production duo asserts: "We're on the internet".
"We got some of our texts, tweets, and bits of lyrics read out by actors for $5," says Josh Grigg, one half the art/music production project based in South London but living on the web. These hired voices – sourced via online marketplace fiverr.com – are behind the pitched-down mantra of keeping it slow that's repeated over the lumbering wallop of an arbitrarily applied, but strictly adhered to, 111bpm.
"[111bpm] feels magical and witchy," Grigg says, "And it looks like the start of the word 'Illuminati' – which is another favourite YouTube world."
Goth Tech formed after Grigg met fellow artist Holly White in "maybe" 2007 – possibly through mutual friends (and through vodka) on New Years Eve, or possibly at Bestival ("Holly was picking up rubbish at the end."). Since then, they've released a full album via Soundcloud called 'Year of Goth Tech'. After 2012's I Love You – a "furry love story" featuring a talking dog and Huskie romance – they leaked one song per month, including tracks like the tapping, maraca-wielding groove of The Friendship Club and the squelching bass of PLUR. The latter stands for 'Peace Love Unity Respect', the credo of EDM subcultures, its IRL manifestations being as much an influence on Goth Tech as its contemporary Tumblr mutations.
"I went to a lot of hard house and trance clubs, and these places are always full of anime fans and cosplay ravers," says Grigg about the animated avatars and character costume performance art that also influences the ideas and aesthetics of their playful electronic music production, "I also just love rave music – the repetition of emotional vocal samples and hard minor chord stabs – but I was too young to experience that myself."
But then this youth-oriented underground that exists largely on the internet, and which Goth Tech draws from, probably also missed the boat on '90s rave – they now represent themselves in all sorts of hybrid ways. "The development of video bloggers and how people have normalised to presenting themselves as 'channels' on YouTube is a big influence," adds Grigg, "We were really into YouTube around 2010/2011."
Hence, Goth Tech's own YouTube channel, GothTechTV, with its rows of videos constructed from confessional vlogs, blog threads, and Tumblr aesthetics taken from the internet and recontextualised into a pink-shaded colour scheme centered around themes of "anxiety and lovelessness and cuteness."
It runs through the squeaky jitter of You Started Crying – the track to follow Keeping It Slow through a fresh drop on the Goth Tech Soundcloud to come – and it runs through their GT My First Movie film. It's a visual throwback to their previous work and influences, from a voyeuristic journey through the Goth Tech Tumblr to a radio karaoke segment featuring the band singing along to Rihanna's We Found Love on a van drive through the Mojave desert near Las Vegas.
"Elements of the music should be shallow, or transparent in their influences," says Grigg, sending a link to their 'likes' on Soundcloud as an illustration of their influences. "I guess we both love music and dancing and make things on computers like websites and videos," says White about the point where hers and Grigg's practices converge, "We used to watch so much YouTube."