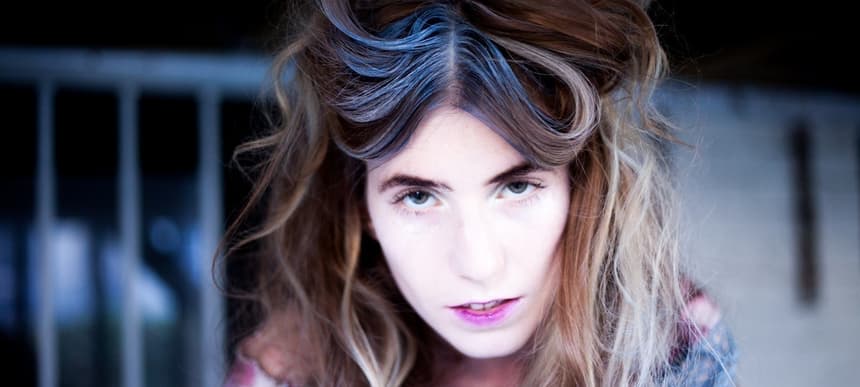 20.06.2014, Words by dummymag
Next: James K
Most of Jamie Krasner's music to date has been accompanied by wild, eye-catching music videos that exhibit a performative, theatrical streak. In the memorable clip for Physical Therapy's trance-jungle belter Drone On, which Krasner featured on as a vocalist, she plays the roller-blading goth bride to Physical Therapy's all-white, urban cowboy groom. In the video for Fish Oil by SETH (the quasi-pop band that Krasner formed with nauseous UNO NYC beatmaker Gobby), she switches between various costumes as she plays a tarot card reader, a cyberpunk-esque character riding a flaming bicycle, and a bloodied corpse.
"The music videos are how the whole thing started," Krasner explains, "Image is an important thing, because it creates a mythology behind the music." We're meeting at the basement of the Edition Hotel in Central London before her first ever UK live performance – she's playing a low-key Young Turks & Friends party, assisted by live drummer Gobby (who's currently bashing some cymbals about, just out of eyeshot).
Krasner's visual approach to musicmaking comes from her time as a student at the Rhode Island School of Design. There, she would invent new identities for herself and explore them in her DIY music videos. "I was creating these personas, making music videos for them, and composing music," she says, "It was stereotypes of people, but with aspects of myself. That project evolved into what it is now, because that's when I started producing my own music."
Recording as James K, Krasner makes woozy, collagist pop music, the discordant sounds and askew rhythms anchored by a fundamentally traditional style of songwriting, produced at home using live instruments as well as her own voice, treated "sort of like an instrument" through various pedals and effects units. "It's really a collage, I think," Krasner says, "Inspirationally and sonically, it's very textural." This collagist approach is central to "every part of my creative output – my music, my visual art, my video – so it's just pulling all of those together."
Krasner started playing guitar while growing up in New York suburb New Rochelle, writing songs throughout her teenage years. "I would write, like… innocent songs," she laughs. After starting her studies at RISD, she met and started collaborating with fellow students and members of the experimental community. "I was collaborating with whoever," Krasner says, "I just played the warehouses." Some of those collaborators were future White Material artists DJ Richard and Galcher Lustwerk: together, they made everything from "house pop" to noise. Such a spread of ideas is typical of Krasner: she's never felt restricted by one style, admitting she'd sometimes write a grunge song just to motivate herself, but more drawn to particular sounds.
After a move to her current location in Brooklyn, she got involved with musicians, visual artists, and performance artists from the NYC experimental scene, living with Gobby and rapper Mykki Blanco. It was Mykki Blanco who first introduced her to Daniel Fisher, aka Physical Therapy, suggesting that she sing on Drone On. Although she'd been working on her own music, creating videos, and playing live (usually using a couple of samplers, a vocal processor, a MiniDisc player for the backing tack, and "whatever else I can get my hands on in New York"), it was these collaborations that first garnered attention for what Krasner was doing as a solo artist. Late last year, she released her debut EP, 'RUM', four tracks of surreal dream pop.
Krasner is currently working toward releasing her debut full-length. She admits that's it's "pretty much finished", with a few tracks and vocals being reworked whenever she gets a chance to visit a studio – before our interview she was holed up in a studio across town, laying down a few new vocal lines. "Some songs are very experimental pop," Krasner says, "Some are way slower, more ambient. There's some noise, an industrial feel. There's bossa nova. There's jazz." Using such a patchwork of seemingly conflicting styles and ideas seems only appropriate for Krasner, who doesn't seem to see this as anything other than logical. "It kind of goes everywhere," she says, casually.