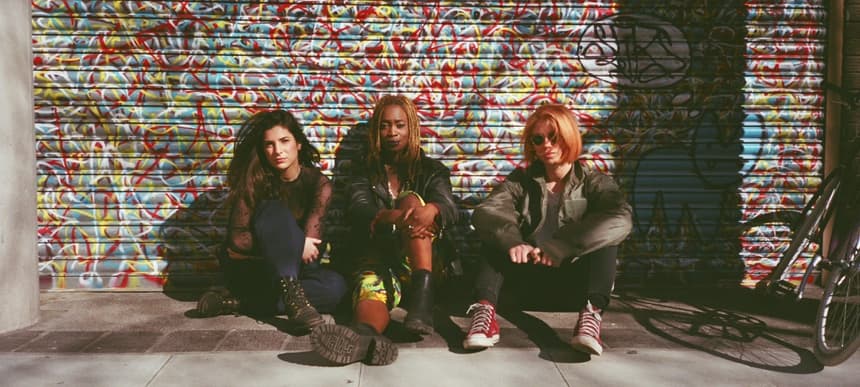 18.07.2014, Words by dummymag
Next: JUCE
JUCE's music sounds like a great night out – and a great night out is exactly where Chalin, Cherish, and Georgia met. The trio bonded over a shared taste in music (more specifically, Sly's If You Want Me To Stay) during a chance meeting at the disco. Georgia initiated the awkward next day sober phone call, asking for a second date. Two years in the making, JUCE continue to hold down sounds they groove with, spreading continuous good vibes. Their approach to music isn't particularly calculated; they enjoy music and each other's company, and JUCE is the product of some fantastic jam sessions. They've released a handful of singles so far – Call You Out, (H)ours, Braindead, and their latest, Burning Up – and having just signed to Island Records, more are slated for the near future.
More than the perfectly choreographed dance moves, JUCE bumbags and boxing gear, or relentlessly catchy pop-funk, it's their attitude. JUCE is a state of mind that is indicative of something greater than themselves. Through music, JUCE acts as a beacon for a way of life fixed in confidence, assurance and truth. Welcome to the JUCE fam.
When coming to terms with what JUCE is, band members Chalin, Cherish, and Georgia chat about scenarios that encapsulate the feeling. "Everybody already knows what JUCE is. It's that feeling that you get when you hear your favorite record come on, and you and your friends get up and dance to it, and it's all around you suddenly. JUCE."
But JUCE isn't a passive thing, JUCE is active. It's not just feeling it and laying back – it's getting up and getting involved. "JUCE isn't seeing a boy across a room that you really fancy and the feeling that you get when he looks at you and you look at him and it's on. JUCE is going over there, talking to him, and sealing the deal."
"JUCE is when the bell rings on Friday and you've got the whole weekend ahead of you. JUCE is the first 'kini of summer. JUCE is getting paid, pockets jingling on your way out. JUCE is getting down, all the way down. JUCE is knowing yourself, knowing your friends, knowing what you're about. JUCE is the way to get over."
What it's really about is having the power. From TLC's No Scrubs to Destiny's Child's Independent Woman, JUCE continue the tradition of empowerment and style. Among TLC and Destiny's Child, JUCE cite everything from All Saints, Bananarama, Sugababes, and Salt-N-Pepa to ESG, Le Tigre, and The Supremes as some of their go-to girl bands. What unite these bands is the strength in their sound, and the way they embrace the female force. "What's interesting is that from doo-wop to K-Pop, girl bands and groups have smashed it throughout history. We remember being little girls and looking up to our favorite groups, deciding which member we could relate to, and having these kind of idols. We hope to encourage desire and dreams for everyone's individual aspirations." Girl groups bring a different perspective to music. Chalin, Cherish, and Georgia act as one in coming together for JUCE. "We find that girls write differently – they write different songs, about different things, from different perspectives. It's essential to JUCE that we write our own songs and play our own songs; that they come from us."
Girl bands tend to inspire a cult mentality, the kind that has entranced teenage girls throughout the decades, but JUCE sees this relationship as a powerful dialogue. "It's great when an audience connects with an artist – and how that's expressed is always unique. The sort of conversation that someone like Lady Gaga has with her Little Monsters is amazing. On a performance and an artistic level, it's powerful."
"If you love our songs, you're one of us. You are JUCE, you're with us, you're in the band. That's the dynamic, it's about love. When we're up on stage and we look down into a crowd of JUCE babes and they're all dancing and singing out song, and we're up on stage dancing and singing it right back at them – that's it right there. That's the TRUTH, that's the JUCE. Our gigs are an open invitation to come and drink the JUCE. Come along, take as much of it as you like, we've got plenty for everyone."
JUCE play Lovebox Festival at Victoria Park, London on July 19th 2014.