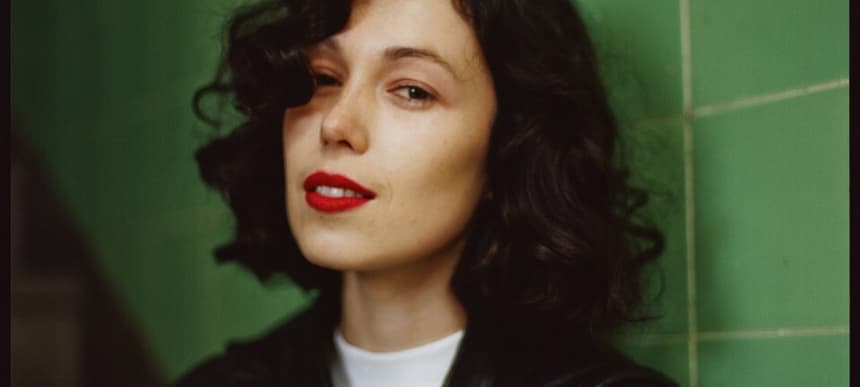 10.02.2015, Words by dummymag
Next: Kelly Lee Owens
When Kelly Lee Owens answers my call, she's prepared with a cup of tea, listening to Arthur Russell's This Is How We Walk On The Moon – unsurprising really, given that Russell is the titular subject of Owen's recent track Arthur, which she released with her debut track Lucid in late 2014. The clues are in the titles: Owens' music is knowable, refreshing, and beautifully measured. It doesn't follow contemporary trends nor formulas; it is simply dramatic and inviting. In recent years, when artists have concealed their identities and/or teased their work through careful campaigns, Owens arrived openly and unfussily.
Owens has just arrived home from work at Sister Ray Records' Shoreditch branch, so I ask whether her occupation has any bearings on her music. "I can only be grateful for the places that I've worked at," she says. Vinyl discount aside (I notice a lot of records peeking out from the screen's periphery on Skype), record stores provided Owens a spiritual and social home after leaving university in Manchester. Born near the coast in North Wales, Owens moved to London five years ago, working at Pure Groove Records and then Rough Trade. Her colleague at Pure Groove was one Daniel Avery, who introduced Owens to James Greenwood, aka Ghost Culture, who happened to be "hanging around" at the time. In-store performances were frequent during Kelly's tenure, especially at Rough Trade, where she would "take note of what bands would do to create a sound and see how they did it live."
During this time, Owens was putting in time as the bassist of The History of Apple Pie, who released their debut album 'Out Of View' in January 2013. Later that year, a particular moment unwittingly defined the point to which Owens wanted to go solo: Avery asked Owens to provide vocals to Drone Logic, which then led to co-writing three tracks on his album of the same name. "The point at which I knew that I could do it was working with Dan in his studio by the docks," she says. "Through working with Dan and then James [Greenwood], they gave me the confidence to know that I wasn't hopeless!"
Owens makes several allusions to her personal affinity with water, and it certainly translates into her music. Lucid and Arthur are sonically clear: you can hold a bottle of it up to the light and look straight through it. The realities of living through someone else's project made Owens realise that it wasn't a reflection of her self. After finishing her work with Avery, she then began the process of writing her own album, while assisting Ghost Culture on his debut full-length.
Emboldened by confidence, Owens set her course sailing the DIY flag: "I never thought I would be [a DIY artist], but I'm not going to wait around for someone to tell me that my music is good enough. I wouldn't want to put my name, time, or energy into something that wasn't truly a reflection on me." Her sense of proportion to the world around her is matched with her enthusiasm and candidness. Owens is a music fan first and a musician second: she cites Björk and Arthur Russell as major inspirations, who she admires for "never compromising on their creativity" – particularly the latter, who continued to make music through AIDS-related health problems. Björk's Hyperballad excites Owens, stating that she is "obsessed with bass and sub-bass", no better exemplified than on Arthur, which has a deep, flowing current running through it. Both of the tracks come with the Soundcloud note #notag, which explains itself once Owens tells me that she doesn't want her music to be "put in a box". Not allowing anybody else to define her work, it's the "in-between lines that excite me – that's what I want to explore."
The conversation drifts to a chat about a happy accident on her own forthcoming remix of Lucid, which is currently being mastered. Owens put her finger on the physical tape while recording the edit, which created a new vocal dimension unique to the track. She exudes her preference to the warmth and sound of analogue equipment, though she states no desire to make anything from the past, despite recently "fucking around with an original 808." Owens considers her voice as her primary instrument, though her method of composition contradicts my expectations. "The music is the first thing that comes out naturally, and then I'm left with a puzzle to add the lyrics and vocals to." Keeping the attention solely on herself, Owens says that her album is roughly "80% done" and that she is excited about a forthcoming video, as well as her single's physical release. At the beginning of our chat, she proudly waved the test pressings across the screen, which to her is the culmination of her achievements so far: "There is nothing more satisfying than hearing your music on vinyl for the first time." Having mazed the labyrinth by herself, it would be a surprise if Owens didn't continue in the same direction for the future.
Kelly Lee Owens self-released the Lucid/Arthur 12" on February 10th 2015 (buy).